Joined

Nov 22, 2008
Messages

2,014
Location
Ok I wasn't going to use a torque arm since I have a low power 250W hub motor but then...well I could not leave well enough alone and I started filing the dropouts some more to see if I could get the axle fruther into the front forks. So of course what WAS a snug fit before with just a little filing is now just a bit looser than I'd like. Therefore I ordered this torque arm from ebikes.ca. From the picture on their website I thought it might work with my fork which has braze-ons for fenders. I received the torque arm today along with some other bits and pieces I had ordered and went about installing it.
Here are the component parts. It's rather small as these things go. It is made from 3.1mm thick stainless steel.
Any idea what the black plastic ring is for?
EDIT
: Looks like the black ring is a part for the throttle w/grips that I ordered that got packaged with the torque arm.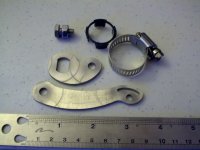 After removing the plastic backing the edges could use a bit of light sandpapering to knock down the edge.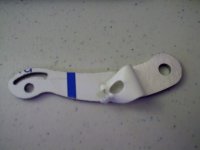 Unfortunately the eyelets on my fork interfere with the arm.
View attachment 2
I could mount the long arm to the outside like this but then it slides by the fork instead of touching it.
View attachment 1
Instead I'm using just the bottom section as sort of an anti-rotation washer. The head of the bolt contacts the braze-on and I can attach the fender strut to the bolt.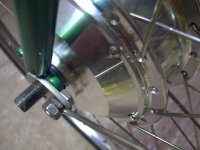 Not exactly what I had hoped for but it's a bit better than the torque washer that was supplied with the motor.
EDIT:
Justin at ebikes pointed out to me that my last arrangement would not work because the axle would torque CW (as viewed from the left side of bike) not CCW as I was thinking therefore the bottom section would rotate AWAY from the eyelet the bolt was in contact with and it would do nothing. I just removed the thing and will have to think of something else.
-R