I started yammering on about this on the endless sphere facebook page when the topic of the new turnigy multistar packs came up and I thought i'd go into detail here.. so here goes...
References:
http://hobbyking.com/hobbyking/store/__ ... ouse_.html
http://www.chicagoelectricbicycles.com/Batteries.html
http://www.ebikes.ca/shop/ebike-parts/b ... m-kit.html
If my math is correct on calculating watt hours per KG, then..
The former gold standard: turnigy 20C 6S
( these tend to deliver a little more capacity than 5ah, but i'm going to say 5ah anyway. )
3.8v x 6S x 5AH = 114whrs
pack is 765g
114whrs / 0.765kg =
149whrs/kg
Turnigy Multistar packs:
( Christofer Parham/icecube57 has tested these to deliver a little more than stated capacity as well )
3.8v x 6S x 10AH = 228whrs
pack is 1189g
228whrs / 1.189kg =
191.75 whrs/kg
So the turnigy multistar 10C vs. the turnigy 20C means for a 22% increase in capacity per weight, which is pretty impressive.
Allcell 48v 13ah pack
( Nominal voltage is approximately 3.7 volts )
3.7v x 13S x 13AH = 625whrs
625 / 3.764g =
166whrs/kg
Alternate comparison
ebikes.ca has 48v 20AH allcell batteries for sale, so this can be a more straight comparison.
Allcell 48v 20AH = 962whrs ( 3.7v nominal ), 5.830kg / 12.85lbs. or 165whrs/kg
Turnigy multistar 12S 20AH = 912whrs (3.8v nominal ), 4.756kg / 10.5lbs or 191whrs/kg
Now, i am not certain if the charger weight is included into the allcell weight figures. This may skew the discussion.
As for economics..
A turnigy multistar 12S 30AH = 15.7lbs, $588.66 ( add 1lb for extra interconnections to be fair and you're at 16.7lbs ) and is rated to deliver 300 amps.
Allcell 48v 26AH pack is going to weigh 16.4lbs and will cost you $1499 and is probably limited to 25A or 40A output by the BMS.
Extra cost of RC charger and interconnections aside, i think we know the winner..
Notes on nominal voltage and performance
The allcell 48v pack is going to have a higher nominal voltage than a 12S Lipo at very low load levels, which frankly, are far below what we would ever use an allcell pack at. The RC lipo will come in at 45.6v nominal, the allcell should come in at 48.1v.
But consider this, under a typical ebike load, you are going to see the allcell battery give you significant voltage sag. This is going to mean that significantly less watt-hours are delivered as advertised. This brings the actual deliverable watt-hours of the allcell battery down even further for most eBikes.
More info about this devil in the details.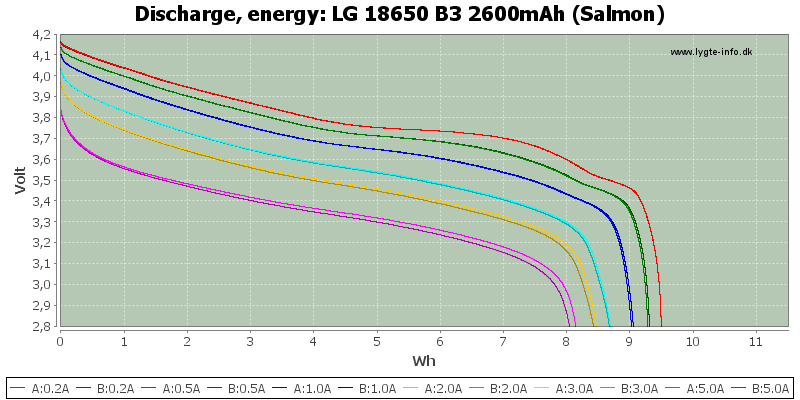 This is a discharge graph for the LG 18650 B3. You will notice a large spread in the nominal voltage in the discharge.
1/10C: approx 3.75v nominal.
1/5C: approx 3.7v nominal.
3/4C: approx. 3.575v nominal.
Ouch.
It would be fair to guess that at 1C usage, the allcell pack should give you around 3.5v nominal. This brings the nominal voltage for a 48v pack down to 45.5v, which is just about what voltage the 10C RC Lipo would be delivering at a 1C discharge.
So under a 1C continuous load for both batteries, we could assume that the all cell pack is delivering 910 watt hours, and the hobbyking lipo pack is probably 900-910 actual watt hours delivered as well, and that is being generous to the allcell pack because the LG 18650 B3 is probably losing some amp hours for certain under 1C continous load, where the hobbyking pack is very likely delivering the full amp hours rated.
If we look at what the LG 18650 B3 is doing at about 2C, it's not a pretty picture at all. You've got the cells at 3.4v nominal, and they are making tons of heat ( which is why these allcell packs come with the cells surrounded by a fancy wax - to soak up the heat and allow them to operate at this high rate.... but barely! )
Another note about weight
Comparing the weight of a battery pack with a BMS, interconnections, wax, and maybe even a charger figured into the weight figure is not fair. If you end up building a turnigy multistar pack with a few packs in parallel ( 20, 30, 40ah.. ), you may very well end up adding around a pound or so to the pack. What i can say for certain is that a turnigy multistar will equal or greater watt-hours per pound in the end.
In summary..
The new turnigy multistar packs have the best 'bang for the buck' ( in terms of weight, cost, and power output ) than the leading ebike battery pack. The cost is almost a third of that of an equivalent allcell pack would cost. Under a 1C load, a 12S hobbyking pack can quite possibly deliver the same nominal voltage as an allcell pack, despite having 1 less cell in series. For medium-high power builds looking to keep weight down, these are very ideal batteries. For low power builds, these are still excellent.
The downside is the usual safety concerns with RC Lipo, and a lower cycle life. You will also need to make interconnections and buy a balancing RC Charger on top of the prices quoted. Hobbyking continues to occasionally ship packs that are duds, and approximately 10% of what they ship out has a cell which is an underperformer or simply not matched to the pack and that will cause headaches. An allcell pack comes with support and warranty. If you are not a DIYer and you can afford an allcell pack, and want American support, it still may be your best choice at the moment if you are looking for low weight.