Joined

Apr 19, 2007
Messages

1,069
Location
Hi guys,
A lot of you wanted to see the car we put together last year - so here you go! I've been putting off taking pictures till the car was more "finished" - but as it's my daily testbed that day is likely a long way off! So - please excuse all the wires and sensors strapped here and there.
THere is actually surprisingly little to see - I'd have to dissasemble it to get clear pics of much of the work.
So - here is the tatty old MX5 used for the conversion.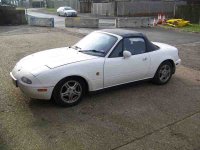 Here is the drive system (11" 250v Kostov motor and Soliton1 350v 1000A controller from EVnetics)
THis has been coupled to the gearbox and securely mounted to the chassis (without clutch - just as well - you don't need gears with this much power!).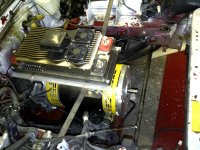 There are 4 battery boxes, 1 large one under the parcel shelf in the space originally occupied by the petrol tank, and 3 smaller ones mounted under the bonnet ("hood" for all you yanks). All are built into 3mm alluminium boxes and sealed.
Here's the petrol tank box (holding some 10KW/H) during assembly.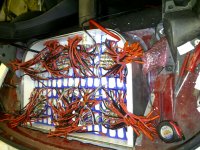 And here it is with half of the bussbars connected up (already looking a bit neater!)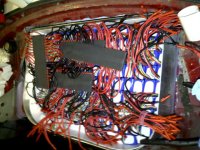 ..