Be warned, this is an example of a build project where a lot of things seem to fall perfectly into place. It doesn't usually work out that way!
When we were initially involved in the Edgerunner frame design last year, it came up a few times that we all wanted to have an easy integration of the Stokemonkey drive as one of the electric assist options, as it is most eminently suitable for cargo bikes. Previously, Sam Wittingham of Naked Bikes had done this on some custom handmade longtails by including a 2nd set of horizontal dropouts on the chainstay tubes just for a stokemonkey motor. This is one that we see now and then around Vancouver.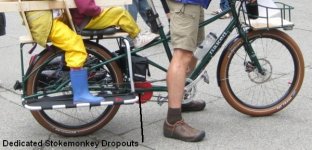 It's a simple and genius approach, since no multipiece clampset hardware is required and the motor is held super rigid in position. And if you don't install the stokemonkey motor, then the only offending hardware are two small additional dropouts.
However, this approach only works if the chainstays are split in two at the bottom bracket and spread wide enough for a motor to fit between them. In the Edgerunner frame, it was decided for several reasons that there should be just a single boom tube that goes back from the bottom bracket, rather than a pair of tubes. It also wasn't clear if the stokemonkey motor would even be available again, and so it didn't make sense to design permanent frame features around something that might not exist.
So instead, a generally uncommitted area was left open in the zone between the 20" rear wheel and the front of the Xtracycle 'V' rack tubes. And the thought was that with all the tubes in this general area it shouldn't be too hard to devise a way of clamping in a Stokemonkey or other mid-drive system: