Joined

Feb 8, 2015
Messages

1,238
Update 11/14/21
Have since changed the battery to twin Greenway 46.8V/15.6AH packs in parallel, running the Phaserinner controller and Leafbike 4T motor at 2,500W. Currently get 150-200 miles range at 30-35 mph. Total unladen vehicle weight is 90 lbs and it is still very pedalable with the battery disconnected and the hub motor turned off, able to cruise 20+ mph on flat ground and sprint to 35 mph with no electric assist in use and the motor's cogging losses making themselves known. Turn the motor on, and top speed on flat ground is 45 mph +/- a few depending on state of charge, with car-like acceleration, and the ability to climb moderate hills at top speed.
Original Post
Pics of the bike: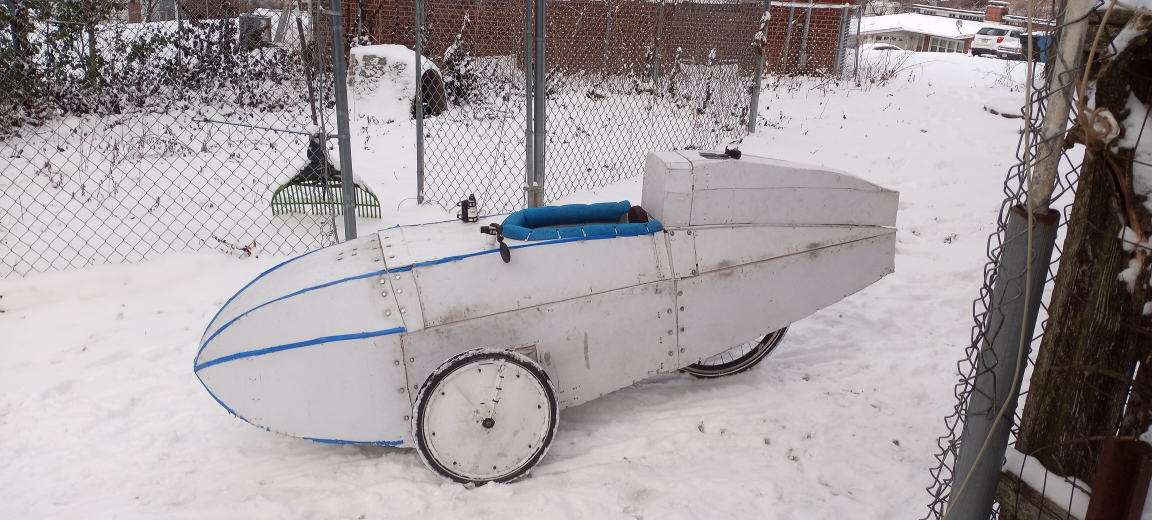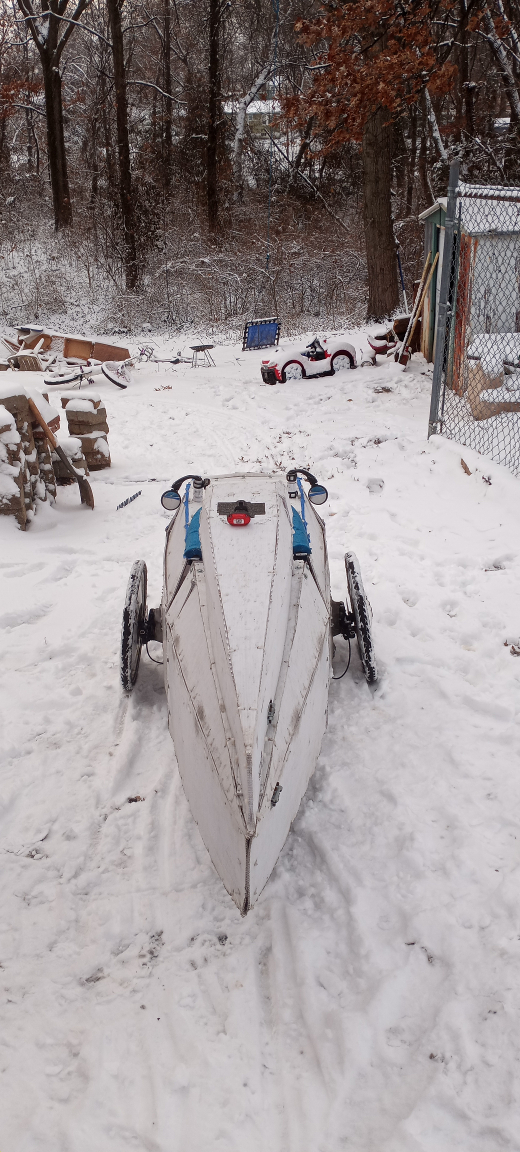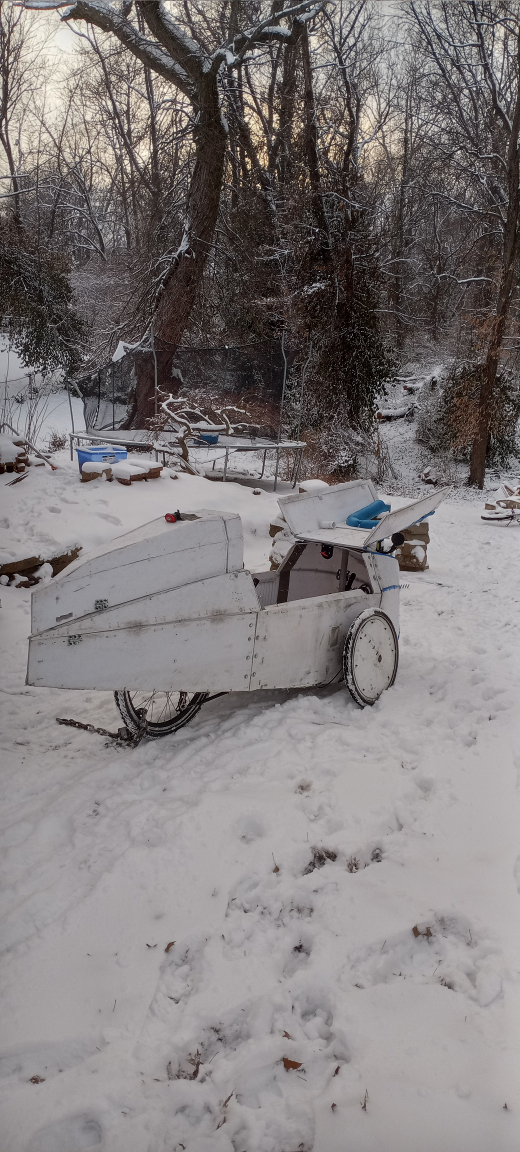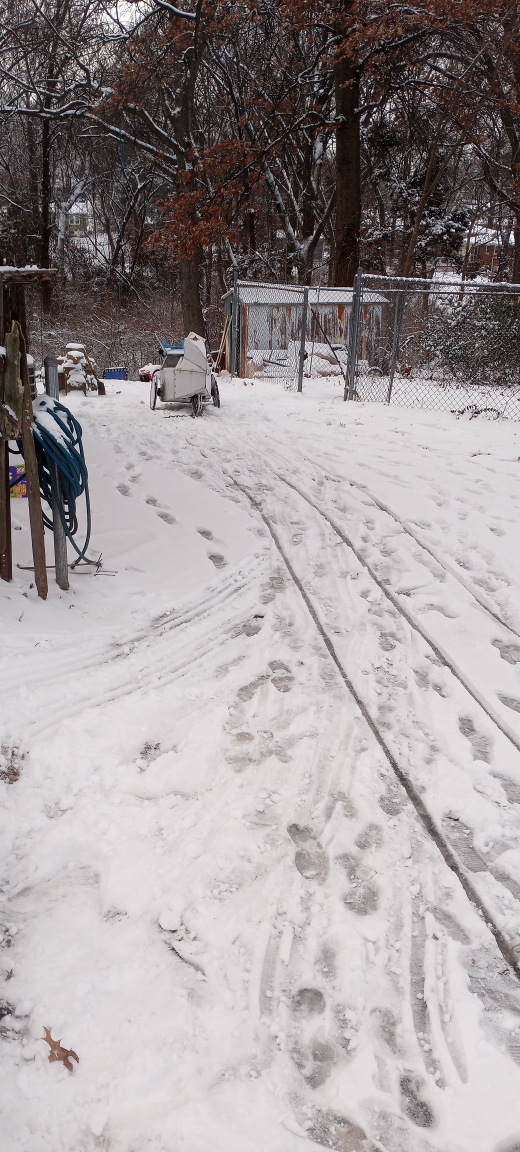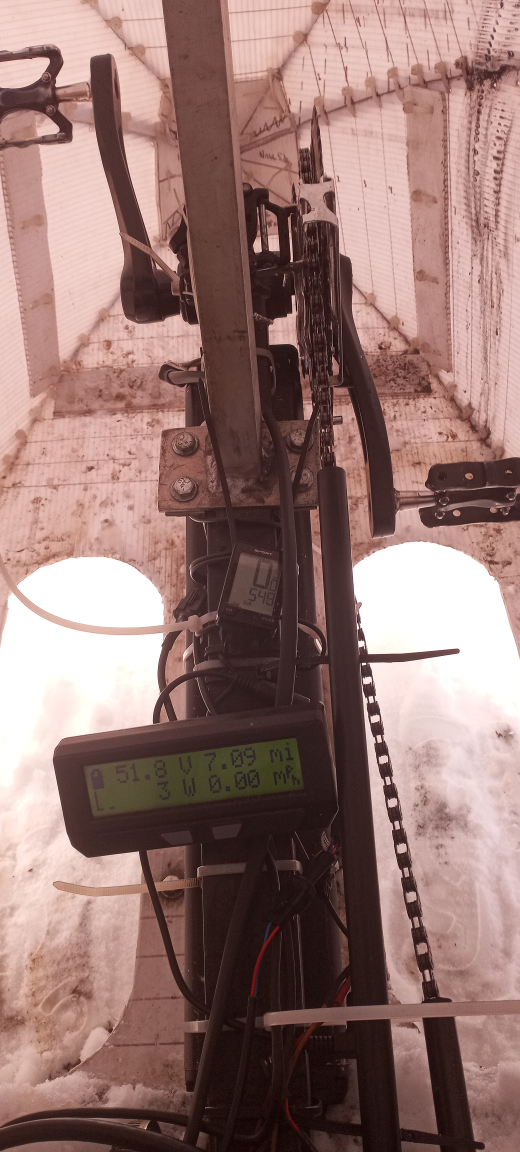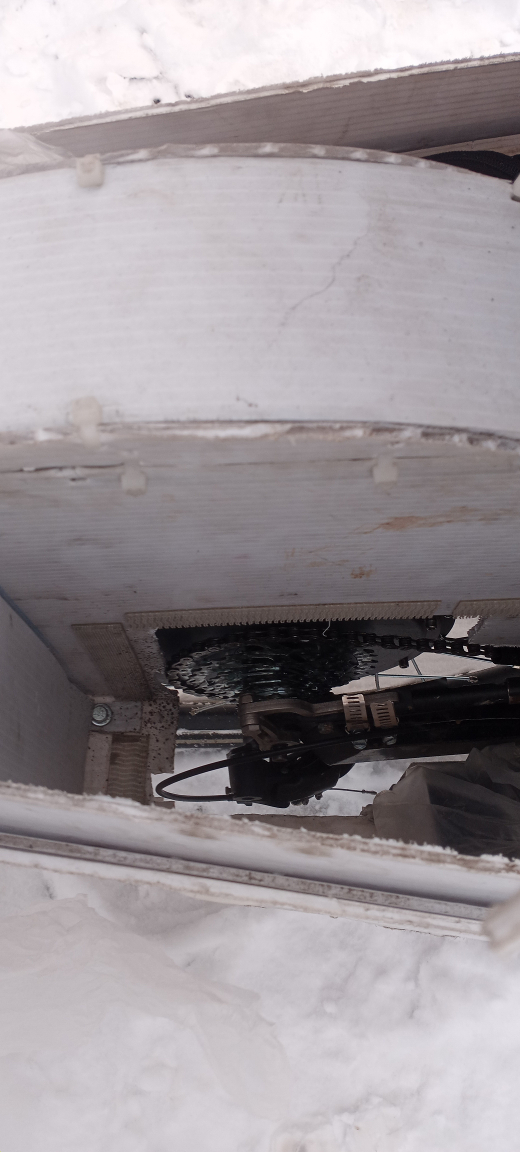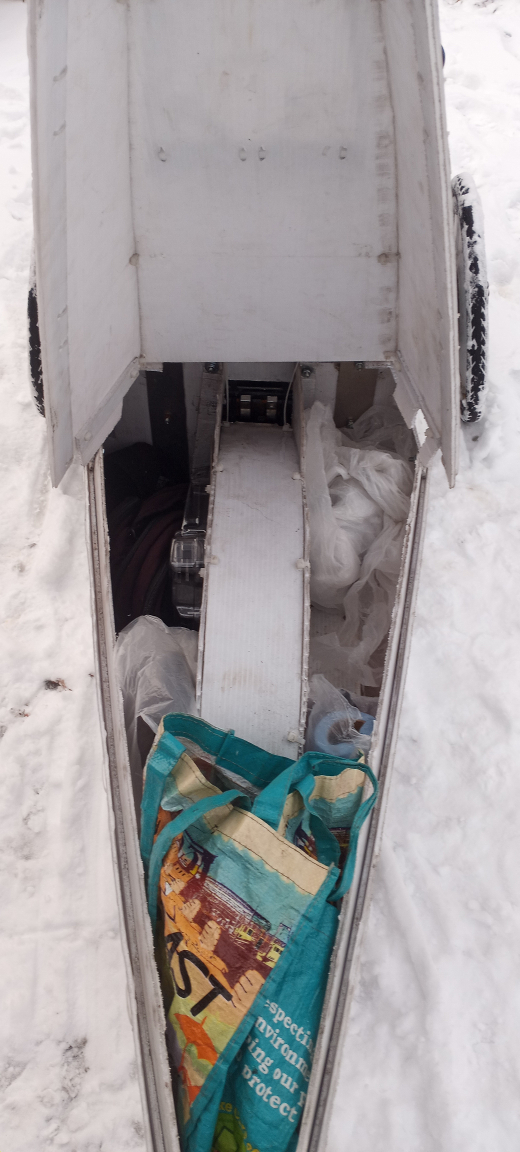 So far here's the realized specs:
-46 mph top speed on flat ground on a full charge with the motor enabled
-1,500W peak power, plus rider effort
-7 watt hours per mile @ 30 mph w/light pedaling
-9 watt hours per mile @ 35 mph w/light pedaling
-12 watt hours per mile @ 40 mph w/moderate pedaling
-12 watt hours per mile in the snow with enough effort to do 30 mph on flat ground, but riding at speeds from 20 to 40 mph with a 20 mph rolling average
-While powered yields a consistent 40-50 mile range with enough effort to cruise at 30-35 mph on flat ground in freezing weather. I get about 8.5AH from the 46.8V pack in the cold, although it is rated to 10.5AH. This should improve to perhaps 60 miles range at the same speed in warmer weather due to reduced air density and increased battery capacity.
-With the motor disabled, I can pedal it to 35 mph in a sprint and cruise on flat ground around 23 mph. I lost a few mph unpowered after installing the motor due to its additional weight and cogging losses.
At any operating speed with which it is capable, it feels stable and tracks straight. It has been up to 60 mph downhill before I motorized it and felt stable. It is very controllable at 30-40 mph in 30+ mph crosswinds with 50 mph gusts, although one will need a bit of effort to keep it straight in those extreme conditions.
Regarding what specs this will eventually have, I'm in the process of building another battery pack. It's going to be 72V 21AH, capable of delivering 5 kW peak, and is liable to give me a 150-200 mile range @ 30-35 mph, acceleration like a car(simulation shows 0-30 mph in about 5 seconds with a 96A phase current, but a better controller and a 150A phase current could allow 4 seconds), and a 70 mph top speed. I'm also going to finish a set of wheel fairings, a windshield, roof, and rear wheel cowling to cut drag further. I also plan to add brake lights, permanent running lights, headlight, and turn signals, as well as solar panels and a charge port for electronics. Later upgrades may also include hydraulic disc brakes, thicker brake rotors, and perhaps a rear suspension.
Here's some additional specs:
-Weight: 82 lbs
-CdA: Unknown
-Trike Frame: KMX framekit
-Body shell: Custom corrugated plastic bodywork with aluminum ribbing, mounts, and supports
-Battery: 46.8V 10.5AH pack of 13S3P Panasonic NCR18650GA cells, 490 Wh rated capacity, 1,500W rated peak power
-Motor: Leafbike 1500W 4T wind brushless PMDC motor, w/10k NTC thermistor and 10-12 awg bullet terminals, laced to 26" rear wheel w/13ga spokes and double-walled aluminum rim
-Controller: Phaserunner v3, currently set to 1,500W maximum power output, 750W maximum regenerative braking
-Computer: Cycle Analyst v3 DP, currently set to 1,500W maximum power output
-Charger: GrinTech Cycle Satiator HV model
-Torque sensor: Sempu 2-wire w/115mm spindle width, no throttle installed at the time
-Front wheels: Velocity 20" 32-spoke w/13ga spokes laced to double-walled aluminum rims
-Front tires: Schwalbe Marathon Greenguard 20x1.5" @ 95 psi
-Rear tire: Schwalbe Marathon Plus Tour 26x1.5" @ 60 psi
-Front crankset: Suntour XCT Jr. with 152mm crankarms, modified with 26/39/53T chainrings
-Rear gearing: SunRace 34-11T 7 speed cassette
-Front derailleur: Microshift Mezzo
-Rear derailleur: Shimano Tourney RD-TX35 7/8sp
-Chain: KMC Z7, lubricated with Boeshield
-Torquearms: custom KMX torquearm designed and made by ES member dhwahl(left-side), GRIN Torquearm Kit v4(right-side)
-Right shifter: Shimano Revoshift 7 speed index grip shift
-Left shifter: SRAM 3-speed index grip shift
-Front suspension: EXA gas shocks on upper/lower swingarms at 65 psi, suspension designed and made by ES member adam333
-Brakes: Avid BB7 calipers with 165mm disc rotors, cable-pull operated
-Right Brake lever: Terratrike dual-pull lever with parking brake
-Left Brake lever: GrinTech ebrake, operated for regenerative braking in the rear