Joined

Feb 3, 2010
Messages

4,064
Saturday June 18th
There are two Status lists that I am keeping; be sure to check out the
Going to California
thread to see status of the rest of my bike.
I have been slammed every day, and it's been like a blur.
Bike Frame to Machinist:
Delivered the frame to shop. Initially I thought of strapping it to my back, but this arrangement worked out well. It's tied down with an inner-tube onto the rear rack; didn't budge a whisker over the 10+ mile journey.
Custom Parts:
Acting as a purchasing agent, I drew up the layouts that maximize stock material, contacted three suppliers sourcing materials, and finally placing a large order with McMaster-Carr on Thursday with the material arriving about 1:30 PM by FedEx yesterday; less than 24 hours.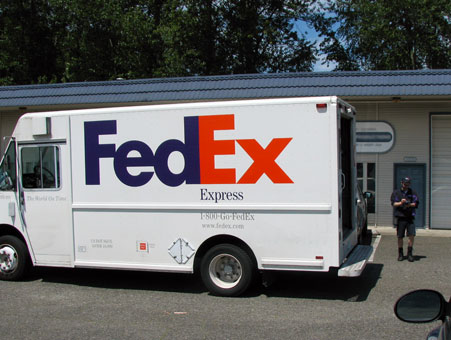 Marine Plywood:
Tracking says it will arrive on Tuesday.
Battery Boxes:
The Sears Portable Tool Boxes arrived yesterday. I worked up a few battery configurations; there is plenty of room and not much to worry about. It just needs a little bit of hard foam and bolting down.
Battery Balancing:
The 6-to-1 Balancing cables arrived I think on Wednesday and I cracked open the big box of LiPos from HK. Hooked up the Battery Medic and tried balancing: Boy is that device wimpy. I had better luck hooking up the Balancing cables. Out of the entire lot of HK batteries only one cell was out 0.1V while all the rest were within 0.03-0.05V. I counted myself lucky. Also strange is that the new LiPos are smaller than what I had purchased last year; they are skinnier! The weight is the same, they are just trimmer. No complaints.
Fenders:
Bought the Electra Plastic Balloon Townie Fender Set, color – black. I'll use that to construct the rear fender on the trailer.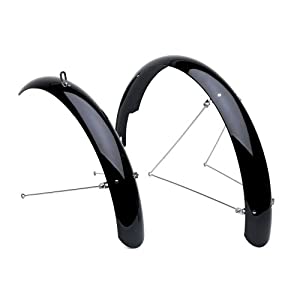 Faring:
Stopped at Tap Plastics and picked up a 2x4 sheet of White HDPE and a sheet of Black.
Power Cabling:
Stopped at Vetco and snagged 8-AWG zip cord, heat shrink tubing and black zip ties.
Speedict:
Received email this morning confirming the latest model shipping out from Hong Kong; should take 5-10 working days to get here. Hopefully it will arrive before I have to leave. This version has the fix which displays up to 100V, although I am unsure what other mods are applied under the hood.
Rear Hub:
The Kris Holm 24" MtB rim & 24"x2.5" & Maxxis Hookworm wheel is now finished. Looks nice sitting next to my front wheel which I hope to mount Monday evening.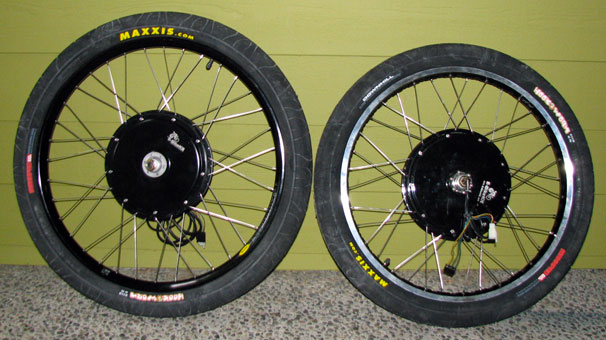 In all the trailer is coming together; the Machinist is busting his team to crank my stuff out. There will not be time to paint or plate the parts; I'm not worried about Stainless or Aluminum, however the CrMo steel will be hit with a dash of hi-temp black paint and baked dry in the oven. Other parts on my bike treated in this method are holding up well enough.
Speaking of paint I think I'll hit the Lyen controllers with Black paint too; hide the glitter from potentially pesky magpies with evil ideas. :wink:
So much to do, so little time. Nine days and counting.
~
KF