Joined

Apr 8, 2014
Messages

2,097
Location
Well I have been riding this one for about six months now. Time to do post on it. The origonal thread where I bought the bike and started working on it is:
https://endless-sphere.com/forums/viewtopic.php?f=3&t=83817
The basic bike frame was a Sonoma Evolution Urban Commuter Bicycle with a shaft drive (i.e NO CHAIN) and a Shimano internal 3-speed rear hub.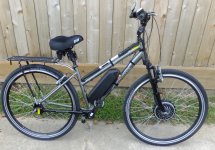 View attachment 14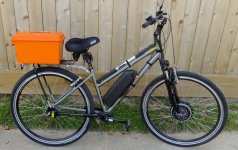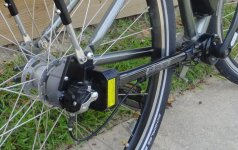 To that I added a 52 Volt Lunacycle Sharc battery and Golden Motor Smart Pie Front Hub motor. The reason for choosing the GM Smart Pie is I happened to have it from another bike but I wanted a tad more power and range than the original GM 36 Rack mount battery gave me (
that battery has since been used elsewhere
). I do not use PAS, E-Brakes or 52 volts lights nor did I need a 10 foot long cable harness. Much of the GM cabling was cut away to form a new wire harness using the original connectors. That was encased in PET Expandable Braided Sleeving. One problem I had was the CHEAP plastic GM used to make the handle bar clamps. It out gases and becomes very brittle. Those crappy mounts do not last 6 months. I epoxied a 1/4-20 steel nut inside the display unit and used a handlebar mount from a cycle analyst. I still need to fix the clamp for the button mount. I relocated the Shimano 3 speed shifter to the left hand side so that I could use the standard GM thumb Throttle
(the LED 'fuel' gage is useless of course --- as is the one on the Shark battery)
. As the Shark battery has no switch I am currently using an XT60 connector
(nicknamed old sparky)
that I plug and unplug as needed. That is a future upgrade. Despite all the naysayers about suspension forks and front hubs I have not yet had any problems in that regard ... but I am a sedate rider.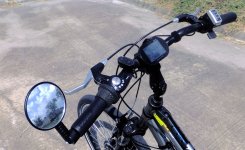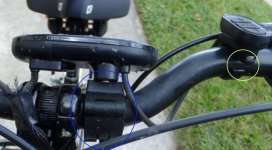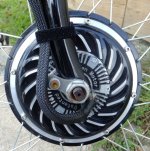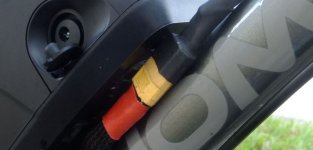 Those are the standard GM 700C rims which are nothing to brag about but they suffice. They are fitted with SCHWALBE Big Apple RaceGuard RLX 50-622 (28 x 2.00) ... the largest that would fit in the rear frame. The tubes are Schwalbe AV 19 29 x 1.75-2.4" with 40mm Schrader valves. I keep a spare tube in the box on the back of the bike
(note the nut on the stem and brass cap with valve core tool)
. The short seat post allowed me to use a Thudbuster
(with the softest insert)
and Cloud Nine Suspension seat. The C9 has been modified to remove about half of the spring preload. The C9 seat, Thudbuster, Big Apple tires and suspension fork work together to make riding on Houston's sorry streets pleasant.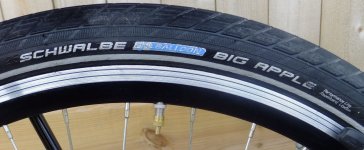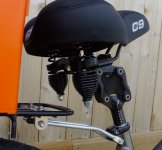 I needed somewhere to store miscellaneous items such as a spare tube, tools, bungees, etc. I used my usual
(cheapest available)
rack from Amazon to which I added a bright orange Ammo box. A 1/4 thick piece of Bamboo plywood was cut to fit inside the bottom of the box. Then three 1/4-20 "T" were put into the plywood. The two rear bolts go through a Aluminum piece that I hogged from a 3x3x1/4 angle with a jig saw. It also provides a mounting point for the 1/4-20 bolt I use for my Travoy trailer. The shoulder bolts provide additional hook points for bungee cords. At some point I am going to add rear lights to the back of the box. When I need more space I use the Travoy trailer.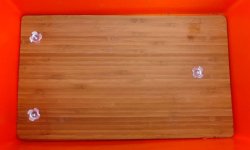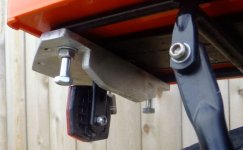 View attachment 4
View attachment 2
With the larger tires and extra weight the stock kickstand was unstable. It needed a bit more height and a larger contact surface especial on Texas hot asphalt or grass. I added a 5/8 inch crutch tip to solve both problems. The inside of the tip is filled with epoxy. That is going to be a problem when it wears out ...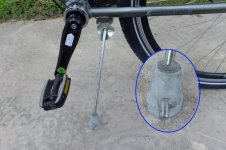 Speed:
I can top 25 MPH With tires inflated to 30 PSI
(makes a big difference)
and a hot battery using 900 watts. Mostly I ride around 18-20 MPH at about 300 watts.
Weight:
Me: 160 pounds
Bike (
as shown with box , tools, tire pump and battery
): 65.5 pounds
Update, November 2019:
Shaft drive Bicycles are still being sold by BRIKBIKES in Rabobank Netherlands: http://www.brikbikes.com