Curious about putting together a project to build this:
Call it a 130th Anniversary of the ebike thing...
I know this so far:
On 1 August 1881 Trouve made his benchmark report to the French Academy of Sciences, stating: "I had the honour to submit to this Academy, in the session of 7th July 1880, a new electric motor based on the eccentricity of the Siemens coil flange. By suggestive studies, which have allowed me to reduce the weight of all the components of the motor, I have succeeded in obtaining an output which to me appears quite remarkable.

A motor weighing 5kg [11lb], powered by 6el of Plante producing an effective work of 7kgm per second, was placed, on the 8th April, on a tricycle whose weight, including the rider and the batteries rose to 160kg [352lb] and recorded a speed of 12km/h.
Here's another line drawing of the trike before conversion: So it's easy to see that Gustave added a platform to mount the cells behind him.
I can cheat a lot on the build... These folks in Alameda, CA can make the trike for me:
http://www.hiwheel.com/
It's watt they do: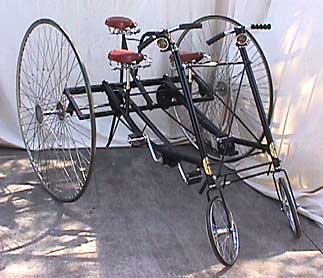 I also know watt his motor looked like `cause he used the same motor to power a boat that same year: From the line drawing of the trike it appears that the chain from the pedals turned the axle to turn the large wheel. I'm guessing that Gustave mounted his motor on the same platform as the cells, and added another sprocket to the axle of the large wheel.
Make sense?
The steering on this thing looks pretty crappy. Ya twist the handle on the right and a pinion and rack slides a bar fwd/back to turn the two small wheels in unison. The left lever appears to be the brake, operating on the large wheel only.
Thoughts?
locK