Joined

Apr 28, 2023
Messages

2
Location
Hi Everyone,
New to this forum and wanted to start a build thread for my Babboe City Cargobike project. This project will include fixing up an older Babboe City and converting it to electric.
Babboe is a Dutch cargo bike manufacturer with many different cargo bike models (
Babboe Models
). For the "City" model they offer three options: one regular bike and two electric options (flat vs mountain/hilly use).
Starting Point:
As I live in the Netherlands there is a very large supply of second hand bikes, e-bikes and cargo bikes*. Through our local second hand resale website (
Marktplaats
) I found an offer I couldn't pass on: a 9-year old Babboe City (non-E). The bike had some issues (missing spokes, backwheel that rubbed against the frame, some rust spots, wood that could use some care, etc). We eventually made a deal for €350 (in this thread I will try to be transparent about the costs I make, to give others a reference for what such a project costs. Might also be a nice insight in the local bike (parts) market). A "good" City (non-e) costs anywhere between € 650 - 1000 second hand. Current new price: € 1800.
Like me, the previous owner did not have inside storage for the bike. So it is left on the streets 24/7 (this is pretty common here).
Below some pictures of the state of the bike when I got it and transport home.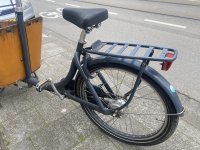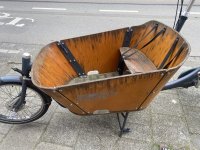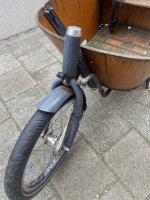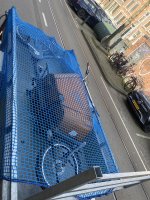 Plans:
My plan is to fix up the bike to a good mechanical running state, use it like that for a while. And then convert it to electric.
I have some thoughts about the conversion, but I would love your thoughts on it!! So, please let me know: if this was your project, how would you convert it!?
Some considerations:
- bike will be living outside, so I don't want it to be to shiny and new (lowers the chance that it gets stolen).
- also I like to keep costs down
- so: I want to use as many second hand parts as possible, as said, we have a great Marktplaats which also has a good supply of e-bike parts!
- I like to keep the bike legal (so max 250w and no throttle only operation).
- we will be using the bike for daily use around town, which is mostly flat. I do like a good range (+/- 50km) for the occasional trip out of town/to the beach.
*) side note: if there is interest I could post a bit more on the local Dutch bike culture. Especially the "new and shiny" cargobike culture is very interesting. Many (new) parents own a (E-) cargo bik they use daily for almost everything!