Joined

Aug 8, 2022
Messages

432
I was attracted to YouTube videos of electric motorcycle conversions and I kept thinking that it seemed doable, even for my inexperienced talents. So when I came across an old Honda with a dead engine going for $150, I went for it. This was mid-May of this year, about 4 months ago.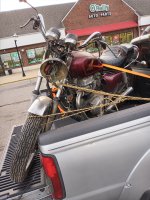 Engine was dead, but that didn't matter, and frame was good. I stripped it to pieces, which was my first pleasant surprise, because I was actually able to do it completely in one day by myself with no specialty tools. That's when I got confident and started ordering parts, and taking night classes at YouTube university to brush up on all the skills I would need.
-QS273 8000W-continuous-rated hub motor on an 16-in rim, Kenda Challenger tire
-APT96600 400 amp BLDC motor controller. It has its pros and cons, but mostly I got it because it came with the motor and I had to start somewhere. It's not terrible, but I'll find a different one for the next conversion.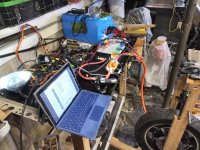 -Battery! I wanted to go LiFePO4, even though it's heavier than Li-Ion, because I'm not an experienced rider and I went for safety, longevity, and temp range (I live in Michigan and might be using this in late fall and early spring) over weight and power. Went with 32650s from Battery Hookup, 12p24s to get that 72v range, just over 5kwh. I picked a JKBMS 200A for it's price point and relatively good reviews online. Daly was another option, but much pricier. We'll see if this one lasts. Battery weight with cables and everything was about 110 pounds, still lighter than the engine was. I don't weld, so I found a welder who was able to make an aluminum case for it that mounted to the frame in the same spot the engine was. If the brackets held the 175-lb engine, they'll hold the battery just fine.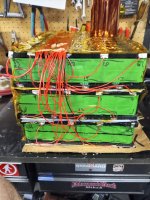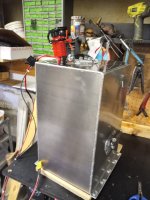 I use a 400-amp contactor, a 200-amp shunt to read amperage off the battery during riding, and a 350-amp breaker for the power train cabling. BMS rated for 200 amps continuous, the controller is rated for 600 amps, the motor is rated for about 130 amps continuous and 250 amps peak... I should be good. Spoiler alert, it does run, but I would love feedback from the forum on how well I selected, rated and built all my components. Who wants to place bets on which component fails first?!?
I cut the bottom of the fuel tank to make room for electronics. Then when the controller arrived, much larger than expected, I cut a hole out of the top as well. Oh well.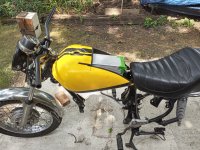 For charging, I don't actually have an AC charger yet, but it is planned, either purchase or assemble. For now, I set up 2ea 240w solar panls on the south side of my house. Series connected for now, at about 66Voc, connected to the MPT-7210 boost charge converter to bump it to motorcycle battery voltage. This gives me 4-8 amps at a time, which means I can fully charge the battery in about 10-14 hours of direct sunlight (2-3 days?) This is totally fine for now, I'm not riding miles every day, don't need to charge it every day. This is just going to be my commuter to work 2-3 miles a day, plus joy riding. My future upgrade plan is to upgrade my house's small off-grid battery bank to 48V and use a proper, better, true MPPT controller to collect sunlight at all times, not just when I have the bike plugged in. Then I can treat that as my bike's reservoir, and use a boost converter to tap into the 48V bank to charge my 72v bike; faster, more regularly (better for long-term battery life), and more convenient.
I could go into a lot more details on every little thing, but I'll let pictures speak for themselves. Let me know if you have any comments or feedback. I also have plenty more to do. Namely, need to find a better way to cover up the controller. If anyone is thinking about doing it, I say go for it. This was a surprisingly achievable project.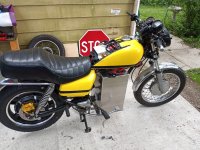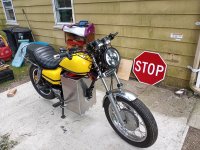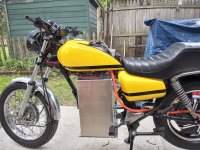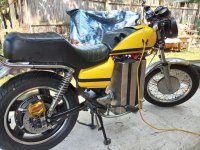 P.S. The biggest mistake I made was picking a relatively heavy bike. Next time, I'm going smaller and lighter. Smaller battery needed, smaller motor, smaller controller, cheaper, ect...
Checking out the competition...