Electric Motoped - Advice Needed
I am planning to add an electric motor to my Motoped. I have most of the build planned out, but before I get too deep into the details I thought I'd ask whether everything seems reasonable, and if anyone has any advice.
Here is my situation and my goals:
Bike would be mostly used for commuting, 4 miles one way.
I'd like to try some occasional dirt/trail, and possibly light track riding (Sonoma kart track).
I live in San Francisco at the top of a large hill, ~10% grade and 1-2 miles top to bottom.
I'd like a minimum top speed of 60mph. I may not go that fast often, but I'd like the option.
I want the maximum possible acceleration for my weight/cog/wheelbase, enough to powerwheelie.
Smooth throttle/acceleration at low speeds is very important to me. My current motorcycle is very jerky at low rpm/speed and I don't want to deal with that any more.
Frame:
http://i.imgur.com/YopclOT.jpg
http://i.imgur.com/OpHKNIL.jpg
It was made to accept Honda 50/70 pit bike engines like this:
https://tboltusa.com/store/tech.php?pID=79/Pit+Bike+&+Honda+50/70+Engine+size
If you can't tell from the pictures, the motor would be connected by chain to the jackshaft on the swingarm pivot, which is in turn connected to the rear wheel. I should be able to change the rear sprocket fairly easily and I'm thinking I should go as large as possible (50-60 teeth) and adjust the total reduction via drive sprocket.
For power, I found the following site that talks about the torque required to wheelie:
http://www.motorcyclejazz.com/images/wheelie_physics.pdf
wheelie torque = mass bike * g * wheelbase / 3 * sin theta + weight rider * g * wheelbase / 9 * sin theta
mass bike - 60kg
wheelbase - 1.32m
mass rider - 90kg
torque = 286 ft lbs
Hopefully this should be achievable, see below.
I have some very basic wrenching and soldering experience, but most of the skills and knowledge required for this project are new to me so I've been doing a ton of reading. Here is the plan so far:
Motor:
After lots of reading I narrowed the choice to a few motors, and am 95% sure I've made my decision:
Revolt 160 Pro - High claimed power with low claimed weight. There are a few examples of successful builds with this motor, and the smaller 120 version. There isn't too much performance data, and I've seen speculation that it's overrated for ebike use as it was designed for aircraft and couldn't have sufficient cooling at it's rated power. To control it the best options appear to be Addapto or Kelly. Mounting this to the bike would be challengine. I'm not sure to what extent this would need to be enclosed/protected. From what I've read, programming the controller to work with the motor may be tricky, and hard to dial in. I've also read some people have very long delays in receiving the motor.
QS205 - Tons of successful builds, reliable, heavy, easiest mounting, not great for hills, lots of controller options. Good weatherproofing.
Hubmonster - I reached out to John in CR for some information looking to buy a few months ago, but he was very busy, and now it looks like this is no longer for sale.
Motenergy ME1114 - Reliable, heavy, powerful, Sevcon a nightmare to program (possible to use Kelly?), very wide. If I went with this I'd buy it preprogrammed from somewhere like Electric Motorsport.
Lynch LEM 200 127D, Saietta 119R - This is the motor I'm fairly certain I will choose. Thin, relatively high power, cheaper/easier controller options, reliable, many successful projects, smooth acceleration and lack of cogging. I tried emailing Saietta asking about price/availability of the 119r but did not receive a response. I can buy the LEM motor from Cloud Electric.
Controller:
Brushless - Adaptto/Kelly/Sevcon - I like the Adaptto due to it being an all in one solution, although it's limited to "only" 14kw. Sevcon seems to be very robust, but from what I've read programming it seems to be beyond my abilities. Kelly has mixed reviews, easy to program, good support, poor acceleration, questionable reliability, not capable of rated current.
Brushed - Alltrax SPM - I believe this is what I will go with for the Lynch motor. Reliable, easy to program, good support, speed and torque throttle control. Lynch recommends the Brusa MD95, but that is impossible to find, and it's not clear how old that recommendation is. Was it made before the SPM was released?
Battery:
I'd like a range of > 15 miles, so according to most calculators I need at least 20AH. To supply the motor with its maximum current I will need a battery capable of providing 200A continuous and 300-400 burst. This seems to rule out most 18650s (would be too large to keep the C reasonable). This leaves me with RC Lipo, A123 LiFePO, and Nissan Leaf cells. I believe I've read enough about RC Lipo to build and pack and use/charge responsibly, but it seems like more babysitting than I want to deal with.
I made a google doc with some price/quantity/power/etc. calculations:
https://docs.google.com/spreadsheets/d/1E090AMFKvS2hRDylLopU-xLtwh0hJIGu56t0FxLNpng/edit#gid=0
It seems like 5 Leaf cells rewired to 4s1p may be the easiest, albeit a little heavy solution. The A123 20AH pouch cells look like the most attractive solution to me, but will require some more research on how to set up properly. I know these don't have the best AH per kg or per $, but they are actually very close in cost to to the RC Lipo (assuming the RC Lipo should only be run at 1/4 of rated C). A ES member used to make and sell kits for these, but I believe they stopped making them.
I'd appreciate advice from anyone who has used the A123 pouch cells. Also, where is the best place to buy these. Is buya123products.com an official/reputable site? I read that A123 sells factory direct, is this the correct site?
BMS:
I am undecided on BMS, more research is needed. Any advice would be welcome.
Motor Mount:
I have been learning Sketchup to model motor mount brackets. I created a cardboard model of the LEM200 to make sure it would fit in the frame, and then created the following model: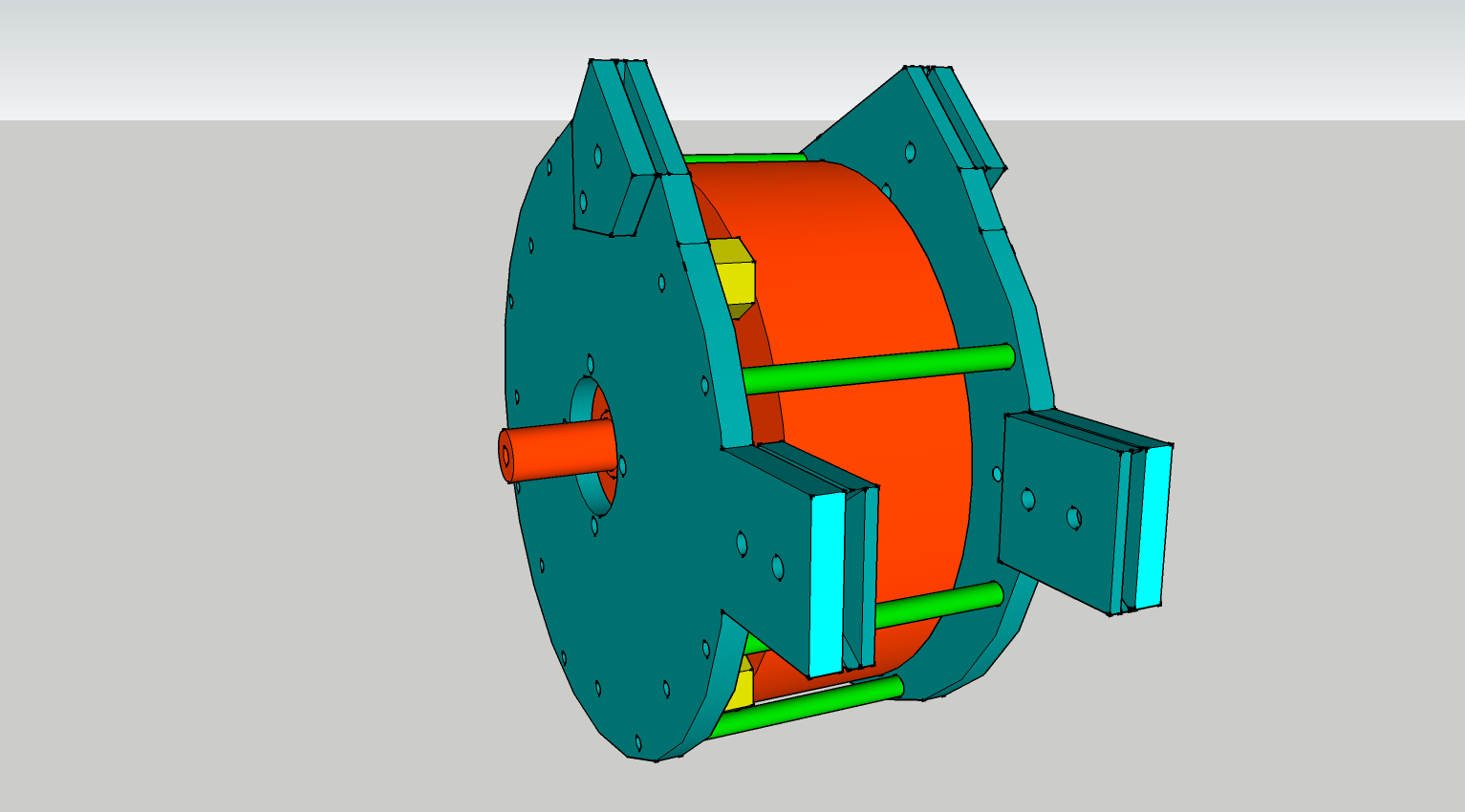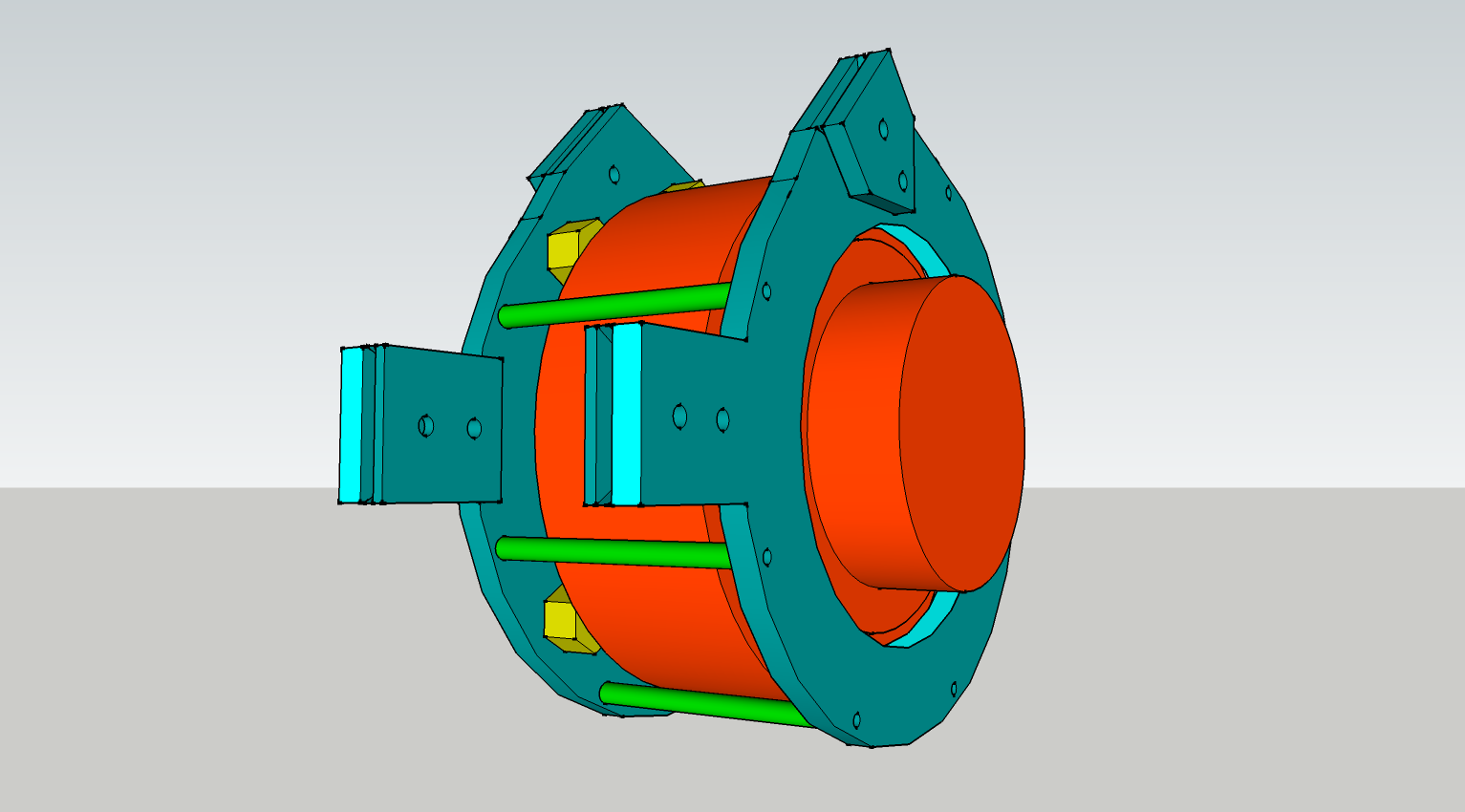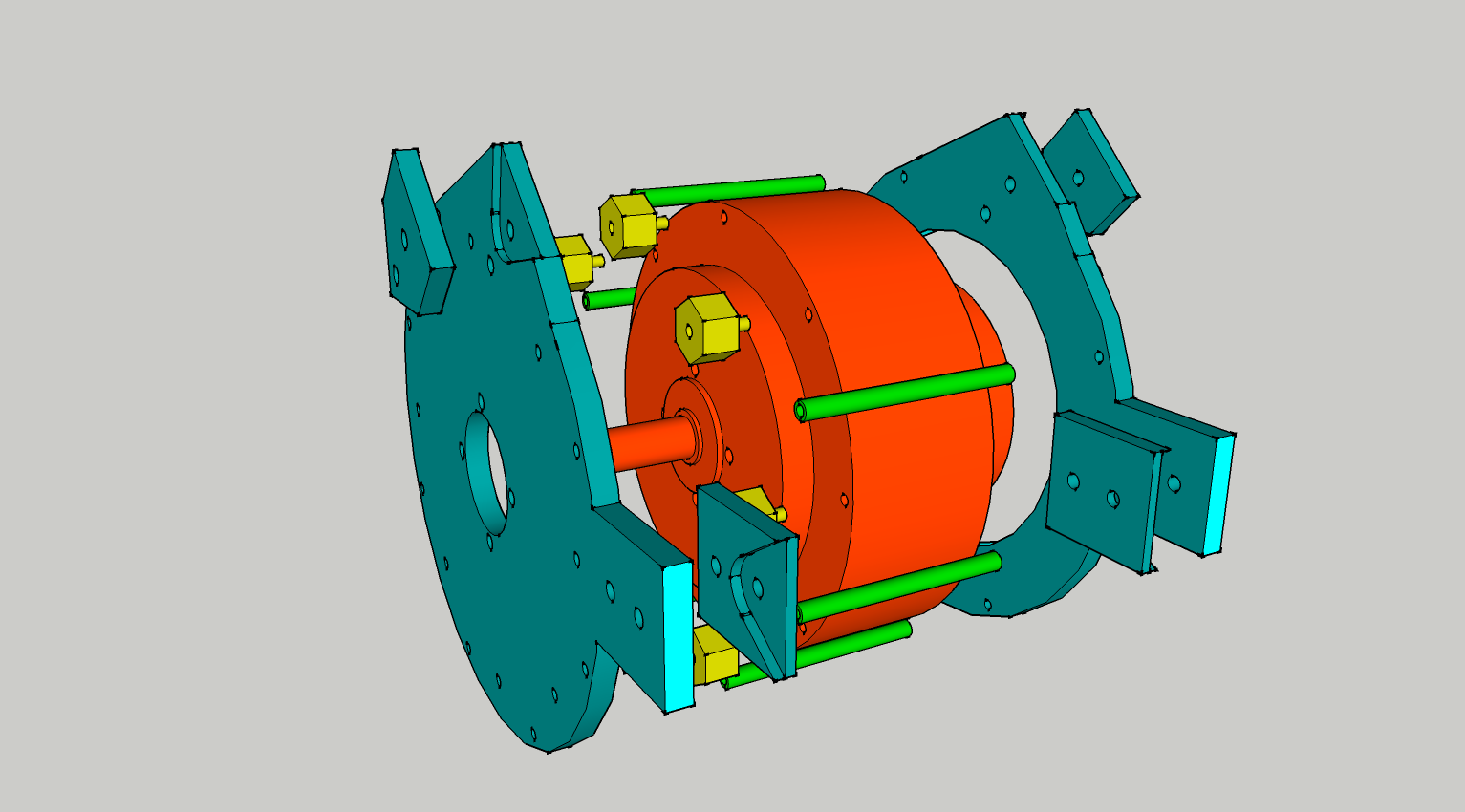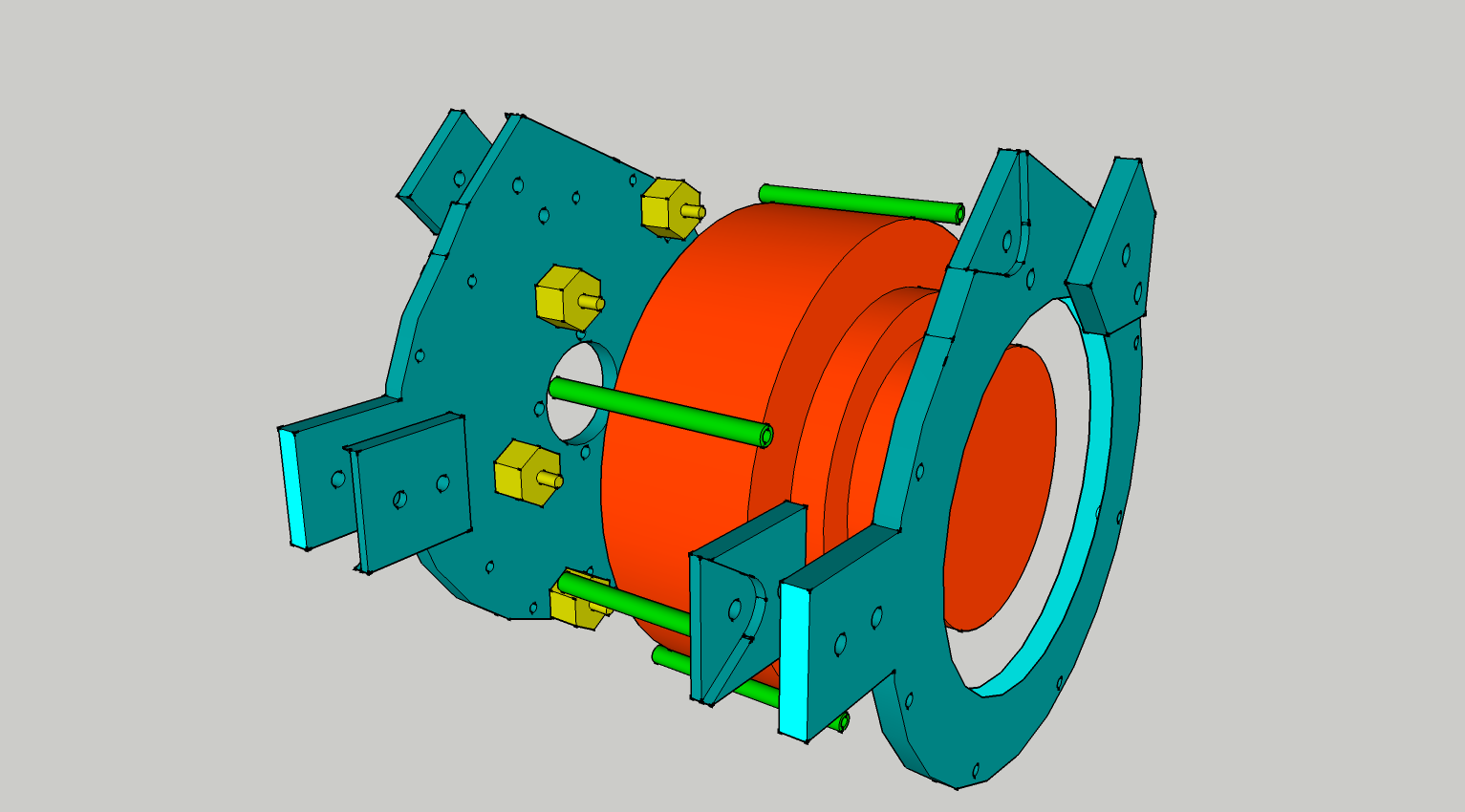 Orange - Motor
Blue - 10mm mounting plates. I'd need to get these made by someone like emachineshop or bigbluesaw. Could I use aluminum, or would steel be needed?
Yellow - Standoff spacers, I can buy the size I need from https://www.unicorpinc.com/metric-male_to_female_standoffs.htm.
Green - 100mm unthreaded spacers, I haven't found anyone that makes a 100mm spacer, but I'm sure I can find some generic pipe of the right size somewhere.
As for modeling the actual bike itself, it's beyond my current abilities. Someone on the forums here has a model made already, I sent a pm but haven't heard back yet. Does anyone know of good a free program that can turn photographs into a 3d model?
I am not an engineer and have many questions about mounting strength/requirements and would appreciate feedback. There are only four intended mounting locations on the frame. These points are within 90 degrees of each other which does not seem ideal. Is this design strong enough? If not, perhaps I could add another mounting point on the battery box on the other side, which I have yet to design.
Any thoughts, advice, feedback, critiques would be much appreciated!