Joined

May 25, 2011
Messages

74
Location
First, I want to thank everyone on this forum for your tireless development work and tomfoolery. This bike would have been lame if I hadn't read the sphere for months as I spec'd it out and built it.
THANK YOU!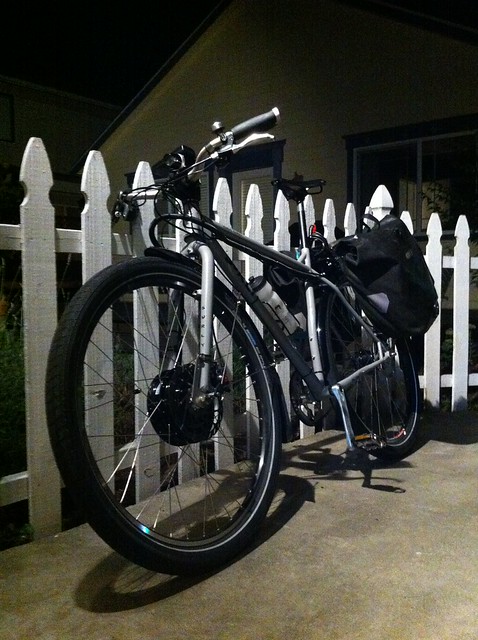 My goal was to build a 30mph commuter for my 23 mile one-way commute. Charging at work is OK. I went with the front hub motor because I wanted the Internal Geared Hub (IGH) in the back. Disc brakes & IGH should be much cleaner in the winter, than rim grime & exposed sprocket teeth. Also, the bike has to fit in my girlfriend's SUV for the morning carpool.
Quick Summary:
Bike: Surly Karate Monkey 29'er (steel, rigid); Schwalbe Big Apple 700x60 (29 x 2.3) tires; Shimano Alfine 8-speed internally geared hub (45:16); Avid BB-7 disc brakes
Motor: BMC V2S Front from Ilia (ebikessf, http://ebikessf.com/)
Controller: Crystalyte Analog from Ilia, with Cycle Analyst & Crystalyte cruise control & Tektro e-brake levers
Controls: Shifter and cruise control on the right, thumb throttle on the left.
Battery: 12S4P LiPo, 20AH, ~900WH. Using (8) Turnigy 6S 5AH packs and GGoodrum's 12S4P BMS & single-plug charge setup.
Charger: Hyperion 1420i
Power Supply: Hobbyking 12V 350W POS hair-dryer.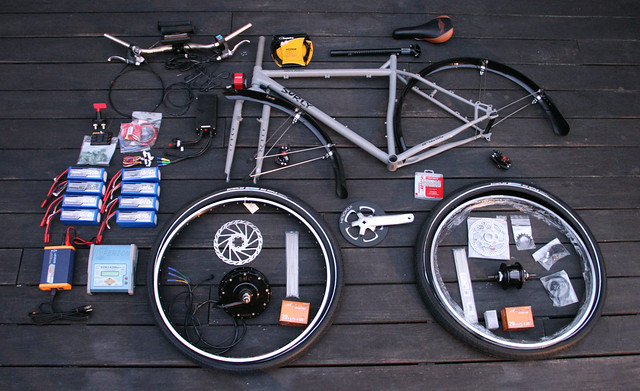 Flickr Photo Set:
http://www.flickr.com/photos/dennyt/sets/72157627564168920/detail/
Background
I come from the tribe of conventional bicyclists (mountain bike, bmx, trials, cyclocross, commuting, touring, and not much spandex). I worked in bike shops for a few years while in school, but I got tired of the snobbery. I built some racecars in college (Formula SAE), and had a great time in the machine shop. Now I build
reusable rockets
. Speaking of which, I've got to track down Chalo...
I still commute by bike most of the time, but I recently moved further away from work. My one-way commute is 23 miles now, which was taking me 1:30 to 1:45 each way on the pedal-bike. That's fine when I feel like a bike ride, but not so great as a daily routine.
During all this time in the saddle I meditated on how to speed things up. Better aerodynamics? A recumbent? A fully enclosed recumbent? Nah, 2/3rds of my commute is on pot-holed 40mph roads, I'd be dead in a week.
I test rode a Think e-bike years ago, but it was weaksauce. Then, at work (aerospace) we started playing around with LiPo, and a lightbult went off. I could definitely build something with enough power & range to change the game if I used LiPo. Sure enough, after a few google searches, I found you guys, and the design project began.
I'm a mechanical engineer with very little electrical experience, so the battery harness design & BMS kit soldering was a welcome challenge.
Battery Schematic: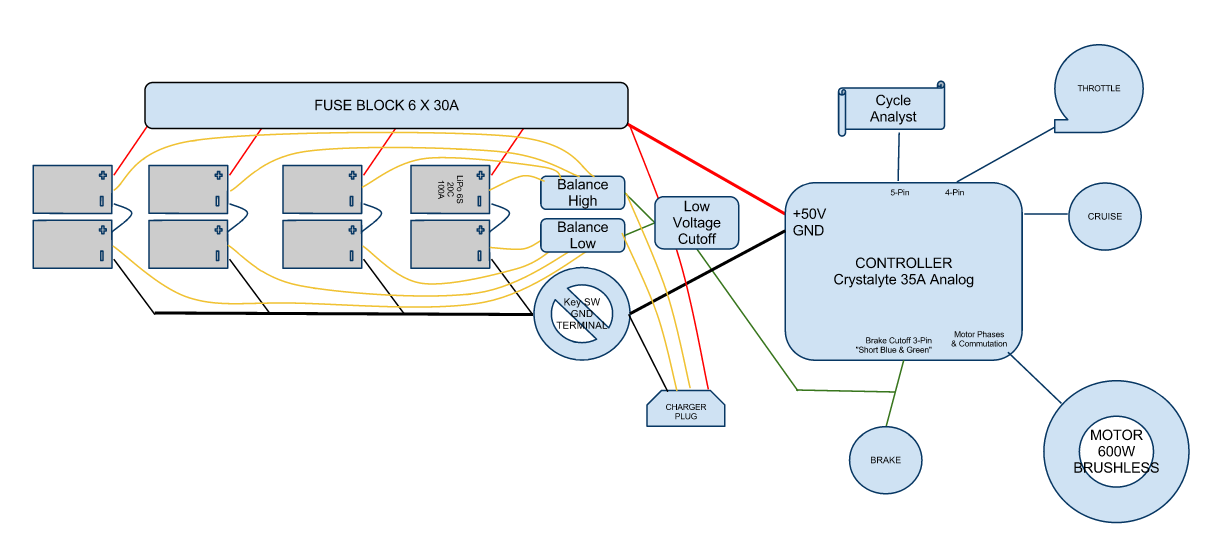 Performance:
With the current limit set to 20A, it cruises at 28-32mph on the flat in 6th or 7th gear with 45:16 gearing. I only use top gear above 35mph on downhills. I'm using 14-16AH for my ride home (in the mornings I carpool & have a shorter ride). Best of all, my commute time is now 55 minutes, instead of 90-105 minutes.
This bike is saving me 45-60 minutes a day round trip!
Plans / Hopes / Dreams:
Set up the current throttle through the Cycle Analyst (tonight?)
Move the battery pack to the frame for better handling, but less of a stealthy look... waffling on this.
Hook up the server power supplies I got off eBay for 24V input to the Hyperion
Thinking of increasing voltage to keep up with traffic. Still getting passed by a few bad apples when I go 32 in a 35. Thinking of going 18S4P, and just charging in two stages - 12S4P (current pack) and 6S4P (new pack which I'll add in series on the bike).
Dreaming of a 72V mountain bike with a rear mounted BMC V2T. And a cargo bike. And a bike for the girlfriend...
After 300 miles I'm smiling more and more - I think I'm hooked on this electric bike thing
Looking forward to sharing the fun and helping my friends build similar long-haul commuters.