Joined

Sep 11, 2010
Messages

7,809
Location
Recently I joined the recumbent owners club. This is an experiment, I have no prior experience with recumbents. My interest in them stemmed from the desire of going on some longer rides with friends. 100 miles on my mountain bike just seems like an ergonomic disaster to neck, lower back and wrists, and the higher aerodynamic efficiency of the recumbent should reduce the energy required for these long trips where battery is a challenge. The comfortable, relaxed "lawn chair" seating position of the recumbent design allows for longer rides without as much strain on the body. A geared hubmotor glides without resistance, and provides good climbing torque without the weight or high power of a DD hub.
So I picked up a used bikeE to try out. This may not be the final platform, but it seems like a reasonable start. The particular unit I have is little used and came with the manuals. It has been stored indoors and is in good condition. Here is a snapshot: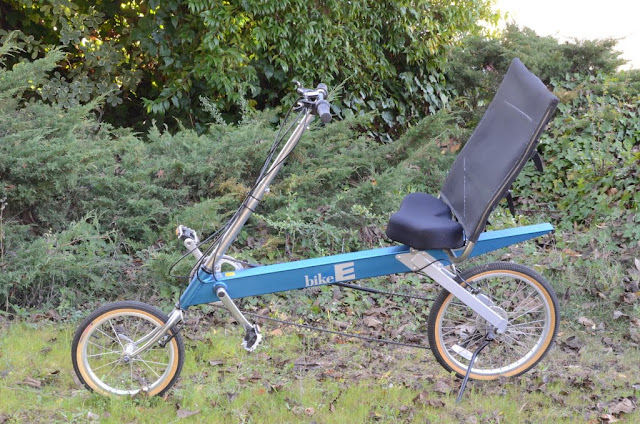 Here is the picasa web album for this project:
https://picasaweb.google.com/Alan.Biocca/EBikeEProject?authuser=0&authkey=Gv1sRgCOD0ns2Z9JSK-AE&feat=directlink
The rear wheel is 20" and the front is 16". The rear hub contains a 3 speed SRAM internal gearbox plus a 7 speed cog set. There is a single chainring in the front.
So, given that I want to have an efficient system for long range, and lots of pedal input, and moderate speed, I'm wondering how to e-power this bike? There are lots of choices. A rear Magic Pie? A rear Gearmotor? A front motor? Something through the chain? A left side chain drive?
I will need good hill climbing, up to 15% at times. The build will not start for awhile as I'm still working on some other builds. This will be #4.
edit: Correction. On 1 Feb this project was accelerated to be ready for 11 Feb Mega Monster Enduro. So it edges in front of the earlier started 'Borg build, and will finish in #3 position.
Updates:
2/11/2012 Failed to make Mega Monster Enduro, bikeE is almost electrified
2/12/2012 First Electric Test Run
3/7/2012 Maiden Commute Run with 48V 24AH Vinyl Tube encased Battery Pack
There are a number of similar builds here on ES (more than I realized), I link them here for reference.
Comments welcome.
Other bikeE Projects:
https://endless-sphere.com/forums/viewtopic.php?f=3&t=26412
https://endless-sphere.com/forums/viewtopic.php?f=3&t=29430
https://endless-sphere.com/forums/viewtopic.php?f=8&t=28061
https://endless-sphere.com/forums/viewtopic.php?f=2&t=26216
https://endless-sphere.com/forums/viewtopic.php?f=28&t=25980
https://endless-sphere.com/forums/viewtopic.php?f=3&t=25739
https://endless-sphere.com/forums/viewtopic.php?f=3&t=25739
https://endless-sphere.com/forums/viewtopic.php?f=3&t=25739 recumbent resources
https://endless-sphere.com/forums/viewtopic.php?f=6&t=4938 cyclone ypedal and http://ypedal.com/Cyclone.htm
https://endless-sphere.com/forums/viewtopic.php?f=2&t=4397 RX model
https://endless-sphere.com/forums/viewtopic.php?f=2&t=4397