Joined

Jan 10, 2020
Messages

47
Hi, I've recently upgraded my e-bike with a new controller (sabvoton 72150) and motor (suringmax v3 3kw 4T) and so far it's been quite good (acceleration is nice). However, I am having
2 issues that I have not yet been able to solve.
I would very highly appreciate any suggestions/tips from someone who has more experience than I do. Thank you in advance :thumb:
Issues:
1) Top speed is lower than expected
(approx 66km/h @82v (no-load voltage) using 26" wheels)
2) The actual maximum current when accelerating appears to be significantly lower than the "MAX DC Current" that I set in the controller software
(for example I set the max DC current in the controller settings to 70A and (using the app that came with my BMS I measure the amperage whilst accelerating and it's only 50 ish AMPS). When I increased the setting in the controller to 90A the max current measured via the BMS app increased to approx 66A whilst accelerating (conclusion: my battery can clearly produce the desired 70A). Assuming the measurement from the BMS is correct I don't know why this is happening. I have asked QS motor on Aliexpress but no answer yet. I will remeasure soon using a separate meter and check if the value displayed on the BMS App is correct or not.

Elaborating on top speed issue:

Current top speed (without field weakening) = 66km/h . My friend has the exact same motor, same battery voltage, heavier bike+human combo (approx 40kg heavier), running approximately the same power (with a different, generic Chinese 3kw nominal controller), and is achieving a top speed of approx 75km/h). I would expect to get a similar top speed. Perhaps I made a mistake setting up the controller, but so far I can't find any setting which could cause this (perhaps due to lack of knowledge).
The top speed has been tested at the aforementioned 66kmph when the battery was at 82.6V (that's the voltage under no load).
Some specs:
Controller: Sabvoton 72150
Battery: 20s10p Sanyo(Panasonic) NCR18650BL (200cells), approximate capacity 3100mah per cell, max discharge 7A (continuous) per cell
Motor: Suringmax V3 3000W, winding: 4T (https://nl.aliexpress.com/item/4000212162738.html?spm=a2g0s.12269583.0.0.49066f41tnMboI)
Wheel size: 26"
Motor wire thickness: 6mm2 copper, length between the controller and inside of motor approx 60cm
BMS: JBD Smart BMS 200A, 600A peak (https://nl.aliexpress.com/item/4001297015223.html?spm=a2g0s.9042311.0.0.27424c4dFeEdvd)

Overview of the main (relevant?) settings I have changed:
(see attached image(s))
-speed limit mode = "no limit".
- I am limiting the "MAX DC current" to 70 Amp because my battery is only rated for 70A (10 parallel, 7A max discharge per cell). The BMS's max amperage is set to 80A (to make sure this isn't the limiting factor).
Whilst acceleration the amperage is approx 67A, when I get to the top speed or close to the top speed, the amperage drops to approx 35A.
- Pn =23 (I have asked the motor manufacturer via Aliexpress, answer: "46 poles (23 pole pairs)" so that's why I changed it to 23)
- I have performed a "Hall test" using a laptop connected to the controller via USB, the hall test result was successful.
- I Changed the motor direction from "0.0" to "1.0" since the motor was spinning in the wrong direction.
- increased minimum throttle voltage to "1.2" (to prevent the wheel from spinning when no throttle is applied)
I have not touched the maximum phase amp settings since I don't know how to determine the values I should input in these fields.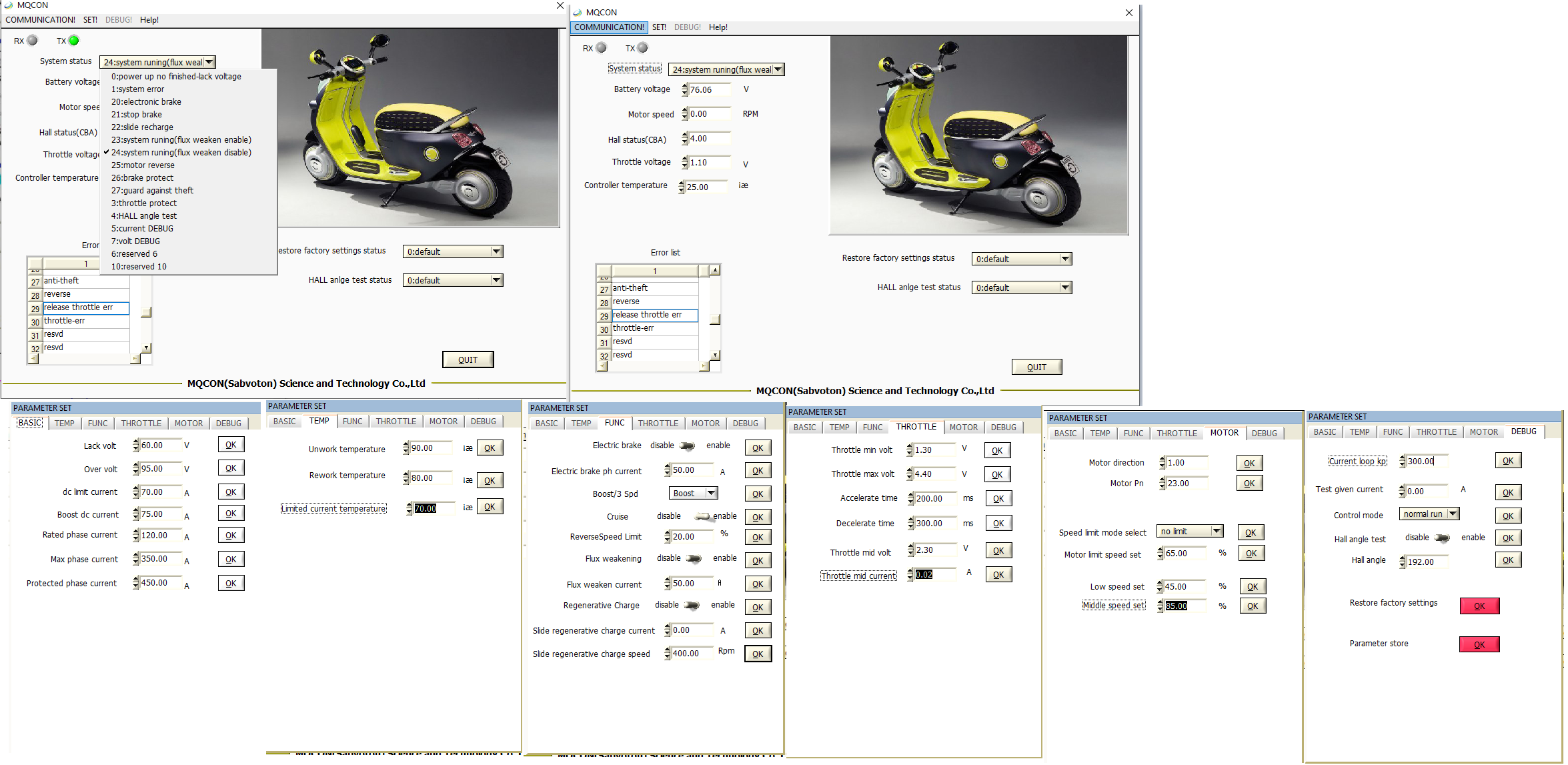 Questions:
1)
Any idea why the top speed is so low? Did I do something wrong in the settings?
2)
Any idea why the AMPS measured with BMS appear so much lower than the setting I input in the controller settings? Am I doing something wrong or should I not trust the BMS's AMP reading? (will check with different meter tomorrow)
3)
How do I determine the maximum phase amp settings? Is it ok if I don't change the values and only 'mess with' (change) the max DC Amp settings?
Thank you so much!
Your input is very much appreciated