Joined

Jan 8, 2016
Messages

5
Location
This is going to be my first attempt at an ebike build. It's an ambitious project, but I've got enough of a background in both bikes and basic electronics that I'm hopeful! I've spent the past couple days reading everything I can find here on ES and elsewhere. Unfortunately, I haven't seen many detailed specs from Sun Trip or other solar ebike riders about what solar and e-assist gear they're using. I know it varies pretty widely, but it would be nice to hear about peoples' experiences with different rigs...
Anyway, here's the bike (ok, trike(s)) I'm planning to electrify, loaded up for a recent 4-day trip: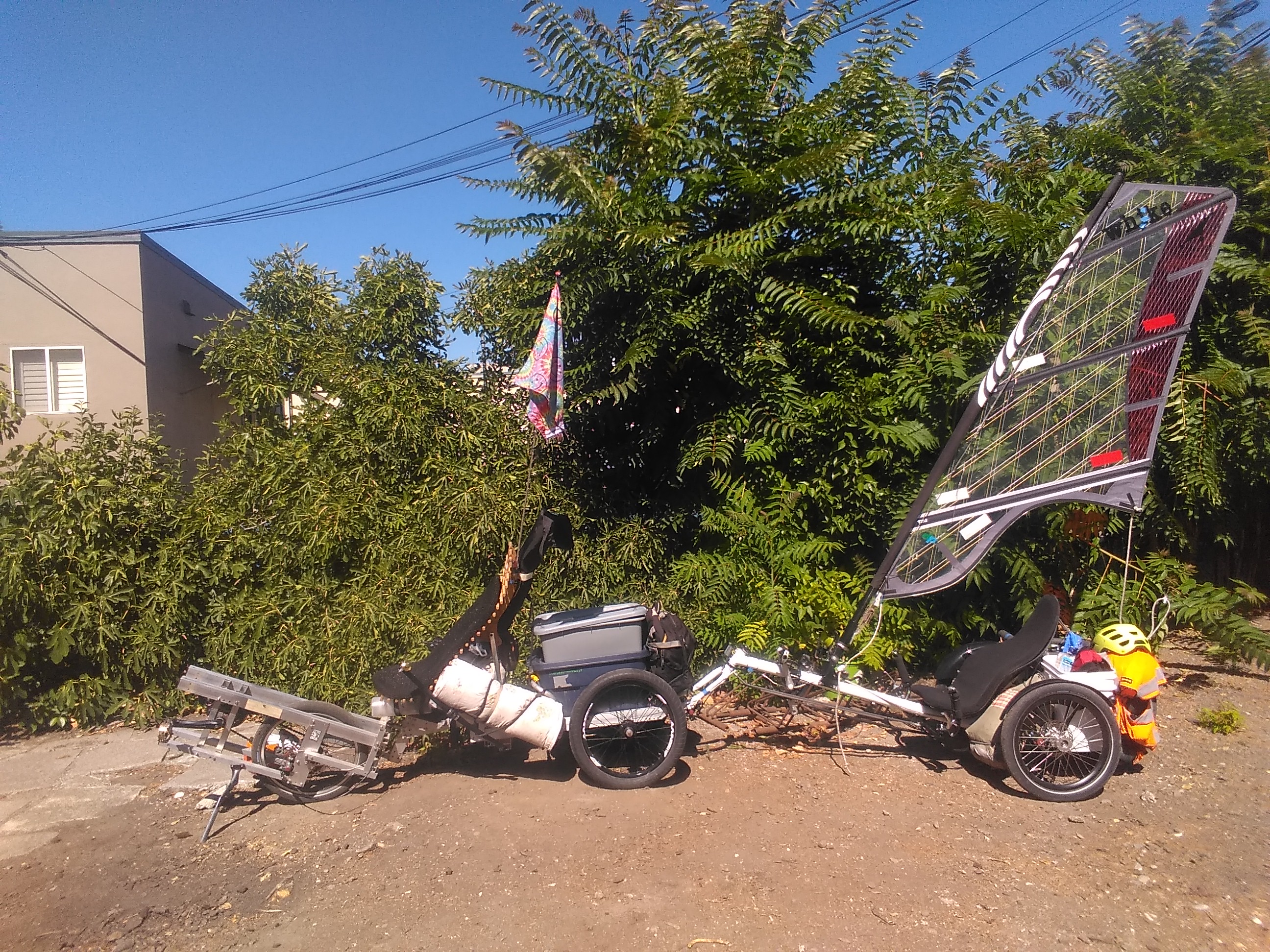 The Bike:
For now, it's
this homebuilt recumbent trike
, which will mostly be ridden with another delta trike (currently a
Whike
) linked behind it
as above
to make a tandem. With two riders, both trikes, all our touring gear, and the dog (not pictured), it's probably 400-500lbs. I'm planning to build a new tandem at some point soon that should shave off some weight, but might also build a little "camper trailer," so it's not going to get that much lighter.
The Goal:
Bike across the US starting here in California in early 2022, visit my partner's family in Pennsylvania, and bike back. Maybe it'll coincide with the 2022 Sun Trip! We're not interested in going terribly fast, but we want some help maintaining speed as we haul all that weight over hills and mountains.
The Assist:
I'm getting ready to order a Grin All-Axle hub motor kit. With 12mm adapters it should easily replace a rear wheel on the existing trike, and it's versatile enough to be used in any future builds. Torque-sensing bottom bracket because I really liked the feel of the torque-sensing ebikes I've test-ridden. For the cross-country trip, I may add a second motor depending on how things are going with the first one.
Not sure about yet: (please advise?!)
Controller - it seems like the Phaserunner is top-of-the-line, but I'm wondering if it's overkill for this application? How does it compare to other controllers? I don't really know how to evaluate controllers, and would appreciate suggestions/input.
Battery - My first thought is to just get Grin's LiGo packs (a few to start with, and more as we do longer trips with the assist). They seem like well-designed packs with an abundance of protection against failures due to variations in voltage/current/temperature/etc. On the other hand, I get the impression that LiFePO4 has a longer usable life and is a little easier on the environment than lithium ion, which I like. Lower energy density, though. PingBattery (for example, since I've seen them recommended here) seems to sell them for ~$1/Wh, which is comparable to the LiGo packs. Does anyone know if the Ping packs have comparable protection features?
Voltage - Extra-complicated on a solar rig, since (as solarEbike explains here) you have to keep the maximum panel voltage below the minimum battery voltage and keep the maximum panel current below the MPPT controller current limit, among other things. My first thought was: Use a really high-voltage battery, so you can push more power through the MPPT controller without hitting it's current limit or having to get more MPPT units (which are expensive if you go with the nice GenaSun ones; see below). But that probably means putting more panels in series to get the voltage up, and panels in series are more severely impacted by partial shade than panels in parallel. I haven't been able to find much info on what Sun Trippers or other solar ebike riders are choosing re: voltage, and why. Can anyone tell me more?
MPPT Charge Controller - GenaSun has quicker response times, but a maximum input current of 8A. That means for each 100W solar panel with ~20V/5A output, I need a $200 MPPT controller. That adds up when you're aiming for 500W of solar! Also, the GenaSun comes from the factory with a fixed output voltage which (I think? please correct me if this is wrong) would work with Lithium Ion batteries but not LiFePO4 cells, which have a different charging voltage. The alternative would be Grin's cheaper ($75) adjustable-output MPPT controller, which has a 15A maximum. It costs less, you can connect more panels to each MPPT unit, and the adjustable output means it would work with virtually any battery, instead of locking me into lithium ion packs of a particular voltage.
Solar Panels - I rather like these rigid panels that were mentioned in another build thread here on ES. They weigh about what a flexible panel does, but don't need much support framework. I contacted the manufacturer, and they wire their panels with "several zones, and bypass diodes" to mitigate partial shading. Much like the "Shadow Optimized" panels from Sunbeam Systems, which I was comparing them to. Both are in the $3-4/watt range. I know there are less expensive panels out there, but I get the impression they may not have the shadow optimization. "100W" panels with maximum output of a little over 20V and 6A would be safe for use with 36V batteries. Grin allows you to order a kit with their 170W panel and a 36V MPPT controller, but based on my understanding of solarEbike's explanation, I think it would be best suited for a 48V or higher battery... right?
Please forgive the wall of questions - I've been reading up on all this for the past few days and am still wrapping my head around all the options - and I know I've really only just scratched the surface.
Any thoughts or suggestions are much appreciated!
Thanks,
Darin
darin@darinwick.com