Joined

Aug 2, 2020
Messages

49
Location
Howdy y'all! I finally finished my Surly Disc Trucker eBike conversion for long-distance touring!
I call it the Surly E•D•LHT (Electric Disc-brake Long Haul Trucker).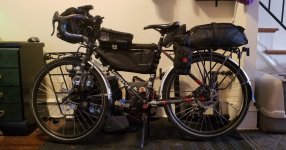 As some of you may know from previous posts & comments I've made, I did a custom build based on a Surly Disc Trucker frame & wheelset last year & always intended to eventually convert it to electric. Unfortunately I was in a really bad car/bike crash (door opened into me from the right, pushed me into fast moving traffic on the left, was immediately hit by an SUV) & my bike was mostly totaled, though there were some salvageable components. I had a few broken bones & have this annoying scar above my eyebrow now but was very lucky to have survived and without any serious permanent injuries. Took some time to recover & won a lawsuit after that. Once I was all healed up & able to use tools again I decided it was time to rebuild my bike & finally get the motor & battery I wanted to create my dream build.
I recorded my entire build process on video & intend to eventually go through it all, do some editing & put together a tutorial or maybe a few. I made another topic about this last month to ask y'all's advice about good video editing software since I'm pretty new to the game of making videos (photography has been my jam for quite some time though). Here's a link to that thread: https://endless-sphere.com/forums/viewtopic.php?f=6&t=107988 (also check it out if you're interested in seeing more build pics from before it was finished!)
I'm so thrilled with this bike & excited to show it off that I just couldn't wait to put the videos together before making a build thread. :lol:
So here's just a few of my favorite photos of my bike so far! Also: read on for more info on how it's working out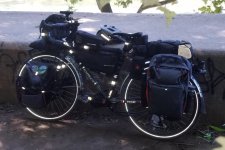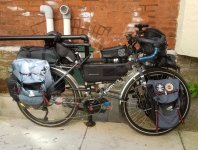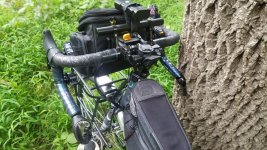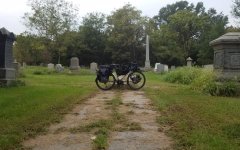 The Nitty-Gritty
I got a 14s7p large rectangle battery from EM3
EV
that so far has proven to be a great choice. The EggRider v2 display I bought seems to have some trouble calculating its watt-hour capacity (it usually shows around 400wh on the display when the battery is charged around 90% but EM3
EV
lists it as a 1200wh battery). This concerned me initially but after riding it around plenty & having the EggRider v2 seem to correctly calculate my Wh/Mi when compared to my actual range the numbers do strongly suggest the battery capacity really is 1200wh & the BMS Doctor app finds no faults with the battery. The EggRider also keeps telling me my remaining range is much lower than I know it actually is (it said R6 at one point today but then I pumped out 15 miles & still had 33% capacity left so that's just wrong lol). I tried calibrating the voltage through the EggRider app & although that did get the voltage & battery percentage indicators to line up more closely it didn't seem to effect the Wh-capacity or Range calculations. Not really sure what the issue with that is or how to fix it still, but it's really only been a pretty minor annoyance since functionally everything seems to be working perfectly well.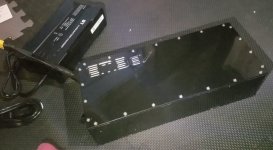 I did make one mistake when ordering the battery & the bag to put it in. I originally intended to mount the battery in a bag within my front triangle in order to keep the weight mostly centered on the bike, but it didn't actually fit there on my 46cm/XS frame. The battery is QUITE hefty & slightly larger than expected. It fits barely inside the triangle on its own but not with the few mm of fabric around it when placed inside the frame bag I got. Even if I had been able to squeeze it in it didn't seem like a good choice since there'd be no room to add any protective foam padding to keep it from getting banged up against the frame. So I ended up buying a trunk bag that it fits into (also just barely lol) & moved some heavier items that I normally carry in the rear (like my u-locks) into the middle frame bag to help offset/recenter the weight a little bit. It is a bit rear-heavy this way but it's not terrible. It's actually working pretty well that way so far. I used layers of 5mm EVA foam cut to size to pad the top of the rear rack underneath the battery bag & put some inside the bag on the sides & top of the battery to help protect it from any dings from the bike tipping over or anything like that.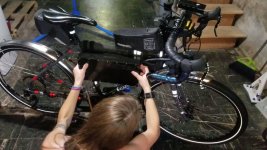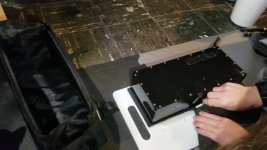 I've ridden about 150-200 miles on it so far in various conditions & environments (looks like tomorrow will be my first time in the rain though...wish me luck!) & it's all working like a dream.

I've been averaging around 10-12 wh/mi on most rides so far & have even had rides where I only used ~8 wh/mi, which is much better than I had anticipated. I expect that the battery will give me a range of about 80-120 miles per charge when I'm using it on long-distance tours (~100mi average, give or take a little depending on weather, terrain, & how much climbing or descending I end up doing on any particular day).
I have a 42t narrow-wide Lekkie Chainring & a 11-42t 10-speed cassette in the rear so my hill-climbing ability is just absurd. The 42t chainring is a little bit on the small side for me when the bike is unloaded & riding on pavement but it works absolutely perfectly for carrying heavy gear &/or going uphill on a rocky or grassy surface. I have perfect chainline on this bike to get full use out of all 10 gears in the rear, so that's pretty awesome. The Lekkie Buzz Bars with left-side offset are also a great item for keeping me centered in the saddle. I'm using flat mountain bike pedals (ColdSmoke by CyclePunk- they're absolutely gorgeous!) because I'm not a huge fan of clipless on touring setups & also I think they might be pretty scary to use on a high powered eBike.
I'm using
four
GrinTech Handlebobs to mount the display & throttle on the left side of my bars & a bell & controller for my rear light/turn signal on the right side. I have a rear-view mirror attached at the bar-end on the left side (it works ok) & am using a MicroShift bar-end shifter on the right for the rear derailleur. Bar-end shifters feel just a little clumsier to use than brifters but I find that they're exceptionally bomb-proof on long tours where you really don't want something like that to break or fail on you. That was actually one of the components that survived that awful car crash I was in awhile back. Steel frame was pretzeled, shifter still worked. Also those 36H wheels with Alex DH19 rims miraculously survived. Those parts definitely had their trial by fire & proved themselves worthy of being part of any long distance setup.

I'm using in-line brake sensors that I ordered on AliExpress because I wanted brake sensors but I also wanted to keep my drop bar setup. I couldn't find the ones that mounted directly onto the brake caliper in stock anywhere, but I managed to get the ones that go the opposite direction to work just fine installed between two lengths of cable housing right up at the handlebars where the cable comes out from under the bar tape.I also decided to run housing along the full length of the shift cable (even though a Surly DT is typically set up with the cable exposed between the barrel adjusters near the top of the downtube & the end of the chainstay) because I wanted a little more protection around the cable (especially under the bottom bracket area where the motor makes some contact with the housing now) & also figured it would help protect the sensor from getting water inside it when it rains as the cable passes through it as I'm shifting. Some folks say this reduces shifting quality by a bit, but I really haven't noticed any issues at all & think it was a good upgrade. For cable management I mostly relied on self-fusing silicon tape to hold cables together & to run them along the frame where I wanted them & that worked really well. I also wrapped a section of the cable for the main wiring harness underneath some cork handlebar tape wrapped around the top tube to make it even more discrete (& it also works to keep the cable from getting pinched when I put my bike up in the repair stand I have at home).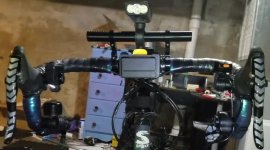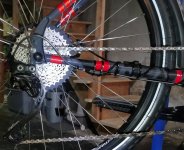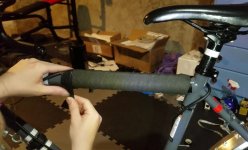 The bike is pretty damn heavy now & not super feasible for me to carry any meaningful distance or up a flight of stairs (unless I strip it completely bare of its bags & accoutrements & take the battery off - then it's a challenge still but doable). The walk assist feature works great for pushing it up ramps & hills though (if the bike is loaded sometimes I have to remove some cargo first, but it's not the end of the world). Pro tip: I've found that it's a really good idea to shift into a low gear/big cog before attempting to use walk assist to push it up a really steep ascent. Makes the job a whole lot easier & I imagine it stresses the motor significantly less. I don't know the exact weight of my bike loaded or unloaded yet. Considering investing in a scale like a proper weight weenie at some point.
I reprogrammed the motor through the EggRider app to significantly
REDUCE
the power in most of the PAS settings. Also limited the throttle a bit. I've been riding analog bikes for about 10 years now & would consider myself an avid cyclist with decent strength & riding ability. I'm also only 5'2" (~160cm) & ~100lb (~45kg) so this thing really flies for me.

PAS1 uses 11% of max current, PAS2 22%, PAS3 33% etc in the mode I use most often. It's pretty cool that the EggRider lets you have two different profiles programmed into the bike at the same time, so I also have the option of switching into a higher power mode with a stronger throttle & it responds faster to pedal input as well (which I typically use when I find myself riding "offroad" on rougher terrain than pavement or light dirt/gravel). Using the Current Decay setting I also have it set so that the higher powered mode doesn't reduce the current as much as cadence increases.
I normally ride in Eco mode at PAS2. I drop to PAS1 sometimes when I want to save power & go up to PAS3-4 when I want to get somewhere quickly & am less concerned with range. I will briefly use PAS4-6 to get up steep hills. I almost never use PAS7+ but imagine having the option of using EVEN MORE power when I need it will be very handy during long tours where I'm carrying a ton of heavy equipment. I average around 16-18 MPH at PAS2 in Eco Mode on most rides, which isn't super fast by most standards, but I think it's pretty snippy for a big heavy bike that's usually hauling a bunch of stuff around. On the previous iteration of this bike (with no motor & a triple crankset instead) I averaged around 12-14 MPH with my bike loaded up, for comparison.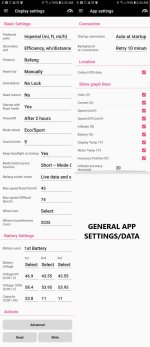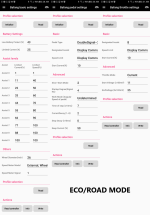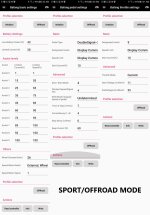 I'll likely continue to experiment with these settings as time goes on, but for now I'm quite happy with them. I haven't even gotten into messing around with the torque settings page since it looks pretty complicated. I'm sure it's something I'll eventually learn more about & possibly start tweaking in the future.

Conclusion
I am absolutely thrilled with this build & how it's working out for me so far. The range is a little better than I had expected & should do an excellent job of meeting my needs when travelling afar. The 5A charger fills 'er up quickly enough that topping my battery off at diners, shops, libraries, campgrounds & the occasional hotel shouldn't be an issue. With a 1:1 ratio between my chainring & the biggest cog in the rear I'm pretty sure this bike could climb trees at the right angle. I love that the EggRider lets me program the motor on the go if I need to & makes everything super simple to use & setup through my phone. I can also use my phone as a bigger display if I want to, but I generally find that the small display works just fine for my purposes. I'm not exactly wealthy so I spent a lot of time saving up & gathering components bit by bit to make this happen. For me, this is a project that has been a few years in the making. This bike truly is my dream build & now that it's finally done I almost can't believe it's real. This is my primary (only) vehicle (I don't own a car, not a fan of those murder machines - even less of one now that I actually was almost murdered by them) and I really can't say enough about how much I feel like my quality of life has improved in the last two weeks since completing this build. I feel like I can do almost anything on this bike. It's super well-rounded for all kinds of riding: it's decently fast on pavement & pretty good at handling climbs & rough terrain. I wouldn't take it on like a single-track mountain bike trail & I don't think it could handle heavy sand or snow the way I currently have it set up, but I think it will perform just fine in about any other condition I can think of. I am SUPER stoked about this bike, y'all.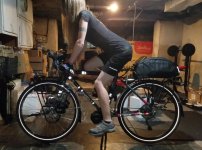 Ride on my friends!