The Zivan NG1 is an excellent (albeit expensive) battery charger. 900 watts, three stage, and fully programmable. Unfortunately, the programming can only be changed with a factory supplied microcontroller. However, the end user can change the voltage and current setpoints.
Best to understand the charge profile before using in new applications. The Zivan manual
http://zivanusa.com/pdf/NG1.pdf
explains some things, but they have left this part out. They use the European convention of W (watts), I (current), U (voltage), a (auto off) and o (float). Two examples are explained here:
http://zivanusa.com/ChargeCurve.htm
. Chargers are well labeled when built: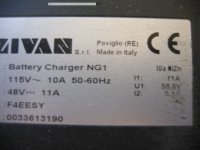 As you can see, this charger has an IUa curve (what we would call CC/CV); so, constant current (I1 = 11 A) until it reaches U1 (56.8 V), then constant voltage (again, 56.8 V) until current tapers to I2 (5.1 A), then shut off.
There is a little more to it than that. Each stage also has a timer associated with it (T1, T2, T3). These are usually just maximums, i.e., each stage will terminate at Tmax if it doesn't meet normal criteria. In the case of NiZn batteries specified on this charger, there is a pause specified of 5 minutes, and that is the second stage. So after reaching CC, it shuts off for 5 minutes, and then starts the CV stage.
There is an LED to indicate each stage. It is progressively Red, Flashing Red, Orange, Green. There is also an optional temperature input, it is nominally set at - 5 mV/C.
So let's set this charger for some lithium cells. A 16 cell pack at Vmax of 3.7 volts/cell should stop at 59.2 V. 11 amps is fine for a larger pack, but it can be adjusted as well. So let's open up the charger. Be VERY CAREFUL! Everything is live, including the heat sinks which can be at mains voltage or above. The capacitors can also hold a healthy charge.
View attachment exposed-pointer.JPG
The trim pot on the right is the voltage setpoint. Turning it clockwise will increase the voltage. Zivans require a load in order to operate - during the soft start (avoids inrush current) they test battery state before beginning charge, so you will need to connect something that will take whatever voltage you're going to set. I think it's easiest to set up your meters, and crank the voltage above where you want it to be. Then start a charge cycle, and when the battery voltage reaches desired level, lower the adjustment pot until it goes into the next stage.
View attachment 1
Of course, run a full cycle to verify your new charge curve is what you want it to be.
But wait - there's more! It might be that your existing curve doesn't match what you want (like the IUI curve), and you'll want to get your NG1 re-chipped. There is a little jumper block next to the MCU on the digital board:
View attachment adjustment.jpg
This allows the selection of one of up to 16 charge profiles. This is usually used to select the 3rd stage current, to allow for AGM finishing of different sized battery packs. However, the profiles can be completely independent, within the confines of your charger. Each charger has a maximum voltage and current, e.g., 48 V and 15 amps, or 72 V and 10 amps (these are indicated by the second two letters of the model number). So with one NG1 you could charge a wide variety of pack voltages and chemistries.
Truly a charger for all seasons.