Edit: I will use the beginning of this thread to publish the most up to date reference info on the Timing Adjuster, so it is easy to find.
Introduction:
The Timing Adjuster (TA) is a microcontroller based gadget that can be used with any sensored controller.
It sits between the hall sensors in the motor, and the sensor inputs to the controller, and allows the motor timing to be adjusted electronically.
An interface program running on a PC is used to configure the many settings of the TA, and can also display data about the motor as it is running.
In addition to static timing adjustments, motor timing can be modified dynamicaly in response to RPM, Throttle position and Phase Current.
The aim of continually adjusting the timing is to help keep the motor operating at its maximum efficiency, or maximum performance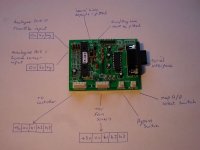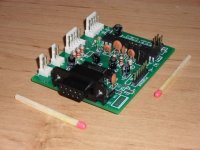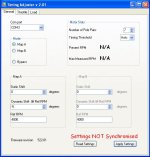 Lots more words in this TA2Userguide

. I will try to keep this userguide updated as it progresses.
View attachment TA2-Userguide.doc
Installer for PC interface program v2.02 (this works with current TA2, updated March 2012)
View attachment 1
Installer for PC interface program v1.02 (this works with the original TA prototypes)
View attachment TimingAdjuster v1.02.zip
Driver for HL-340 usb serial adapter
View attachment 4
View attachment HL-340 win7 x64.zip
Burtie