Joined

Aug 3, 2020
Messages

285
Greetings people.
A post discussing my latest ebike construction. My first bike was written up here:
https://endless-sphere.com/forums/viewtopic.php?f=6&t=108357&p=1629256
Another pic
. This bike was great to basically test my motor/battery/controller configuration. This bike uses 24S1P, with four 16000mAh packs in series. Each pack is a liperior 6S 12C 22.2V used from rcbattery.com. It weighs in at 44kg. The motor is 3T QS205 (I believe) and it travels at 55mph and can suck down 10kw at peak. It may go faster but I simply dont want to try on my current frame.
I also learned a lot about ebike building on Gen1 in general, as well as discovering an open source bike controller:
https://endless-sphere.com/forums/viewtopic.php?f=2&t=109266
I have several design goals for my new bike. I want it to be waterproof, and want to take it on trails so the batteries and other other internals need to fit snugly. I also want wanted it to be thinner than the first version. There were too many times the
large box
on Gen 1 was really uncomfortable.
The other thing that I am going after is to simply be able to construct a bike from scratch. I may ulitimately go back to using a pre-existing bike frame, but this has been very enjoyable to make so far.
Also let me mention that I have no expectations that this bike will be lighter than before. It's probably going to be close to the weight of Gen1, or maybe 4 kilos more. I dont think it's a good idea to go with light on this design -- the box construction will probably fold up if I go with thinner aluminum. I have mad props for the
33kg illegalbike
-- maybe I'll get to that level some day.
Another goal is that I want to see the overall CG to get lower. If you look at most downhill frames, there is all kinds of space between the front wheel and the downtube, and I started thinking about building the batteries directly into the downtube, and that led me to think it would interesting to mount the batteries and electronics into a frame that was specifically designed to house everything -- particicularly because I'm after a waterproof bike.
After looking around, I found this
cavalerie mtb
with a nice big downtube to serve as inspiration. Here was the concept I was after: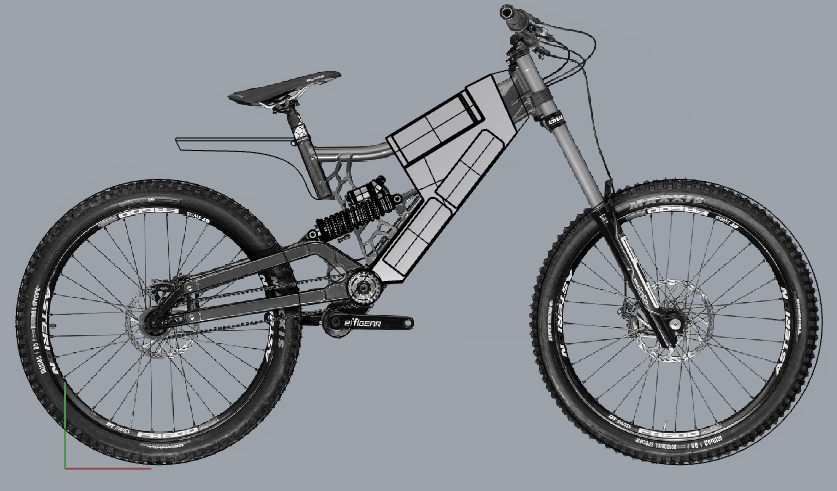 Fortunately the cavalerie peeps also post very nice
dimensional diagrams
which helps with choosing overall lines in CAD. After a few weeks on design/layout, the resulting design is here: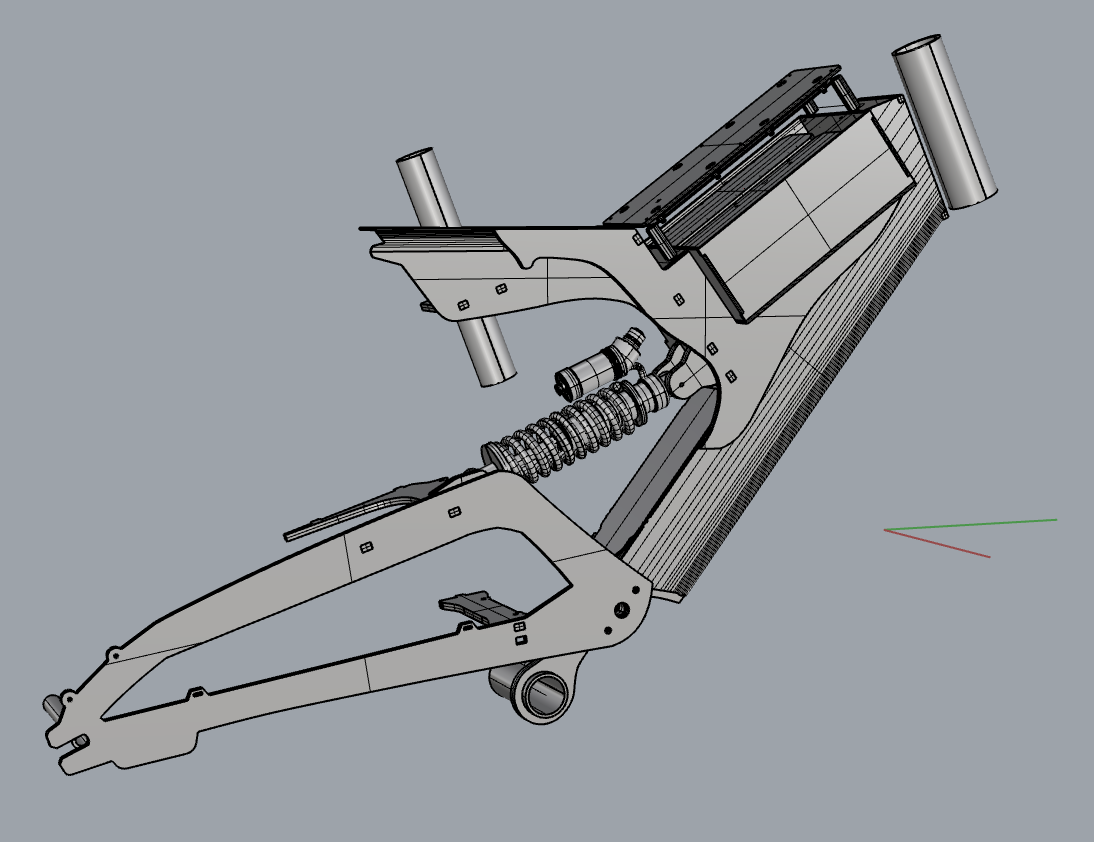 What youre looking at is profile view, which is probably a little confusing, but the idea is two batteries are sitting in the gastank area of a motorcycle, and the controller will sit on that box. Two other batteries will run along the downtube. Here's a cut away from the other side. The batteries are in yellow: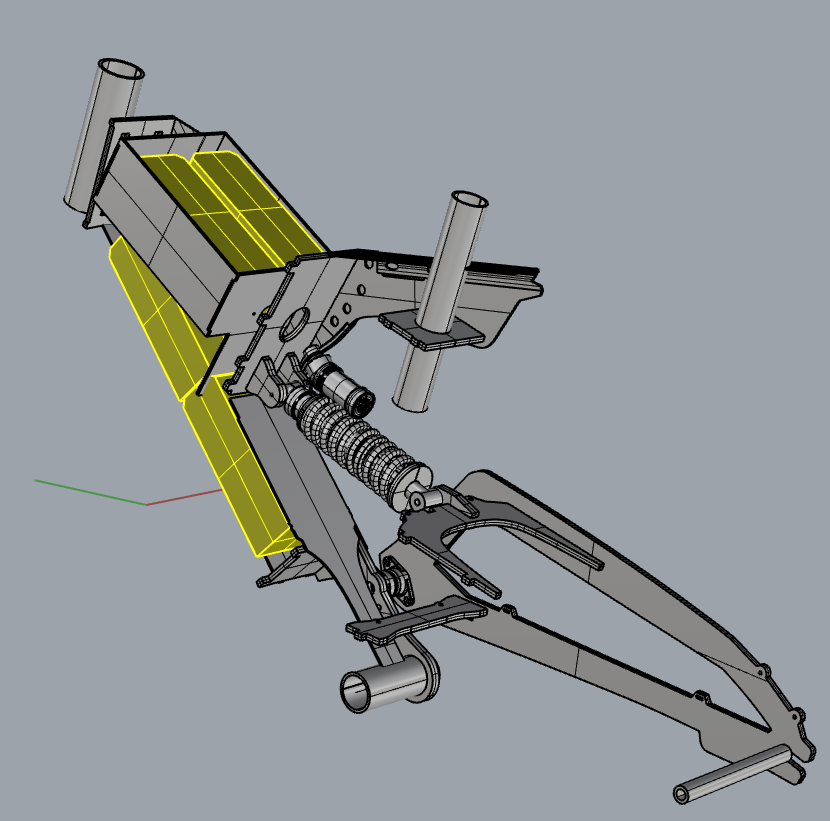 A friend also did a stress analysis to find areas that would fatigue over time. There are several reasons I dont think this is particularly accurate. Unless handled very carefully the application of forces in the software probably doesnt really represent real world conditions, but more importantly I dont think CAD can model (bad) welding particularly well. The analysis was useful for find areas that potentially needed to be reinforced, and I adjusted the design a bit as a result.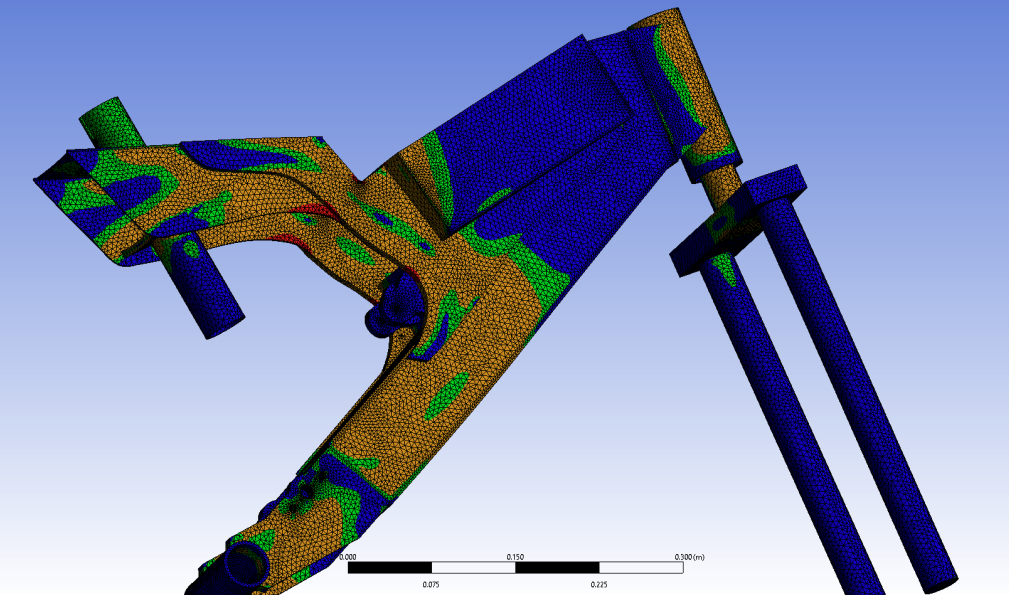 The fun part of this build is it's all designed to be cut out out of flat aluminum plate. Here are some of the parts involved. Different colors correspond to different thickness:
Another amazing thing about the world we live in is that you can send off these parts to
sendcutsend.com
, and get aluminum parts up to 1/2 inch thick cut with extreme precision on a laser. Sendcutsend also does bending. Dotted lines indicate where the bends will go. The longish parts with dotted lines are the primary downtube/battery box. You load up the files, send a payment, and the parts come back in very short order: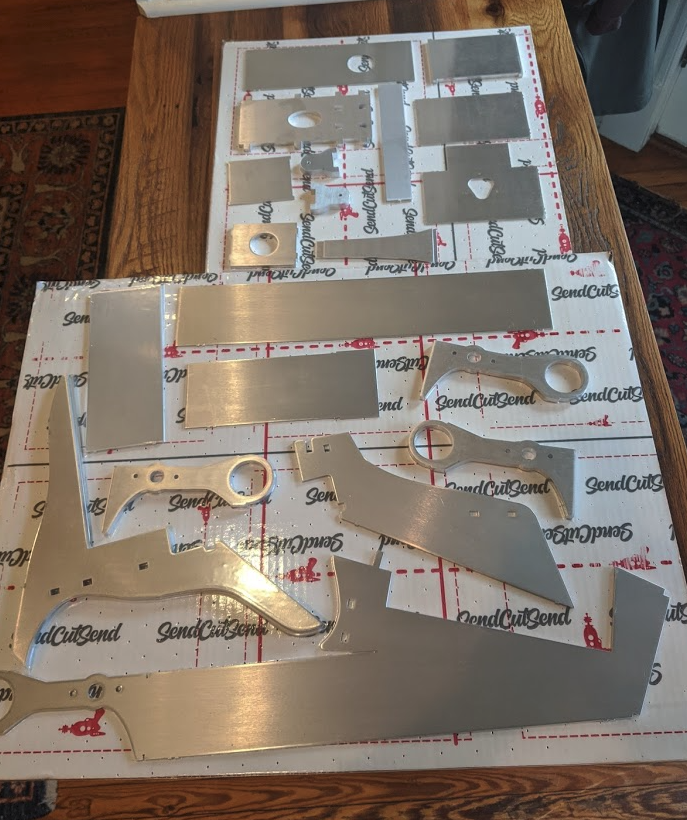 Now for the welding. I am not a good TIG welder, in fact I just started. This
pic
is about the best I can do, but I have a fairly shaky hand and I'm very inconsistent -- so I like to avoid putting welds on the most conspicuous outer edges of the bike. The reason those folds are in the downtube/battery box is to hide the welds on the underneath portion the downtube.
Another trick I learned along the way was to bend metal was to use a triangular router bit to score a line down the aluminum. Shown in this
pic
. Then you can warm up the aluminum a little, put it in a
vise and bend
-- you get a really nice sweet straight bend.
This picture shows shaky hand welded box versus a custom bend box. I much prefer hiding the welds.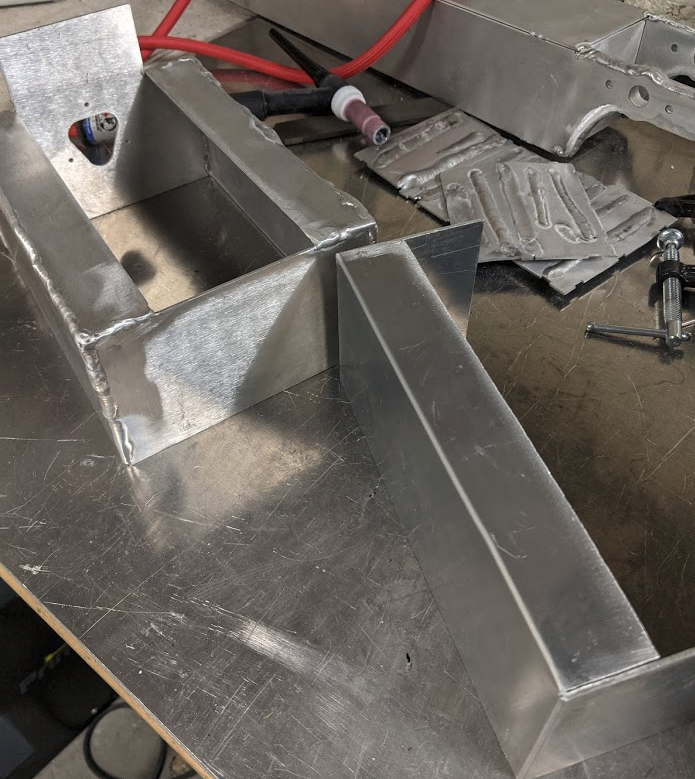 These pics show the assembled parts, which is 2.7kg so far.
I'm hoping to keep the whole thing (with swing arm) under 5kg. I'm very happy with concealing most of my crappy welds, almost all of them are internal or on the underside of the bike. This
pic
shows the worst of it, and here is another example: