Last year I began my first build, a 2WD electric Yuba Mundo cargo bike with a relatively low power (1.7-2.4KW). The plan is to build the bike in stages: get a pretty complete bike on the road, experiment a bit with battery configurations, then finalize the battery enclosures. Stock Mundo components get upgraded as appropriate along the way. I got the first phase done and the bike on the road in mid-Fall and began evaluating battery configs this Winter. 2012 is bringing the remainder of the build.
Here's an index to posts about facets of the build.
Miscellaneous
Mundo Component Upgrades, Extras
Tools
Here's a few shots of the bike shortly after it hit the road…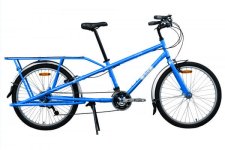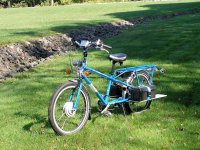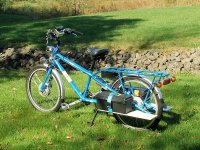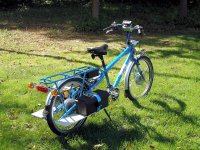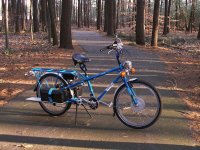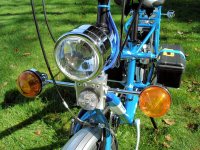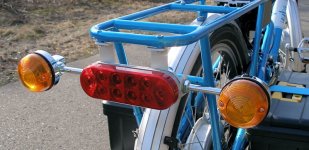 View attachment 2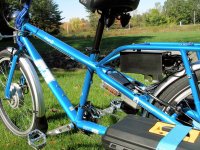 View attachment 6
View attachment 1
View attachment 5
Quickie feature summary:
Yuba Mundo V4
Sun Mammoth rims with Fat Franks
(EDIT - switched to 26x2.35 Big Bens)
(2) BMC V2S gear motors
(2) Xlyte analog 72V 35A 12 FET controllers (limited to 25A)
(EDIT - switched to Lyen 12 FET 40A controllers)
(2) series 8S2P Headway 38120 packs in the sideloader
single Magura throttle for both motors
handlebar switch for one or two motor operation
single Cycle Analyst V2 current limit of 850W or 1700W when 1 or 2 motors are engaged respectively
(EDIT - changed to 2000W/3300W for 1 or 2 motors)
(EDIT - switched to CA V3 from original V2)
Cycle Analyst bypass switch for 1200W/2400W operation (1 or 2 motors)
(EDIT - changed to low, med, high levels different for 1 or 2 motor operation)
10A DC/DC converter
55W Halogen Motorcycle headlight with 23W motorcycle turn signals
FIAM Freeway Blaster car horn
built-in front and rear LED strobes (DIY Extreme Blinkys)
(EDIT - added ebrake-activated brake light)
EDIT - added CA V3-based RPM-based PAS with bar-end pot adjustment)
custom sideloaders
overnight balance charging with VoltPhreaks single cell chargers (no BMS)
Running on a single motor the bike will do about 23mph CA-limited to 850W, on two motors about 30mph CA-limited to 1.7kw, and 35 mph at 2.4kw with no CA-limiting – all speeds with an upright 200lb rider. I usually average around 17mph to keep the working range at 30+ miles at about 25-27Wh/mi with light pedaling. On the more or less flat, it runs on the rear motor alone and I switch in the front motor as needed to climb hills or sprint in traffic. It's got about 850 miles on it to date.
EDIT - 11600mi as of Nov 2015 - See this post for updated speed/performance info.
The bike is pretty torquey over a fairly broad speed range – it responds to the throttle briskly and is quick off the line with around 90lbs of thrust from a dead stop (both motors). Since I am usually just cruising and watching the world go by, my usual mid-teens to 20mph speed is very comfortable using one motor on the sort-of-flat -- kicking in the second motor lets the bike pull up most hills with little speed change and usually throttle to spare. On-the-fly switching between one and two motors is handled with a thumb toggle – very much like shifting. A second thumb toggle disables CA current limiting for a boost. The overall biking experience is very easy and pleasurable – in part because the bike rarely seems to be working very hard and flattens most hills.
So – a couple of things to deter some immediate posts :wink:
First is the matter of 2WD. This was done for redundancy to achieve a viable 'limp home mode' – I don't want to get stranded far from home with tons of groceries, a smoked motor, and a big honking steel cargo bike. I recently smoked a controller 9 miles from home, switched off the offending controller, reset the breaker, and just continued on my way. I wasn't any too pleased it happened, but couldn't have been happier with the 2WD choice as I motored on (2WD Grin!) .
Second: the battery boxes are a bit dorky, but intentionally huge and temporary. The battery mounting issue is a major focus in every build and a major packaging effort right out of the gate seemed a poor plan – just not enough ebike experience yet. Instead, I use some cheapie toolboxes (Pep Boys) that are big enough to let me easily experiment with different XsYp configurations. The current steamer trunks and sideloaders get tossed in the next build phase.
Surprisingly, the big bike is taken as unpowered by most folks, even with the turn signals and battery boxes.
One or two 'knowledgeable' bikey sorts have commented on the big drum brakes to stop such a big bike.... :wink: