Joined

Apr 7, 2009
Messages

2,961
Location
So I guess I'm getting closer and closer to actually doing this.
Here is a very vague plan: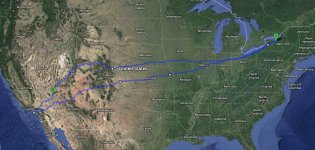 The idea
It came to my attention last year that the world record electric bike journey was at a mere 2500 miles. I knew full well that Justin had done more than that on his cross country Canada trip years prior, so it was kind of lark. Subsequently a crazy canuck rode an electric scooter across Canada, bringing the official record up to 4200 miles or so: http://www.guinnessworldrecords.com/world-records/7000/longest-journey-on-an-motorized-bicycle.
So for a long time I dreamed about what was possible. As it turned out, I ended up with a whole month of vacation this year... What better way to blow it than on a cross-country ebike trip?
Timing
The plan is basically to take the entire month of August and just ride. I need to basically average 200 miles a day.... for the entire month

The Bike
-2kWh pack
-OG goldenmotor hub which already has 8000 odd miles on it
-18 fet controller built by myself
-600W onboard mean well charger
-additional 900W air breathing charger
-2 monster headlights
-2 monster tailights
-GPS
-4 USB ports
-Melodica
The support truck
There aint' none...
What do you think? Am I crazy?