Joined

Jan 16, 2020
Messages

520
Location
Ed here.
I've been aware of this site for a number of years, and have looked in, now and then. But now I'm getting to the point in my build that I need, the kind of help this site seems to be able to provide.
I'm currently building a C Cab Hot Rod, and I'm seeking advice on what power will be needed to make it ....
GO.
It started as a pedal car project, (named StreetRunner) and has since morphed into what you see below. A renaming to
ILLUSION
may be more accurate.
Anyway
The following pics should give you an idea what I'm working on.
I'm at this stage as of this post. 1/16/2020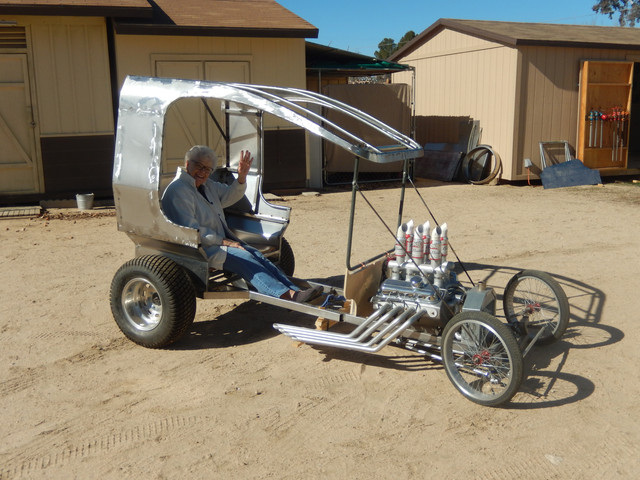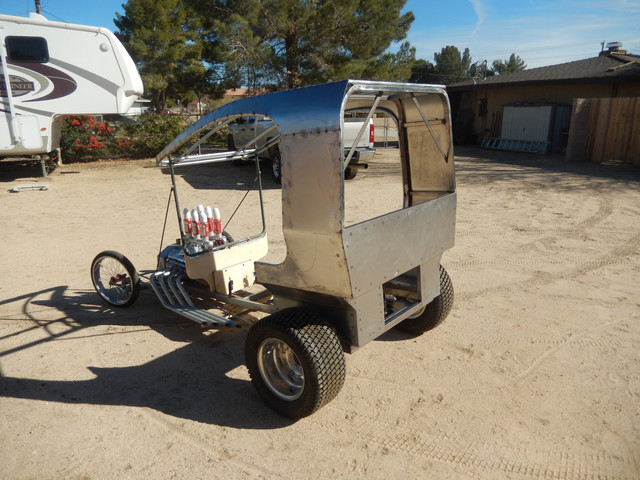 Basic information for your consideration.
The idea behind this build is to replicate the Hot Rod 'look' while not using a real engine/transmission etc.
For example the engine is not real. It is actually hollow. Its made from perforated sheet metal, PVC pipe, and yes those are 'empty' Budweiser cans for the carburetors.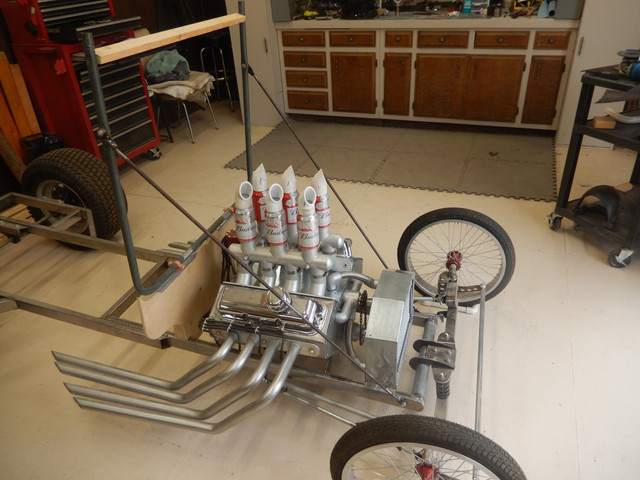 Current thinking is 48 volt 1800 watt motor.
https://www.ebay.com/itm/48V-1800W-Electric-Brushless-Speed-Controller-Motor-Grip-fit-ATV-Go-Kart-Scooter/274048053097?_trkparms=aid%3D555018%26algo%3DPL.SIM%26ao%3D2%26asc%3D20160908110712%26meid%3D29b7316fed1c419e9291474184d3ba8f%26pid%3D100677%26rk%3D3%26rkt%3D30%26sd%3D303293310776%26itm%3D274048053097%26pmt%3D1%26noa%3D0%26pg%3D2386202&_trksid=p2386202.c100677.m4598
or a geared motor as in the link.
https://www.ebay.com/i/162582832023?chn=ps&norover=1&mkevt=1&mkrid=711-117182-37290-0&mkcid=2&itemid=162582832023&targetid=858219882363&device=c&mktype=pla&googleloc=1013549&poi=&campaignid=6470552634&mkgroupid=90044703518&rlsatarget=pla-858219882363&abcId=1139336&merchantid=101988296&gclid=EAIaIQobChMIwuvLyOqI5wIVlP5kCh0-KAHWEAYYASABEgJ4pfD_BwE
Gearing/motor sized for a max speed of 25 mph.
Current vehicle weight is +/- 200 lbs
Anticipated gross weight +/- 500-600 lbs.
Rear tires 24 inch diameter
3/4" drive axle
Not much head room in the motor bay area, under the seat.
Maybe there are some here, that are aware of Brad Graham, and his https://atomiczombie.com/forum/ website. My build thread name is,
Ed's StreetRunner Quad Build. https://atomiczombie.com/forum/threads/eds-streetrunner-quad-build.11/. It can be viewed there.
I am working with the intention of driving it in this years local Christmas parade, as well as future events. So any interest in my project and any suggestion/opinions, as how to best power it, will be greatly appreciated.
More photos and info, provided as desired.
Thank you
Ed