Joined

May 3, 2019
Messages

2,813
Location
I like learning and need or want transportation for store runs and trips out to the country side.
I want to see if building e bike will do this for me. My back is gone, 6'2" and 260lbs. I treat things better if time is invested.
Around yr 2000 I went to school and work on a bicycle around 15 to 30 miles daily for 2 yrs until bike was stolen. It was really good for me. Want to try it again and learn about E bikes.
Last eight years been limited riding a 26" bike I bought for $5.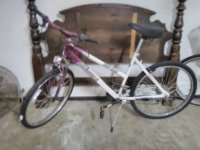 6 months ago bought a new box store damaged 29er.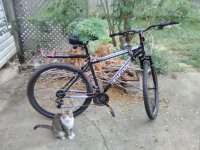 I like that bike but got the E bike bug. I helped my brother who rides a bike every where, put an e bike kit on his bike.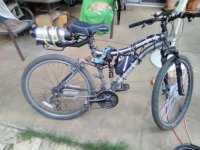 BC 36V 500w E-bike kit
That is when I joined ES and ordered a full suspension, dual disk brake 29er and single wheel trailer.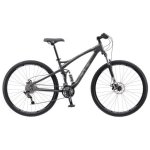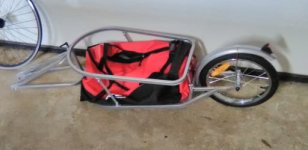 My mother rides bikes and I need some practice with e bikes, found a Schwinn Meridian on sale and ordered parts from Grin Tech and putting together pas trike for mom. Still needs flag and rear light.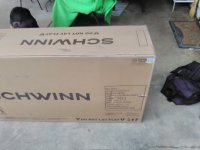 Before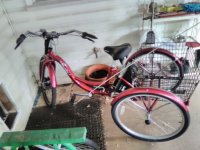 After
Bafang Mg311 standard 26" built front wheel
C4820-GR Higo
thumb throttle
24 pas sensor
CA 3
48V 14AH encased battery
One block or 1/10th of a mile on an e bike so far seems nice.
I don't know much about good bikes vs lesser bikes so making my share of mistakes.
I did not want to build the 29er no rear suspension or disc brakes and load <=300lbs.
So I ordered the XP Pro, but after some reading on ES I wonder if it would even hold up.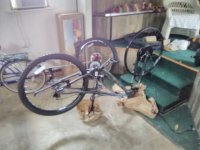 The plan is:
XP Pro AWD
203mm front rotor, 180mm rear rotor
2 x 1500w leaf-motors 7T slow
2 x 29" Alex 24 rims
74mm Sapim Strong 13-14g Butter Spokes
2 x Grins C7240-GR controllers
2 x 72V 25AH Ultra light battery packs from Cali bike
CA3-DP with shunt for two batteries.
4 TA from Grin 2 front and 2 rear.
Trailer maybe back rack.
Work is on going, lacing my own rims, first spokes were shorter than I like, longer ones are on the way.
Working on the spacing and TA for the motors.
While I am finishing the Meridian trike and working on the XP Pro. I ordered "Performer JC-26-X Recumbent trike" to build and see if my back likes it better. The goal is for me to find something that lets me peddle as much as I can but do the rest with out me being in unreasonable pain.
Comments and constructive criticism welcome.