Joined

Jul 2, 2015
Messages

88
Location
About 2.5 years ago I had purchased a used recumbent trike frame online and outfitted with with a hub motor and heavy 48v 30ah LIFEPO4 battery, after about a year and a half however the frame broke; In the process of fixing it it was stolen. This had been my 3rd e-bike The first being a cheap china scooter that I quickly became annoyed trying to go long distances (wasn't comfortable) and the fact I had to do electrical and upgrades, and the screws into the plastic didn't like being taken apart. Having had a recumbent once before Which I really enjoyed, I had started planning the Next build, This time I had spent a good 2 years planning and reading build threads, looking at parts and planning. This trike will serve many purposes for me as It will be way of commuting around town, I plan to go cross country camping too (Canada). It also serves as show piece of my skill set and what I hope to offer as apart of the company I'm starting. I'll keep this thread up to date as much as I can but ongoing progress can be viewed on my Instagram page:
https://www.instagram.com/austins_creations/
The trike in MAY 2018: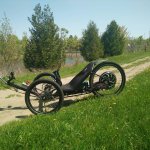 After 5 months I had placed over 400km on it, I had been using a goldenmotor hub on the rear, along with a 12s 10ah hobby LIPO battery. good for about 40km of travel. By driving the trike throughout the summer I was able to see what I liked and didn't like.
The customization I plan on doing:
NESE 3d printed battery 20s 8p (X2) with Sanyo 18650GA 3400mah cells for a total of 20s16p ~54ah
There will be a separate 11.1v 3s10p Sayno 18650GA battery pack for running all the lighting and electronics.
QS205 hub motor 32*343, about 930rpm at 72V (went with a higher torque winding) laced to a 17inch motorcycle rim
Sabvaton 72150 motor controller
LED light bar - off road lights and amber traffic bar (there will be other amber strobes placed elsewhere as well)
Custom switch control panels - controlling turn signals, headlights (HI/LOW), Electronic park brake, reverse, strobe lighting
frame extension - plus other metal fabrication
J1772 EV charge port connector with charging station module (allows for authentication with sense and proximity pins built into connector)
KMX suspension kit
There are many other pieces being build and as they are completed I'll keep adding more photos.
For the entire project I've been keeping track of all the parts that I want to purchase and what still has to be done in an excel sheet. The current total cost is sitting at ~$9639CAD (will likely go up as some parts haven't been quoted on price such as sheet metal
Starting fabrication: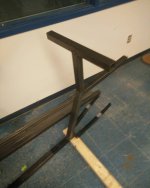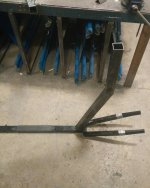 custom headlight fabrication - has RGB sk6812 (party mode) and amber 5630 leds (amber for DRL and turn signal)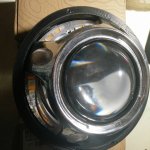 Electronic ebrake mock-up (now I can take measurements for CAD modelling)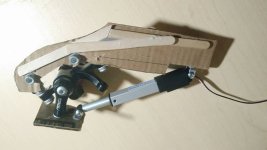 Control panels - switches and indicators are modified to hold the sk6812 RGBW LEDS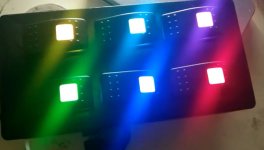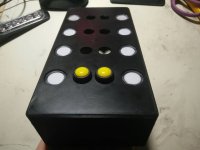 Marker Light pcb assembly (I'm using my new soldering oven for these PCBs) along with the mock-up of the tail light pcb in the 3D printed housing. The tail light will be in the shape of an infinity symbol and with the multi color leds can be animated.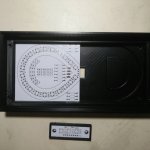 View attachment 7
Motor and tires. The tire I'm using is the Shinko 241 on all three. The rear is 17x3 and the fronts are 14x2.75.
No more popped tires from potholes for me.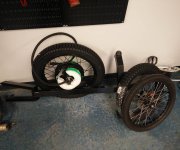 More photos and updates to come, The entire project should be completed before I graduate college in April 2019