Inspired by the edgerunner, mixte frames, and many great builds on this forum with a small rear wheel, here's my next experiment frankenbike.
For those not wanting to look at the whole thread, here's the finished bike.
The mixte frame is a low step over frame with great strength. Early MTB riders used to choose a mixte because they were very light, yet very hard to break in jumps. The main feature is that the seat stays continue right through to the headset, giving the top tube extra stiffness from side to side.
I wanted to try the mixte concept, except I planned to make the distance between the two top bars wide enough for an 18650 pack, including some protective packaging. Instead of the top bar of the bike limiting the battery space, it will be open on top, allowing the use of affordable square packs. Also, it should be very easy to drop in a battery, then remove it for storage, or security when parking at stores. Ideally, it will just look like a purse or camera bag in the shopping cart.
The concept starts as a rouch sketch, not to scale. It should be possible to have two battery trays, one in front and the other behind the seat.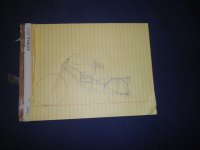 The next drawing is to scale. A trick I learned building houses, is to draw right on the cement floor in 100% scale. This makes measuring and cutting pieces easy, and can reveal design flaws that don't get noticed as easy on a paper drawing.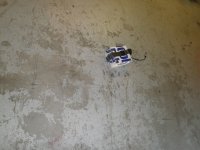 I'm not quite ready to build a bike 100% from scratch. My welding is still like a monkey on LSD did it, so I don't trust myself to weld head tubes, and bottom brackets. So for that reason, a donor bike is needed. A shame really, to cut up this vintage cromoly frame. Some will recognize it as the bike I raced in Tuscon, at 50 mph with a front hub. (steel fork then)