The strength of bicycle forks, their ability to handle the torque of hub motor axles, and the importance or non-importance of torque arms, has been a heavily debated topic in the ebike community. And rightly so, since failures that result in a wheel falling out of a vehicle can be more than a little disconcerting. But I haven't seen much in the way of empirical and analytic testing to show the actual range of dropouts strengths that exist among bicycle forks, and the quantified improvement that a torque arm may provide, so here is an opportunity to change that!
First, a bit of a background.
We've been involved with hub motor ebike conversions since 2004 or so and have seen many installations. The vast majority of those didn't have any torque arm at all, and that includes even taboo arrangements like 5304 motors in aluminum suspension forks, 72V setups with 50A modded controllers etc. When we DID see dropout failures and spinout it almost always fit in one of the following 3 categories:
a) Most commonly, somebody forgot to properly tighten the axle nuts after fixing a flat or what not, and hit the throttle when the nuts were still loose.
b) The motor was installed in a fork with quick release lawyer lips, and the large diameter washer/nut didn't sit flat against the flat recess in the dropout but was instead tightened only against the bottom of the lip. or:
c) With aluminum forks, the nuts were made good and tight, but the axle having a curved rather than a sharp transition at the shoulder ended up "wedging" the dropout opening apart, and caused it to crack even without the throttle ever being applied. See below: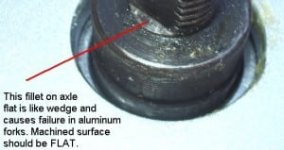 In installations where the motor was fastened with the axle nuts tight and sitting flat against the dropout, problems were rare. But that changed in early 2008 when we started carrying both the eZee and Nine Continent motors. Both of these motors had higher stall torque than the Crystalyte hubs and both of which lacked the extended 10mm keyway that Crystalyte has machined on one side of their axles.