Joined

Oct 11, 2011
Messages

766
Location
So I just acquired an Emmo Knight Turbo: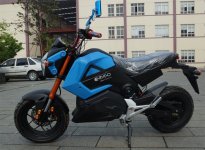 Emmo (if you aren't familiar) are a run-of-the-mill cheap Chinese made scooter/motorcycle style ebike we have hear in Canada which are sold under different brands world wide. EDIT: I also see that this is the common Grom clone style of ebike; which is a curse (cheaply made) and a blessing (common parts from Aliexpress etc...).
This one is in rough shape electrically since the wire harness has been butchered. It smells like cigarette smoke and has bolts missing. I'm sure you know the type. The 60 pound lead acid battery pack is shot (one of the 12V packs are dead). I've tested the motor, which works.
I'm not quite sure where this build will go. I might try and flip it for some profit or build it up for myself. This is my first foray into a non-bicycle style ebike.