Joined

Jul 17, 2020
Messages

1,092
I normally hang out in the motor technology section, but a number of people have been hankering to see my messy Giant trance.
This thing is more of a test rig for the MESC, though I commute on it frequently, and go blatting around the countryside for fun...
Without further ado... The current state of the bike - Mid June 2021: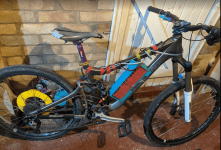 The battery is 13s3p Samsung 30Q. Capable of 45A discharge rate at ~48V, it's good for 2 and a bit kW. Currently using a Daly 13s40A BMS, the previous 2 caught fire, because they were crap.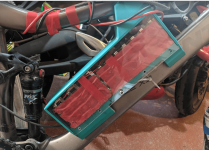 The drive is an 8080 70kV motor from McMaster, and is driven by a 15:96 belt reduction, giving a top speed of mid 30s mph.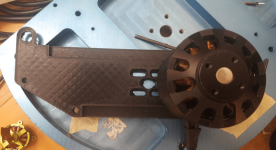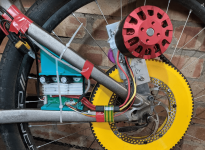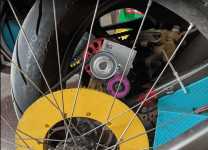 The bracket is cut from 8mm plate, cnc'd by a local machinist friend. I had 3 made... 1 on my bike, one on a friends bike and one... waiting to go on my bro's bike.
I run the whole lot from the MESC ESC I have been developing, which is good for a lot more current than the motor can take - the motor is roasting hot, with the ESC not even warm to the touch after pushing ~70A phase for 10 mins.
The lever is vaguelly interesting, incorporating a throttle and a brake:
It works on the principle of hall sensors and magnets in the lever blades, which are read by the MCU on a 50Hz basis, converted to a PWM signal and fed at 50Hz as an RC PPM.
The screen is an SH1106, pretty basic, but great for things like this.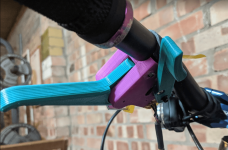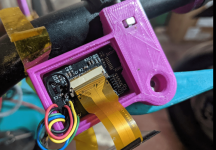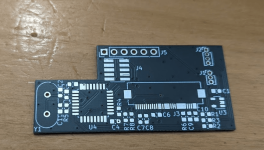 I designed the PCB and had it built by JLCPCB, then soldered the parts myself.Rock bottom STM32F030 K6.
The battery was spot welded. Don't think I would bother again, think I would solder next time. I bought one of the cheap ebay spot welders, and it was a piece of shit. Pulses way too short to do anything, even with a rack of car batteries, and the MCU but out and reset during the battery voltage drop. Absolute junk. So I castrated it's brain, and added an XMC1302 breakout board and an NCP5106 I'd made to control the PWM...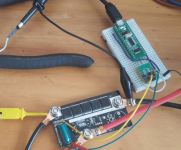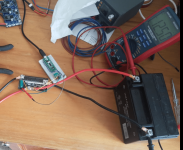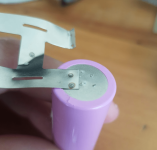 The whole lot now lives in a 3D printed case: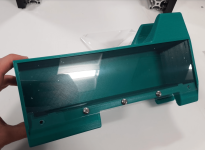 I went through a whole load ofbelt drive combos, the biggest issue being stretch of the belt under braking causing skipping. Now using HTD8m, but will probably go back to HTD5m soon.
Building a 20s4p pack at the moment... TBC how that goes!
Any tips on a bigger motor that could fit in this... the 8080 motor is good enough, but hardly a wild ride.
The controller is a fully custom board, the MESC, documented over in the motor tech section:
https://endless-sphere.com/forums/viewtopic.php?f=30&t=107672
Had 3 revisions so far, latest one is up to something of the order of 16s safe (have run 20s) and 180A pulse tested, seems completely cold at 70A, and the motors give up or the battery BMS craps out way before I get any thermal response.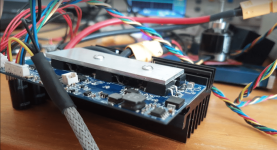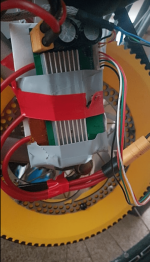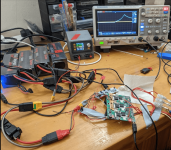 That's all folks. Epic fun, been a pain in the neck, but the result is way better than a small hub motor, maybe a big QS205 or MXUS 3k turbo would be better, but the shipping for those is crazy. I have the Voilamart 1.5kW hubmotor kit for comparison, that has a bit more power capacity, but it just has nothing on this for power to weight.