edit: although the GNG kit remains useful (especially at 36V), the stock kit has several weaknesses, and Mike/LightningRods has developed a new kit that uses all heavy-duty parts using the same motor as GNG. The thread can be found here:
http://endless-sphere.com/forums/viewtopic.php?f=28&t=57720
_____________________________________________________________
http://www.gngebike.com/450wbrushless.htm
Its advertised as the 450W kit, yet the voltage is 48V and the stock controller is 22A max, so the stock kit maximum is at 1000W ("GNG" means "Giant and Great")
The owner is Jon Chan, his business address:
FLAT 2,9/F, WAH LAI INDUSTRIAL CENTRE, 10-14 KWEI TEI STREET, SHA TIN NEW TERRITORIES, Hong Kong
Page 19, from Craigh85
Climbed a seriously steep hill for more than 10min at 21amp, motor and controller were warm to the touch certainly not hot (@ 44V LiPo)
Page 20, from d8vehI
tested mine today at 36V and 25 amps using a KU93 9-FET controller. It had massive torque - about equivalent to a geared hub motor at 40 amps or more. I also tried it at 15 amps with a 6-FET controller and it gave much less torque. With 15 amps it went up our 15% test hill slowly in first gear, but with 25 amps the motor didn't even slow down as I changed up through the gears to fourth...(pg 21) On the open road the system is fairly quiet. During acceleration from a start, it has slightly more noise than a geared hub motor in similar circumstances. At 15mph and above, the wind noise drowns out the motor noise.
from Christerljungs build-log
The power of 12S (44V) was fine, good for pedal-assist combination...pulled wheelies quite easy...[then] at 72V...motor temp gets a little warm (not hot)
Page 121, from Wishes
...This motor likes to rev. I have run it at its stock 48 volt, stock 60 volts, 75 volt and 100 volts keeping the AMPs at 40 max. It runs great, doesn't heat up and is quite efficient...
Reduction:
edit: primary drive is a toothed belt, 14T-80T (ratio 5.7:1) and the secondary drive chain is 12T-44T (ratio 3.7:1) overall gear-down from motor to BB is 3.7 X 5.7 = 21.1:1, chainrings are 4-bolt 64mm BCD, The internal BB width of the mounting bracket is 68mm, Laser-cut steel is 2.5mm thick, BB is 150mm wide. The primary belt is 5mm pitch / 15mm wide. Motor case is 120mm dia / 70mm wide, weight of complete drive assembly is 4.3kg. There's a new thread about just the primary drive upgrades here: http://endless-sphere.com/forums/viewtopic.php?f=28&t=46738

Edit: as of the spring of 2015, GNG is shipping all new belted primaries with a 20mm wide belt, instead of the original 15mm wide.

Jack shaft NO-LOAD output @ 48V = 570-RPM, so with 12/44 second stage no-load cadence will be 155-RPM, the chainring that drives the stock chain to the rear wheel is a 38T (many thanks to ES member "full-throttle")
. Unloaded motor kV is approximately 67.
The 36V kit is $80 cheaper and brushed, also it uses the noisy Currie-style metal gear-reduction.
The 48V brushless kit has an external belted reduction to a jackshaft, which also allows an off-the-shelf freewheel (Dicta?). I like the mounting bracket, which should allow it to be mounted to a wide variety of frames (can be easily upgraded to a White-Industries ENO/ACS-Crossfire). Pics of how the bracket attaches to the spindle cartridge on pg 67 http://endless-sphere.com/forums/viewtopic.php?f=28&t=42785&start=990#p686296 Stock belt here: http://www.ebay.com/itm/221012653265?ssPageName=STRK:MEWNX:IT&_trksid=p3984.m1439.l2649 if EBAY link is old when you read this, it is a HTD-5mm pitch, belt is 15mm wide and 475mm long with 95 teeth. The Goodyear version of this belt is considered to be better.
Kit does not come with a battery or charger. It appears to be direct-shipment from China, so no North-American dealer, plus, returns would be a hassle.
Motor:
Motor is an inrunner about 4-1/2 inches diameter and about 2-1/2 inches wide. A very good size for a BB-drive. Bigger may be better for performance, but a bigger motor would have a hard time fitting most frames. Since the motor size is a limit on whats possible for most bikes (in that frame location), the fact the motors 67-kV is set for a BB-drive @36V-48V is a great choice. Motor internal pics (thanks christerljung): http://endless-sphere.com/forums/viewtopic.php?f=28&t=42785&start=780#p674715 plus some motor specs: http://endless-sphere.com/forums/viewtopic.php?f=28&t=42785&start=825#p675568
Controller:
edit: http://endless-sphere.com/forums/viewtopic.php?f=28&t=42785&start=165#p633397 stock controller is a 9-FET with a fat aluminum bar as a FET heat-sink, the capacitors are 63V max, this controller has been run successfully on a 44V LiPo pack and also 48V. The LVC does not allow a 36V [or lower] pack to work). The stock controller from GNG has been verified as 22A max, so in stock form 48V X 22A = 1056W, and since the motor and controller have not been getting hot (only warm) at this continuous power under load, this is its true rating.
It "may" be possible to get GNG to substitute a controller at no extra charge that has it's LVC set for a 36V battery, ask before ordering, and check immediately upon arrival.
http://endless-sphere.com/forums/viewtopic.php?f=3&t=46164&start=15#p695197
I also pulled off the 12T freewheel on the jackshaft and took some measurements. There was a bit of confusion regarding the diameter (some people saying it's 10mm). It is 14mm in the center, but the keyed part the freewheel attaches to is actually 11mm with a key nub. The length of the output shaft is about 22mm long. I decided to pick up an adapter for 11mm keyed jackshafts from BikeMotive to use a 30mm x 1.0 BMX freewheel, and also ordered an ACS Crossfire 13T to mount on it. The gear ratio from motor to chainring is the opposite of what I wanted to do, but it'll give me more freedom with the chainline (motor to chainring). There's also the added benefit of readily accessible replacement parts.
GNG Primary chain conversion thread
http://endless-sphere.com/forums/viewtopic.php?f=28&t=46738
GNG kit mods thread
http://endless-sphere.com/forums/viewtopic.php?f=28&t=46891
Strong freewheeling crank upgrade
http://endless-sphere.com/forums/viewtopic.php?f=28&t=47618
Big Block GNG alternative motor:
http://endless-sphere.com/forums/viewtopic.php?f=28&t=57483&p=857507#p857507
GNG now has a chain-primary kit advertised as a 60V system (80V caps), found here:
http://endless-sphere.com/forums/viewtopic.php?f=28&t=52865
Here's a spreadsheet of all possible gear and sprocket selections, providing the end MPH at 48V
http://endless-sphere.com/forums/viewtopic.php?f=28&t=51263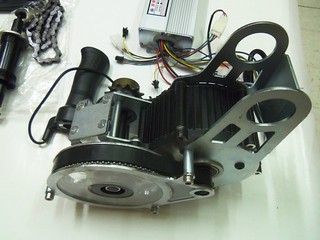 _________________________________
16 minute Video of GNG kit dis-assembly
https://www.youtube.com/watch?v=mCuwmoT1skE
9 minute motor dis-assembly
https://www.youtube.com/watch?v=WFbMbHrMTIc