Joined

Sep 8, 2019
Messages

343
Location
Picked this up for $500: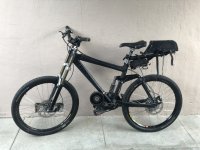 Based on that bazillions of forums threads I've read around here this is an older, but was well regarded setup. What I got here definitely needs some work, but it'll be my first middrive (I've wanted to do one for a while) and should be fun.
Came with, what appears to be, some variant of the GNG motor from about a decade ago. A 12AH 36v battery in decent shape. Battery was missing the charger and the key was lost. And, here's what got me excited, someone fit a Nuvinci 360 in the rear wheel.
It's got some broken spokes, is missing a drive chain, the controller was melting the phase wires, and it's generally pretty dirty. Otherwise, appears to be in decent shape!
So, gonna pull some spokes off to measure and order a few replacements, move the battery into the frame, replace the controller with one I've got around that comes with a screen, bleed the front brake which is very weak right now.
Based on this
exceptionally long thread about the GNG
I'm not _entirely_ sure how long it'll hold up and, if it fails, wether I want to put any effort into restoring it or just replacing it with something more modern (BBSHD, Cyclone, etc).