As many of you know from our blog I'm not only sponsoring part of the 2018 Sun Trip solar ebike race this year (by creating data logging box for each vehicle
shown here
), I'm also participating in it with my fiance Anne-Sophie . What the people organizing the Sun Trip don't know, or would be very concerned to know, is that I haven't even
started
building my bike yet

Oops. For whatever reason I seem to be a sucker for setting myself up for last minute engineering heroics, delaying the start of a project until there is physically just barely time to pull it off.
My plan for this is a little crazy, and with only 60 days to have it fully built and tested before we ship it to France, this is going to be tight. What I want to make is a back to back recumbent trike, very much in the spirit of this one-of-a-kind device pictured here:
http://hollerit.blogspot.ca/2010/06/hottest-trike-in-existence-is-also.html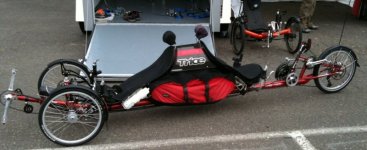 The back to back tandem in this case provides an awesome stowage cavity for gear in between the backs of the two seats. It also allows both riders to have their heads closer together to facilitate conversation, and it gives us 360 degree visibility should something untoward be coming from behind.
But rather than having the rear rider pedaling a crank like the trike above, I want the backseat of this trike to be a rowing machine instead. This way, we can get a chance to mix things up and between pedaling and rowing during the long days of solar assisted travel and get a much more varied workout instead of sitting in the same saddle for 8-10hrs straight. It also serves as training for some long distance ocean rowing trips that we have in mind later in the summer.
Rowing bicycles have long fascinated me and I recently had the fortune to get some riding experience on the exquisitely made THYS 209 machine
https://endless-sphere.com/forums/viewtopic.php?p=1362573#p1362573
There is apparently even a back to back tandem one of these made too,
https://rowingbike.com/en/posts/model/thys-carbon-tandem/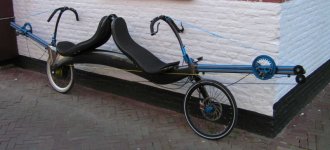 Initially I was hoping to add another twist to this whole build, and that was to have both the pedaling and rowing stations be spinning generators so that there was no mechanical drivetrain to the wheels. That opens up mechanical versatility to the project with some obvious penalty in efficiency. Unfortunately the rules for the SunTrip race require that there is a direct mechanical link to the wheels. But they don't specify on a tandem vehicle if
both
riders need this link. So the plan is to make just the rear facing row station run a generator, which should be easier mechanically than coupling it to the pedal drivetrain.
And of course being the sun trip we need a serious amount of solar coverage. The plan for that will be a roof structure covering the entire length of the trike, giving us welcome shade while generating our daily power quota.