Joined

Aug 25, 2016
Messages

39
Hi all,
I will be conducting tests to find out about the self discharge characteristics of the high capacity lipo cells that you can get directly from china. I will be buying 3.7v 20Ah cells directly from this link
https://item.taobao.com/item.htm?spm=a1z09.2.0.0.2ed6e797pTlNV3&id=539888371314
for about $8 usd each per cell and get them shipped to my doorstep in Singapore for about $3.10 usd per kg.
Heres some photos of the cells from the item page.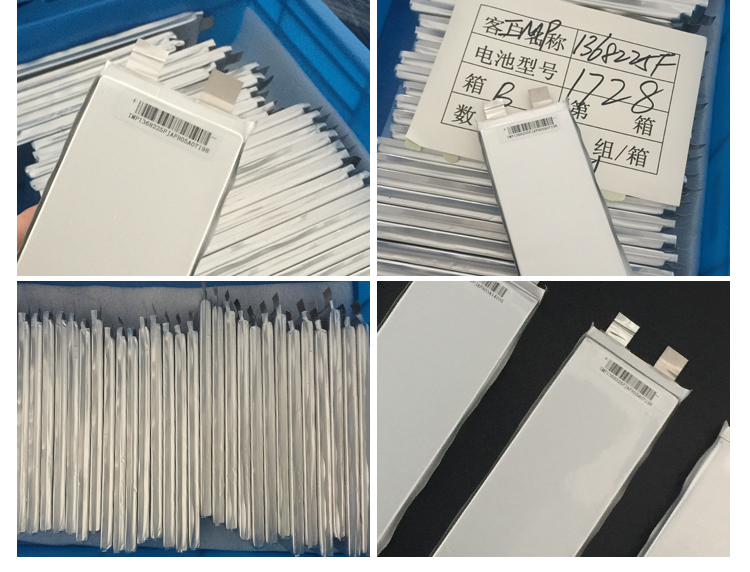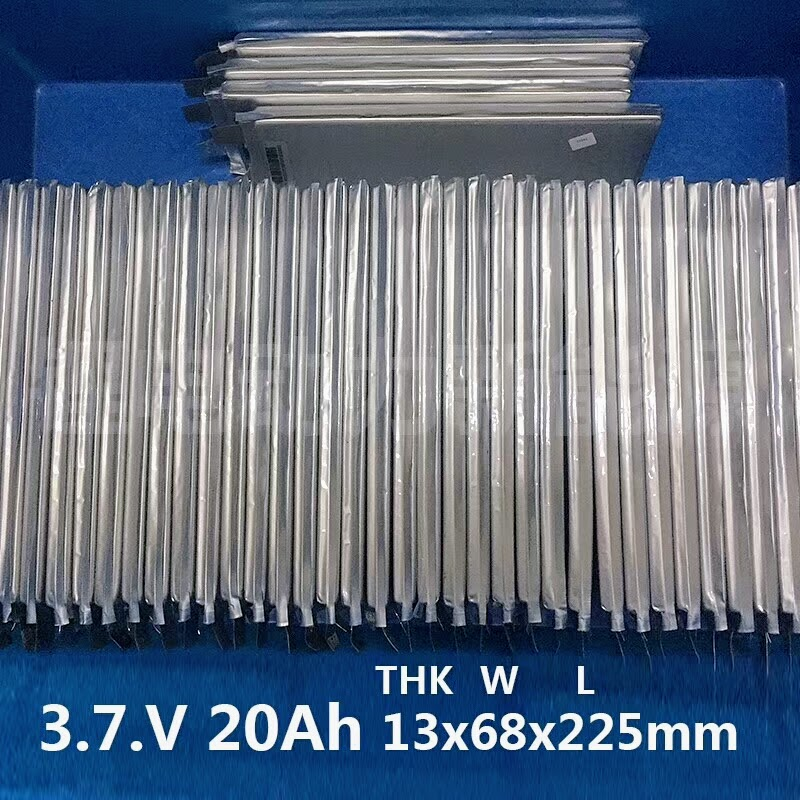 Here's a bit of background of myself. I am a high school student in Singapore, where its close proximity to china allows me to get Cells shipped to me for cheap.
I first discovered about endless sphere when I was trying to find out how to build my own battery packs using 18650 cells for my electric bicycle with a 1 kw motor. Since then i have gone through 2 spot welders and made at about 10 batteries for other people. All of these batteries were made using Brand new sealed in box 18650 LG F1L 3400mah cells which had very good specific energy, but they came at a high cost at about $2.56 USD per cell, about $0.752/Ah. this is almost double of the $0.400/Ah of the 20Ah Lipo cell. Thus these lipo cells will be about half the price compared to 18650 battery and will be easier to put together as compared to spot welding 18650 cells.
The purpose of this thread is to try to find out what quality of the cheap B grade cells that you can buy directly from china from sites like aliexpress or ebay.
Firstly we will start with a explanation of the grades of the batteries.
In china, the quality of batteries that you can purchase as a random person on the internet are divide into a few grades.
A grade: Brand New untouched cells that came directly from the factory. Examples of these that you can buy online are the boxes of LG/Sony/Sanyo/Panasonic 18650 cells that are sealed in box. These are of the highest quality and meet the specification that they are given. Cheap lipo cells of this grade are hard to find and you can usually only find high discharge ones that are expensive, like the ones in the high powered lipo Batteey sale post .
B grade Brand new cells that do not meet the exact specifications. They may have higher Internal Resistance, higher self discharge after production, or have physical imperfection on them such as light dents or scratch on the surface of the lipo cells.
C grade: Used cells that are taken from used battery packs from cars/buses. These normally are the prismatic or pouch cells that you can find online with short tabs remaining on them.
Here's what i know about the cells from talking to the seller:
They are 3.7V 20Ah
Their dimensions are 225*68*13mm
They weigh about 500 grams
They have thin tabs of only about 12 mm wide, so the max discharge rate should be 2C instead of what is advertised.
they are B grade
they have more than 10 thousand in stock
Next, the testing methodology.
The testing method used will be identical to the one used by NASA when they tested several Li-ion Pouch Cell in 2012. It is called a Soft Short or a OCV(open circuit voltage) bounce back test. Basically, they discharge the cells to <10%soc (2.8V?) and let them sit for 10 days and measure the changes in their voltage. Cells with declining OCVs have high internal impedance and high self discharge.
Below are photos taken off this pdf. https://ntrs.nasa.gov/archive/nasa/casi.ntrs.nasa.gov/20120000040.pdf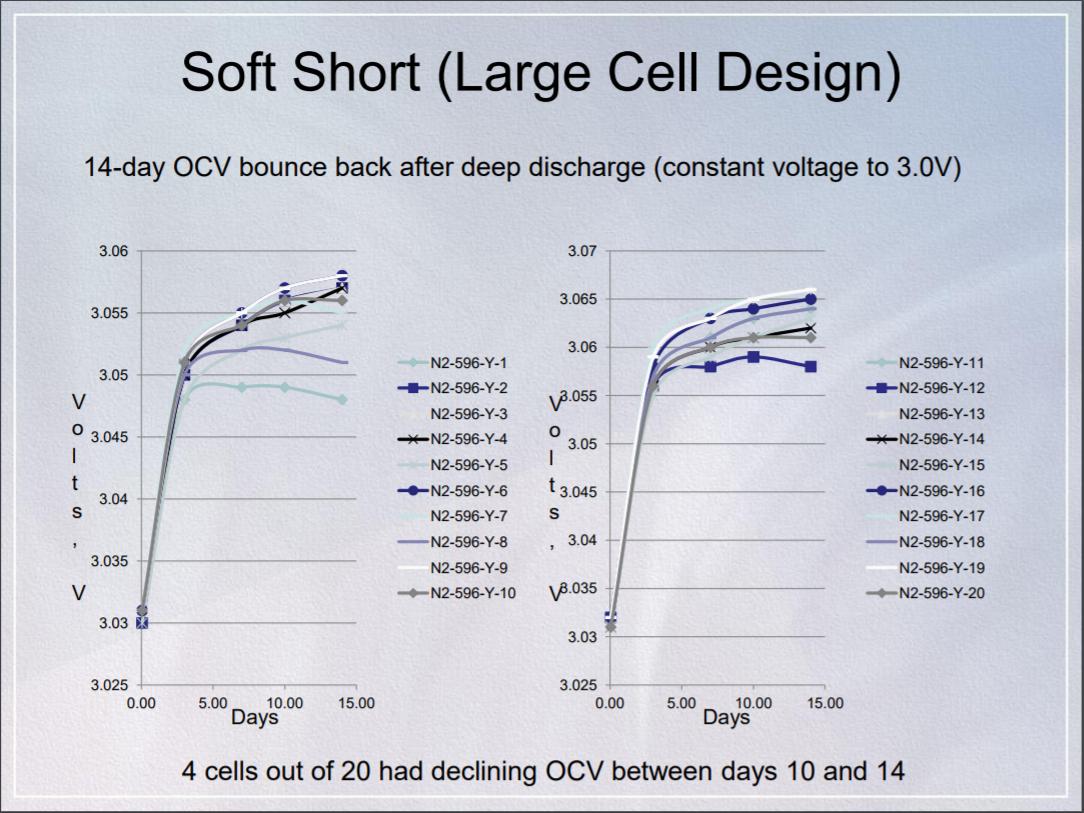 Vendor A is A123
Vendor C is EIG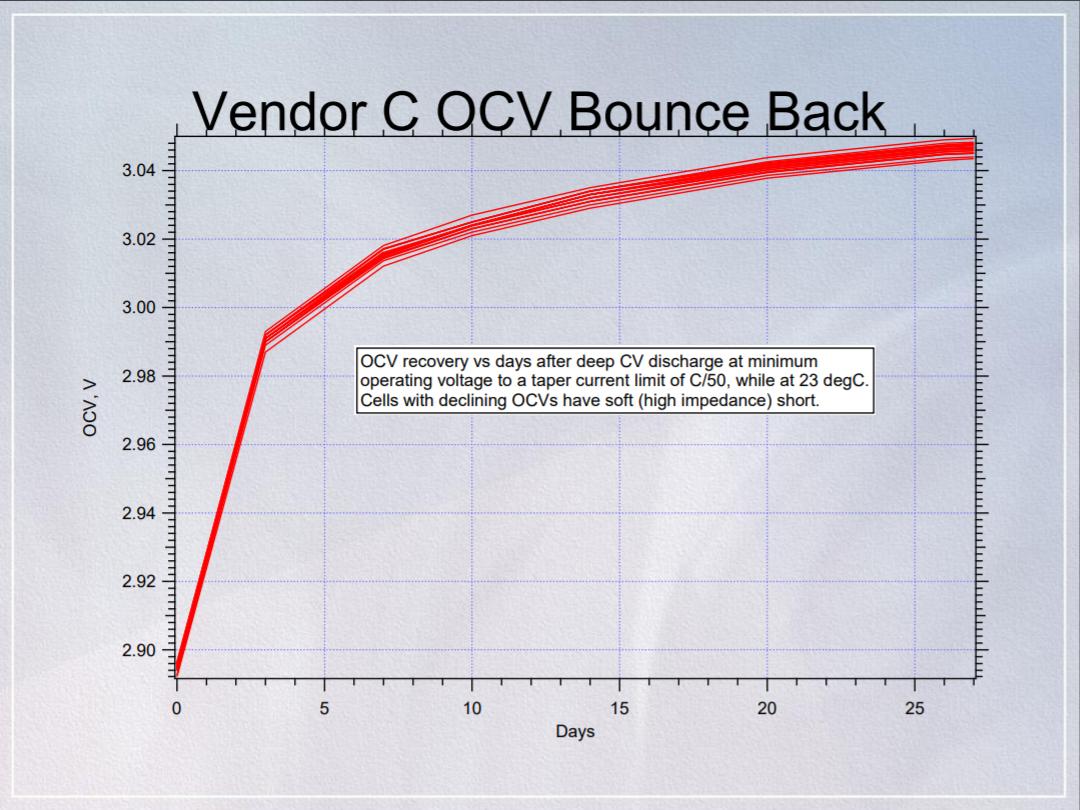 The tests will be conducted in a air conditioned room at about 26 degrees Celsius.
Results:
I have just ordered 15 cells and im waiting for them to arrive
To be announced in 3 weeks time , around 29 September after i receive the cells and test them