Joined

Apr 7, 2009
Messages

2,961
Location
After spending several years with crappy hobby / questionable chinese quality charger setups, I decided enough was enough:
My new requirements for charger:
-Onboard, automatic, simply plug into the wall and walk away.
-82-84V
- >350W
-Constant current
-Hands-off (no explodey)
-Waterproof! (no fans)
-under 5 lbs
-Cycle Analyst integration
So after looking for a long time I finally broke down and picked up 2 of these bad boys: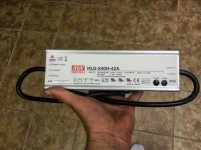 http://www.meanwell.com/search/hlg-240h/default.htm
2 Fully waterproofed, fully adjustable LED power supplies.
Here's how they're connected electronically (with pass diodes to protect FETs from body diode feedback and more importantly from HV transient well over FET rating)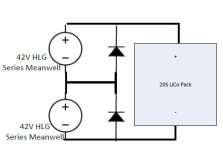 After an afternoon of hacking a tap to the shunt in my controller I ended up with this: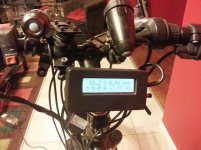 Using the CA, I can count-down the charge using the fuel guage. Yes! I've been meaning to do this forever.
There they are mounted to the xtracycle frame:
So you might be thinking; wtf, what am I supposed to do? Just float charge the bitches? Well so long as you keep the voltage sufficiently low, that's OK. However, I like to charge right up to 4.2VPC when touring sometimes. I didn't really want to F around with a micro and a switch, and I wanted something super simple.
$9 later I had this: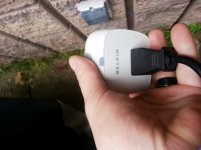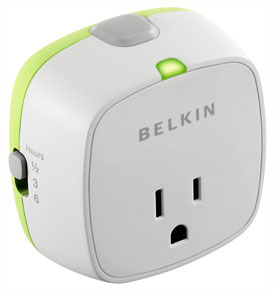 It's a simple device that allows you to select 6 hour, 3 hours, or 30 minutes. All the little thing does is turn off after that amount of time. A nice safety feature.
The grand total of my 4.5lb 500w, completely waterproofed, onboard charger ~$200. And you can bet it's about 1000x more reliable than anything else you would strap to your bike frame.
I am now off my bike and charging in under 15 seconds, and I can fully charge my 2.5kwh pack in roughly 5-6 hours, in the pouring rain.
Burn your air breathing charger.
These supplies can be had for very cheap. I might even consider kitting these up in standard configurations for n00bs without a clue.