Joined

Jul 15, 2009
Messages

576
Location
So I guess it's time for me to start a build thread.
First: The bike.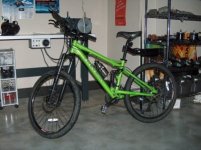 I've had the bike for a few months and put a 1000 miles on it and I'm happy with the way it performs.
It's an Ibex brand Ignition Sport model. I went to their website today to see what they had left of the 2009 models and found this:
IBEX Bicycles has closed.
Look for the IBEX brand to re-open under new management in 2010.
Sorry, no additional information is available at this time.
Good thing I bought one when I did...
Second: The motors.
I ordered two of the "cute" motors from bmsbattery which should ship out on Monday. I made the mistake of using an E-check to pay and that took four days to clear or I would already have them.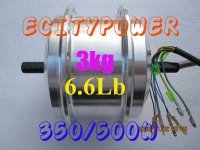 They are the 48 volt 500 watt version of the 128mm diameter motors. I ordered them with the disc brake option and hall sensors. They will be going on 26 inch rims.
********Start of Edit********
Well, after trading emails with my contact at bmsbattery I ended up with a different pair of motors. It seems that the 128mm motors will not fit even a 6 speed in a 135mm dropout so I opted for the 100mm motors instead. But what they actually sent me were a pair of QX85 motors, one front and one rear.
These motors did fit an 8 speed freewheel and disc brakes on front and rear with only a very small amount of spreading for the washers so I am happy with that. The stickers on the motors say 350 watts and 48 volts.
*********End of Edit********
I was going to attempt the wheel builds but I found a good LBS that will do it.
I added the bike shop to JasonEBK's Ebike friendly database website. It's called Blue Star Bikes.
Third: The controllers.
I'm leaning toward getting a pair of controllers from bmsbattery as they seem to have some nice features on them but haven't decided yet.
Fourth: The battery.
That's the tough one, I will either need something like 48v 10ah with a high C rate. Or 48v 20ah with a modest C rate to run both motors. I could also go with two 48v 10ah of lesser C rate and that would give me redundancy in the batteries like the rest of the system. Most likely I will have the battery/batteries in my backpack and not on the rack.
Advice in any or all of these areas is greatly appreciated.
Gary
********Start of Edit********
BUILD COSTS
IBEX Ignition Downhill Bike: $738.95
Motors and Controllers: $279.93
Turnigy Watt Meters: $68.85
Throttles and Freewheels: $64.98
Spacers, C Washers and Freewheel Removal Tool: $57.00
Rims and Fenders: $90.01
Batteries: $800.04
Torque Arms, Lights, and Connectors: $ 235.07
Tires and Tubes: $ 141.63
Two Wheel builds: $142.00
New Rear Shock: $189.00
Total So Far: $2807.46
*********End of Edit********