Joined

Aug 18, 2023
Messages

3
Location
Hi there,
New to the forum and thank you for all the info! I used this forum quite a bit to glean a lot of knowledge.
I own a 2018 Nukeproof Scout 27.5 Sport that I really enjoy. I'm almost 6'4" and have a long back. The XL frame and slack geometry makes me very confident when riding. I had an old FSR from the 90s, without a dropper and might as well named it "Ejector Seat". Modern slack geometry is the way to go if you're tall.
I'm also 55 and the legs just don't have as much juice as even 5 years ago. And...I mostly ride trails from my house. Well, I live on a hill so all our trails are fun downhills or sucky, granny gear uphill. We have some flat stuff too, but most of the mileage loops will require to go back up at least twice. I don't mind uphill in granny, but the heart rate is more of a real concern these days. I rode a Trek Verve 2+ with the Bosch Active line torque sensing motor while on vacation and that convinced me I wanted that feeling of assistance. And I didn't want to pay for a Bosch so I landed on the Tongsheng TSDZ2B.
Bought the TSDZ2B 48V and a 48v 10Ah (200W-800W) Hailong Triangle battery.
I wanted to keep things as light as possible for the trail. My rides are usually 4-6 miles. Development at the downhill side of our area also means I cannot exit the area to the downhill and take the more gradual road back home. So now you have to ride back up granny gear hills. This should help immensely. I've already taken it down the street and back a few times and even in ECO mode it's a relief. Tour mode makes me feels bionic and those granny hills will now be 2nd, 3rd or even 4th gear hills. My rides should be more like 8-10 miles now.
Install challenges-
Wide chainstay since my bike has 27.5 x 2.6" tires and could probably handle 2.8 or even 3.
I had to shave off a fair amount on the non-drive side bottom bracket since the motor cover was hitting the chainstay. I had to put all the spacers that come with the kit, plus the plastic/graphite one off my Nukeproof Neutron BB. This means the drive side is definitely farther left (when on the bike) than before, but not terrible and actually not noticeable when pedaling. I only had room for the locknut so I didn't use the motor bracket mount thingy.
I found a few guys out there that build a fair amount of hardtails and they simply put the motor in the most forward position and only use the locknut. Many of their bikes have big chainstays like mine. Many modern mtbs do now, especially 2.5"-3" tire hardtails. The motor will want to go forward anyway. Meaning, the power of the motor pulling the chain will naturally push the motor to the front. I wanted it mounted up against the front down tube anyway so it works out. I also didn't install the chainstay mount. That thing is honestly sort of joke and my chainstay is too wide anyway. I feel pretty confident that the motor will stay put. We'll see. I know I'll have to snug the locknut down often. It doesn't have any thread-locker yet, but I plan to do that once I've ridden it a couple times.
Cable management was easy and I'm glad I got the VLCD5 display since my 55 year old eyes don't like reading small things up close.
Motor clearance is great. For a very slack, "low-slung" hardtail I still have a full 8" of clearance. I'm very happy with that.
And the motor went on over my dropper cable that is internal, but then comes out and routes under the BB. And it works perfectly fine, just as before the install. Very nice.
I'll report back after a few rides. For now, she's still purty and now even more fun!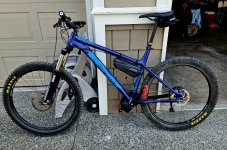 And I still have room for my super tanker Zags water bottle!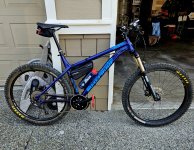 Thanks,
Stacy