Joined

Aug 31, 2018
Messages

1,717
Location
Alright, I have built a commuter before. But that is my experiance in e-bikes. I realized that this can be fun, but then it needs more power..
Well I guess it will not be much of a build, mostly bying parts and put together. But I am new to bikes, I have built some cars before. So I hope to get some help with what parts to get..
Well, for a start I bought a frame:
It is not as well built as I hoped for, most parts are only spotwelded. I could sand blast the whole thing and tig-weld all of it, but I think I will try it as it is for now..
Anyway, there was a serios issue with the bearings for the swing arm. It was delivered with a rubber bushing, but the previus owner had replaced it with ball berings. That seems to me like a better solution, but there was really nothing to keep the berings in place.
I thougt about getting the frame milled for bigger berings, and just the first 10mm or so, to keep them in place (and be able to use a bigger bolt). But I decided to use the berings but use my lathe to make some parts to keep them in place.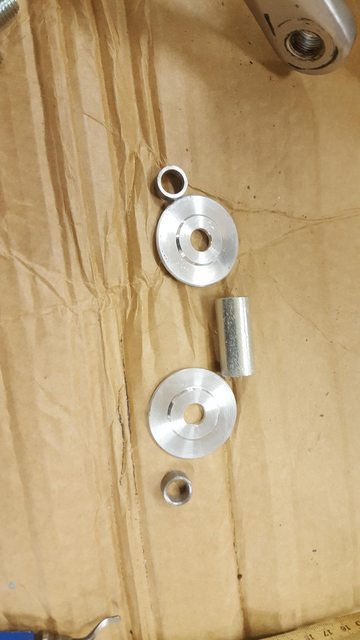 So I made a pipe to put between the berings, washers between the berings/frame and swing arm, and press fit bushings to put in the 13mm holes in the swing arm to fit the m10 bolt that holds it all together.
I also bougt a used fork, and new wheels with a qs 205 50H v3 4t motor. 19" front and 17" rear.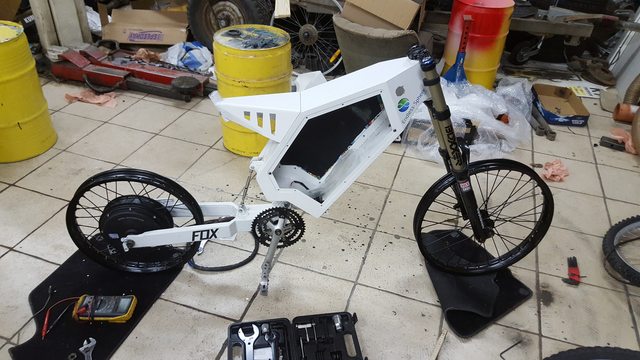 This is were I want your help :wink:
I don´t have all the bearings and parts for the steering. I have ordered some parts that i hope will be alright. But It will take about a month to get them.. However, it already seems like the shaft on the fork will be to short.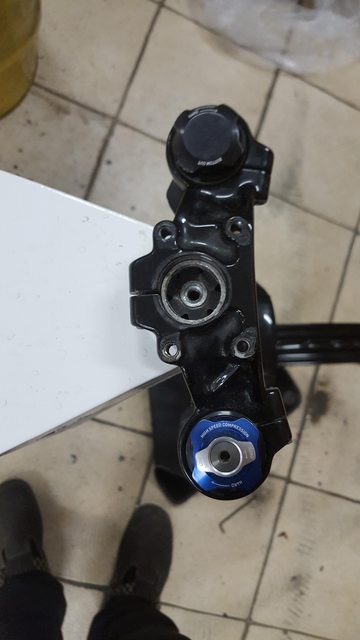 Maby I will have to lengthen it anyway, then I might as well put the stem for the handlebar on that.
But is there a stem that i can just bolt on? It looks like they have used something like that before. But on ebay I just found clamp on stuff.
I also need brakes. But it looks like that may be trouble.
What adapter do I need here?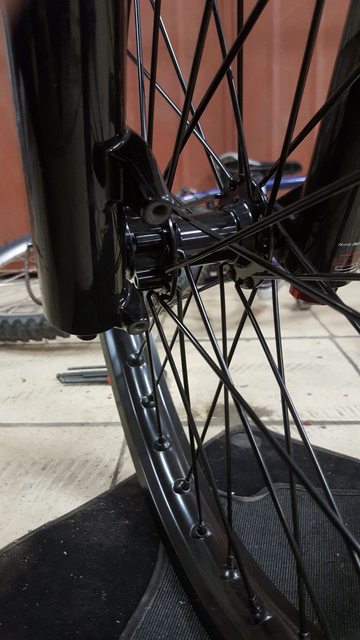 The other ones I have seen has bolts from the side.
There also seem to be a space issue: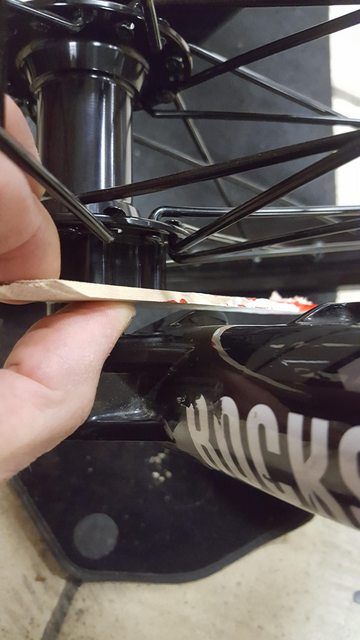 I guess it is possible to take some material from the hub to get the disk closer to the wheel, or are there disks that could fit?
A bit tight in the rear too: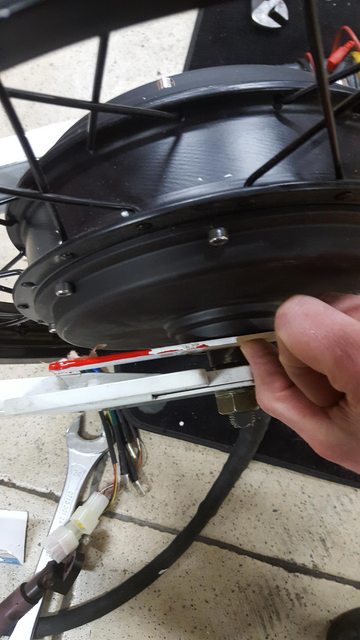 That may not be a problem, and I can probably space out the wheel a little. It is very tight for the phase wires for the motor now anyway..
And what brakes should I buy? It is a jungle out there, and not much info of the difference..
I have been looking at shimano slx M7000, M315, diore M6000, M355, M8020 etc. Then there are a bunch of other brands..