Joined

Feb 3, 2010
Messages

4,064
Thursday June 30th
Today I focused exclusively on the integration of the DC-DC converter with the new cable harness and the new lighting system, with the keylock switch. This was really tedious work and taking far longer than I had anticipated. The short story is that my smoke test tonight produced no-smoke! Ebrake works as do the Blinkies.
For clarity, allow me to point to another thread to give you a flavor of the concept:
Advancing the state of Ebike Electrical Wiring
I have modified the schematic yet a bit more from this thread.
Mainly the big difference is that I decided to keep the isolated grounds for the +3.3V and +12V systems, although they share the same ground, and I added the trailer information.
This site was useful
in helping me select the common wire colors for the trailer cable.
I also drew out a wiring diagram for Da Black Box, then printed both of these out to have at my feet so I wouldn't waste time going back and forth to the computer.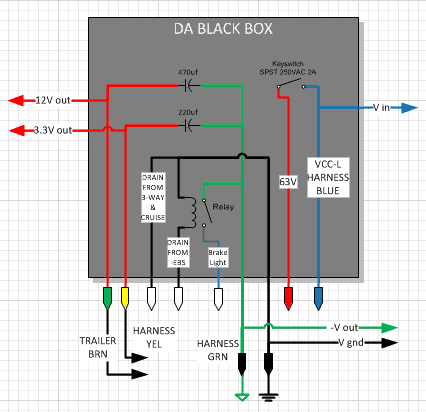 Then I built it.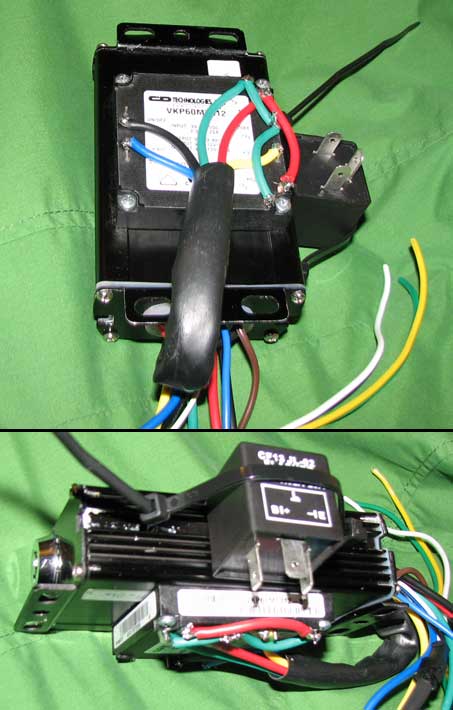 This will really clean up that rats-nest of wiring behind the faring. Da Black Box integrates the keylock switch, DC-DC converter, Flasher, Brake relay, and line capacitance. (Note: I haven't finished it just yet).
What's left:
Well, in
terms of electrical
I still need to integrate the headlights and signals to the Motorcycle control (I've been calling it the "multiswitch" since it has three separate switches in one unit). That shouldn't take long at all. Then I can slap the trailer back together and run it over to the Machinist to get the cross-brace made, and maybe take a look at the front wheel. I know where I can snag more shims; Redmond Cycle had a bag of eight and I bought two, so worst comes to shove I could shim the bugger myself. I mean at this point that is the killer diller;
you just cain't go down a road without front brakes!
And I hates that metal-to-metal scraping sound – reminds me of someone dragging a shovel on a concrete sidewalk.

Anyways – I am pretty pleased that other than the front brake – there are no gigantic issues so far, other than taking a long time to get this sorted. But I have five weeks and there is still plenty of time to do the trip.
Time for some dinner and a movie.
Optimistic,
KF