The design of this Drive Kit has been heavily influenced by the work that Ron did with his
750W Chain Puller
. After studying his work, and spending some time figuring out how it worked and what parts he used, I decided to design my own kit. I briefly considered buying a ready to install mid drive kit, but non of the ones I found seemed to meet the sweet spot between quality and price, and I like building stuff myself.
My basic idea for the build was to make exclusive use of sheet metal, 3d-printed and off-the-shelf parts to keep the cost of the mechanical part of the build as low as possible, with no CNC-machining and no welding. In the same spirit, all electrical component had to be cheap repurposed off-the-shelf parts. My aim was to build this kit for about 1000€ with batteries included (no pun intended).
After a couple of iterations, the design converged to what you see below. The kit will fit a bike with a 83mm BSA bottom bracket. All electric components, including batteries and controls, are integrated in the kit. The batteries can be easily removed for charging, by swiveling the mud guard plate.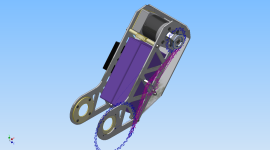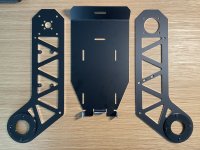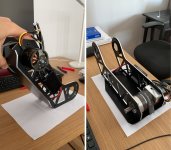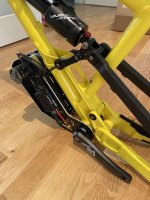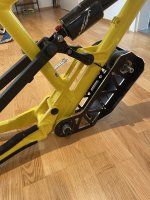 The central piece of the kit is a Neugart PLE60 planetary gearbox with a gear ratio of 32. This gearbox can fit different motor shaft diameters, ranging from 6mm to 11mm (also inch size shaft diameters), depending on what kind of adapter you use — see image below. The motor I use is a very affordable
NTM 50 60
from HobbyKing, 270KV, 2400W. I considered using an Astro Flight like Ron, but those are very expensive and would have busted my budget right from the get-go. That being said, the design can fit the Astro Flight with small modifications. I use two
Turnigy Graphene 10000mAh 4S 15C LiPo
batteries connected in series for a 29.6V nominal system voltage.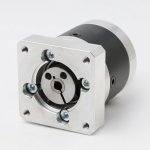 Being on a tight budget, I was able to procure/purchase all parts month by month and finish the build within a year. This includes all parts for the kit, as well as building the bike itself, which I did not have prior to starting the project. You can see the final build below.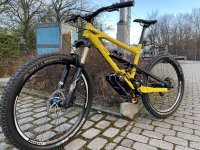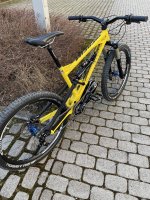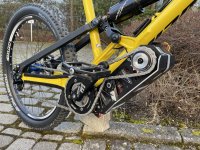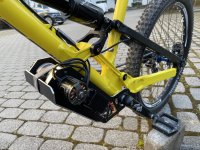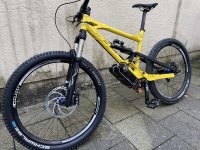 The kit ended up costing me 1212€ with the batteries, throttle handle and both chains, which was slightly more than my initial budget. It has a couple of rough edges, mainly cable management and the chain tensioning device, but overall it works pretty well. It has so much power, that it feels a little scary. I have to test the range of the bike yet, but so far it seems to be pretty solid.
UPDATE Mar 6 2022:
I was able to go for a spin today and test the range of the bike. I rode it outside the city on flat, paved road with almost no stop-and-gos and moderate deceleration/acceleration. With minimal headwind throughout the whole ride I was able to go for close to 5km purely electrical (no pedaling). I expect the range of the bike to be around 20km, if I use the electric drive to pedal-assist me, as intended. This kind of range was what I planed for all along and I couldn't be happier.
Additional posts about the controls and the drive train side of the kit will follow as sub-posts to this one. Feel free to get in touch, if you would like to build something similar and I can provide the 3d-model of the kit.
P.S. The most frustrating part of the whole build was soldering the XT90 connectors. This was just a nightmare. Make sure to read about it before trying and also be prepared to invest money in a proper soldering iron.