Joined

Apr 8, 2014
Messages

2,100
Location
This is the actual build thread for my Giant Revive with a Bafang BBS02 Mid Drive. There are two other threads you might also want to look at:
1) This is the thread I first started when considering purchasing this bike/frame and the feasibility of installing a mid-drive motor.
https://endless-sphere.com/forums/viewtopic.php?f=3&t=117000
2) This is Cowardlyduck's thread that references several Revive build threads
https://endless-sphere.com/forums/viewtopic.php?f=6&t=114664
First I want to start with documenting the Giant Revive Bicycle as I received it. This picture was taken the day after it was purchased:
These are the OEM dimensions near as I can determine (
message me if you want the CAD file
):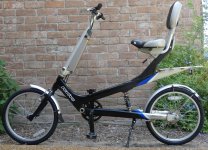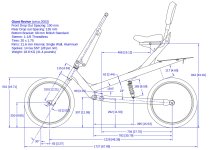 In Cowardlyduck's thread there is a XLS file with the OEM Specifications as near as I could determine them: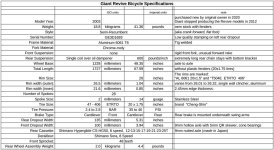 The serial number for the frame is located on the non-drive side rear drop out. It was very hard to read and required a bit of enhancement to reveal the characters on either end: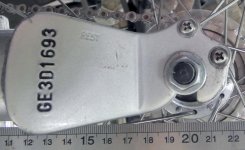 G
= Giant Brand
E
= Fortnight frame was built
3
= Year frame was built, in this case 2003 as Giant discontinued the Revive line in 2012.
D
= According to some folks this is supposed to be a number, however all the Revives serial numbers that I have found have a "D" here
1693
= actual serial number
I checked the National Bicycle Registry for stolen bikes and this serial number was not found. Giant have several versions including "Revive", "Revive DX" and "Revive LX". The latter two had a much different swing arm. I believe that there was also an electrified version on offer at one time.
First Problems:
1) Remove warped rear fender. Cheap plastic parts do not fair well in Hot Southern Texas temperatures.
2) 20x1.75 tires are tiny. Rear tire has already been replaced with 20x2.25 tire.
3) OEM 600 pound/inch spring is sized for a 300 pound sumo wrestler. It has already been replaced with a FOX 300 pound/inch spring. MAJOR IMPROVEMENT !!!
Target Environment:
This will be ridden almost exclusively on street pavements but in Houston that is not saying much. Target speed is 20 to 25 MPH on throttle with a 135 pound operator on flat pavement. Cargo option is to be a Travoy trailer hitched to the rear rack.
Tentative Plans:
1. BBS02 750 Watt mid-drive, 48 tooth sprocket and 52 Volt battery
2. front air suspension fork, Pasak P70
3. 20 x 34 mm alloy rims (
3 spoke 'mag style' wheels
)
4. 20 x 2.25 wide tires
5. Tannus Armour Tire Inserts
6. Rear Hub, Retain 8 speed Hyper Cassette and Derailleur
7. Brakes: Disks, Avid 7, Rotors ?
Also going to need a rear caliper mount
8. rear air shock ??
9. Gates Belt Drive ???