Hello guys,
I didn't made a thread about the first build but I will summarize a bit.
No-suspension MTB steel frame with a front hub 9C 2807 powered by a 36V20Ah LiFePo4 battery
Max speed: 28km/h (17.4mph) no pedal
After 1500km of commuting i start "needing" for more power, so I found this wonderful forum and start to search:
• bought a 12fet IRFB4110 40A infineon controller plus a CA DPS v2.3 from EM3EV and another 36V20Ah battery.
• In the motor i installed a temperature sensor and upgraded the phase wires to 10AWG and ready to oil cooling.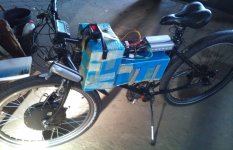 View attachment 10
Max speed (no pedal): 54km/h (33.5mph)

Now I was getting a good speed and torque but after some tests I realize that the front hub with all this power was more unpredictable and all the additional weight of the second battery with a non-suspension bike will lead to some serious injury.
So it's time for a second build:
More clean :wink:
More powerful

More safe

(if possible)

After a lot of reading i have decided the major components:
• Vector frame (aka e-kross)
• Cromotor v3 laced in 17" moto rim with a shinko SR241 3" wide
• Adaptto Max-E with BMS + 70A coil
• HK lipo Multistar 22S 40Ah
• DNM USD-8 suspension with dual disc brake
• Tektro dual disc brakes with 203mm rotor
• DNM RCP-Burner 2 shock
• 26" front bicycle rim (for now)
This will be a heavy bike (+/- 65kg / 143 pounds) but hopefully with a lot of torque

View attachment 9
After the frame arrived I installed the headset following some DIY videos on youtube and managed to mount the very tight swingarm on the frame.
Cromotor laced and tire installed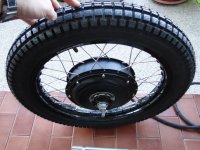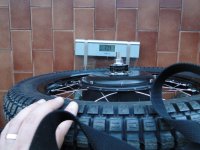 Cromotor installed on frame and freewheel clearance check: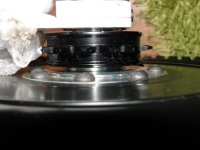 Suspension and front tire installed on frame:
Capacity check inside the frame for all the lipo: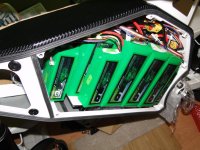 I'm going to need some spacers to make the frame a little wider: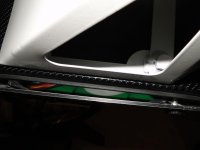 Start drilling and routing all the wires:
View attachment 2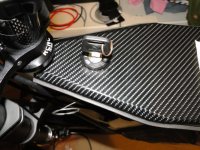 Thumb throttle for variable regenerative braking: