Joined

Nov 23, 2019
Messages

60
I have been building the ebike below over the past year.
It is made up of :
Bafang M620 motor
Vapour frame
fox factory 36 folk with 160mm travel
Fox float rear shock 190 x 50 , 160mm travel
Hunt Ebike wheels
ergon seat
hope Brakes ( discs and calipers
basic tank bag for hold battery .
nukeproof pedals
I sent the Motor away to INNOTRACE germany (from uk) ,for the 3kw upgrade. which was a bit of a debarkle as the i had to pay import Tax both ways, So i ended up paying over a £1000 , on return !
I fitted the X2 Display and purchased the tuning doggle.
The peformance in open mode ( i.e. full power ) is great , but i am finding the batteries packs i am using ( 52v 20ah) are only lasting about 10 to 12 miles. I believe each pack i have uses 18650's which are 5000 mah , in a 14s ,4P pack assemblies.
The symptoms i am having was the batteries where getting hot , and the BMS's thermal cut outs where kicking in. So i opened each battery pack up and inspected the BMS's. these appeared to fitted with a 20 amp and 35 amp units. I then purchased two 60 amp units off ali baba express and fitted them.
No the only issue is i am only getting 10 to 12 miles when i go out for blast. I rarlely use the Thumb throttle, and this is mainly with pedal assist.
Please can anyone share there thoughts and idea's for more power ,etc ? Maybe suggest a better solution from there own experience with battery kits they have purchase or made up themselves.
I have been at LiitoKala 26650 , 5000mah Li-ion 50A units. think these might give a better range if i was to make up two 30ah Batteries.
I have seen a a few 8000mah batteries , and a 12000mah batteries too , but i dont quite trust the capacity rating for some reason.
Any thoughts , on your experiences with the Bafang M620 motors , with upgraded controller Battery setups and reliabilty setups would be much appreciated,

love the bike bit if i cant work out a practical solution for it , i think i am going to sell it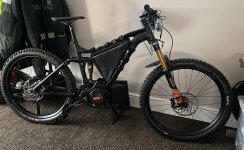 Last edited: