Joined

Jan 29, 2016
Messages

838
Location
Hello everyone,
I recently discovered your forum and didn't found any specific category in it to introduce myself, so I guess this one is probably the most appropriate to do so.
I'm a French guy living in China for a while, and I own this scooter for almost two years now. This machine evolved quite a lot since I purchased it, and I'm pretty proud to say that I made each of these modifications by myself
The original configuration was:
-battery: 60V, 20Amps, lead/acid (5 batteries)
-1000W no name controller
-1000W hub motor
-Performance: max speed around 45-50 km/h, zero to max speed achieved in about one hour and a half XD
-Autonomy: around 25 km while riding in "race" mode, about 40 km while riding more economically
Things I've changed or optimized:
-Complete strip down of the chassis, rewelding of each and every suspiscious joints. Then sanding and painting.
-Re wiring of the power lines in super thick battery jumping copper cables, to improve reliability, all wires are soldered and schrink tubed for reliability. My power lines are a bit overkill but they will never heat.
-Brakes changed: calipers, disks, tubes, etc
-Maxxis tyres
-New front fork and rear shocks
-Lithium battery: 72V 50Ah, LiFe. The battery had to be custom made, so it is splitted into two distinct batteries linked together. The BMS has been specially redesigned for me by the manufacturer to support 150Amps of draw. I unfortunately have no idea about the C rating (the information was not provided by my manufacturer). Total weight is about 35 kilos for the battery, half of it has been installed under the feets, the rest is under the seat. I had to build a custom stainless steel casing to fit all that power safely.
-Sine wave controller: I use the sabvoton 72V 150A sinewave controller. By far my favorite controller of all times among the ones I've already tested, just perfect about everything. Incredibly silent, very powerful, easy to wire, easy to link to the motor and to configure... I use it for a year now and it seems pretty reliable. My favorite feature of this controller is the fact that it is fully progressive and offers the exact same feeling of a gaz motor. It doesn't give you this ON/OFF feeling that you have with other controllers when you turn the throttle, this one is just the same feeling as what a gaz engine would provide. It is also very reactive, you don't have this annoying lag whenever you accelerate or decelerate which you can sometimes have with other controllers.
-cable throttle: I sometimes had problems with the standard throttle during heavy rain: the water would go inside and short circuit the potentiometer. I've switched it to a cable throttle, which allow you to put the potentiometer anywhere you want inside the scooter, so it's effectively protected against any kind of bad weather conditions. It works perfectly and also contribute to get the feeling of driving a gas powered machine.
-2000W Q.S hub motor, 55H magnets, Balanced version (a compromize between high torque and high speed versions).
-Water cooling system: since It can get very hot in China during summer and since my controller is located in a spot where there is basically no air flow, I had to set up a little watercooling to keep it reliable for long distances at high speeds. My watercooling setup is composed by 3 big aluminium heat exchanging plates fitting under the controller, a water pump, a conputer watercooling radiator, some automotive tubes and a little tank that I've 3D printed. It works perferctly no matter how crazy I run the bike even during the hottests days of the year.
-Performance: since the controller is fully adjustable, the performance can vary depending on the settings. The maximum speed I have reached so far was about 96km/h, but I believe I can go a little up to 100km/h with some fine tuning.
The acceleration from nor to 50km/h is less than 3 seconds, and I estimate it takes around 8-9sec to reach full speed. Here again, I think there is still some room to improve it a bit by some fine calibration of the motor and adjustments on some parameters.
-autonomy: Here again, it largely depends on the driving style. I can do about 50 km while driving crazy, 80 if I drive like a "normal, not insane" person, and for sure more than 100km if I drive like a granpa. I never had the patience to test the maximum autonomy at low speed and I actually don't care that much, since I have a tendancy to always run like I'm on a race track
This scooter is my daily driver, I have to do about 50 km each day with it to go to work, so I made a lot of efforts to have a very reliable and safe setup, sometimes affecting a bit theoritical performance, but overall the compromize I've made are really satisfiying. For instance, I've chosen LiFe batteries instead of LiPo considering the safety aspect in case of crash or catastrophic failure, despite the fact that they are heavier and somewhat less powerful. same thing about the watercooling, reliability over lightness.
So far I never had any issue with it apart for a faulty ball bearing of my hub motor, which was still under warranty.
I'll post some more pictures whenever I'll have access to my other computer, but meanwhile, here is what it looks like: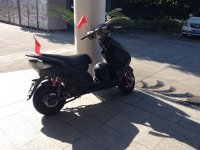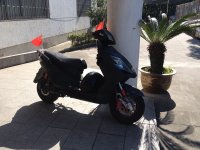 See you soon on the forum, if you have questions about my setup just let me know!