For the last several years I have been slowly selling off my fleet of bicycles, in preparation for being old.
I came to the realization that selling a 20 year old tandem, especially a recumbent tandem, was not going to be easy. There was no hope of selling it locally, and shipping it would mean boxing it up in several oversized boxes, and shipping it by freight. I have been interested in the used Nissan Leaf modules for some time. It occurred to me that I could "recycle" both our tandem, and some Leaf modules, by turning our RANS Screamer into a recumbent cargo bike.
Twenty years ago it looked like this.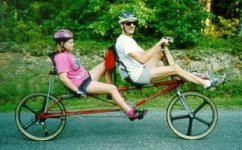 Back in July, I collected all the parts I would need and and hung them on the bike to test out the idea.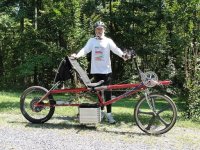 I put 670 miles on it before pulling it apart for frame mods. It sat in the corner of the room for six months while "stuff" happened. A couple weeks ago it started coming back together.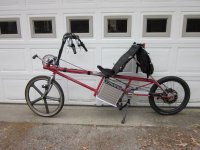 After a few more rides, I'm up to 835 miles now. This was the other day.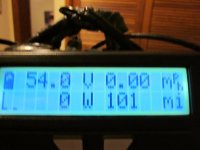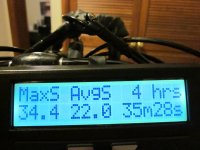 http://www.evalbum.com/5173