Joined

Sep 25, 2015
Messages

2,853
Basically im putting together a brushed dc scooter with what i can consider the strongest parts of the cheap stuff. I want to make an old school mule so i can abuse it and failure not be an option.
Most think the brushed motors burn out but geared lightly they can run on for many years if theres care taken to not fill the brush plate with mud sand or any crud, stock they like gearing of 5.4 for t8f on small wheel with a 70kg rider
I came across my first scooter the razor e3kw still on the road same motor after many years beat out all my other rides so im going to remake it a bit less powerful overall my calcs ill be at 2.65kw max vs 3kw of old but my 12s has changed to 14s and the 36v motor to a 48v so all in all ill spin slightly slower speed and little less torque but ill have a lower no load current and geared at 6-1 rather than 5.4-1 of old.
The main problem with these cheap brushed/brushless motors for me has allways been the t8f chain snapping and wearing out fast cuz its shit and getting a sprocket that fit's the small rear wheel and gearing is low enough on the motor side is not easy.
Now theres a oset mx10 that uses a 219 54t sprocket that fits a 6 bolts disc mount flange, plus theres a freewheel to disc adapter so thats the rear wheel sorted remove the freewheel and go direct drive no more wobbling sprocket with poor degrees of engagment.
Motor mod
Secondly is the motors t8f 8mm sprocket and fitting the 9t 219 its 12mm internal so to get it to fit looks hard but is simple, the motor has a 11mm spanner slot to lock the sprocket down i filed down one side flat to the threads on the shaft and then taped the holes on the motor up spun it and just took a thou off with a hand file as it turned then the sprocket fits on.
To finish it off the face plate needs its bearing hole opened out to 18mm i used a step drill and a collar to go on the shaft from a piece tube 12mm id 16mm od and 7mm long to hold the sprocket square to the bearing face and then use the original nut and tighten it all up.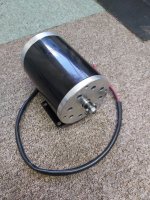 Build overview
.
20-25mph top speed
10ish miles range
25kg or there abouts
Simple to charge
Volt amp wh display with built in relay to isolate controller plus a lm2596 hv step down to give me 12v to
power the shunt setup and front light.
Power.
Zy1020 48v 1000w brushed motor
Yk43c 60v 45a 1500w controller
14s 10ah turnigy graphene lipo cells 15c.
45amp bms, 10amp charge.
Frame
.
Modified stock handle bars with star nut to fit mtb stem and bars to give a forward standing position.
Replace fork cup nd cone bearings with concealed cartridge and use a scs 4 bolt clamp
Few strategic holes placed on the frame and front fork for consealed wires with a headtube badge from a razor e prime to finish the puzzle as all will be revealed as i go.
Bits and bobs will change along the way but the setup will be similar to my old one motor on top of deck so theres good ground clearance but now the controller will sit in the original motors place giving plenty of clearance and opening the battery box front area up to give more room.