Joined

Apr 8, 2014
Messages

2,100
Location
Well it took some time but it is finally up and running ... until I get started changing things at least.
Origonal concept thread:
https://endless-sphere.com/forums/viewtopic.php?f=3&t=70586
Top speed is around 15 MPH. Much faster on the streets in Houston and it will shake apart
(if not the bike then I will)
. I did get it up to 17 MPH on an unusually long smooth patch of pavement. I did an endurance run with a fully charged battery that managed 10 miles with a voltage drop to 36 volts. I am thinking I could get maybe 12 miles if push came to shove. The battery was custom built by SuPower
(10S2P (18650 cells), 36V (42 max), 6.4Ah)
. Weight is a bit of a disappointment as it tips the scales at 30 pounds as shown. Of course I could leave off some of the comfort items: trailer hitch, pump, kick stand, mirrors, cable lock ... but then it would not be of use to me.
The vintage Miyata CF-7000 Carbon Fiber frame was sanded down to remove all the decals save for the one on the head tube
(they had been scratched beyond recognition)
. Then the aluminum bits were masked off and the frame refinished with High Gloss 2K Glamour Clear Coat. If I was to do it again I would opt for old fashioned lacquer or enamel. The fork was also sanded down to remove the old lacquer finish. Both were polished to a high luster.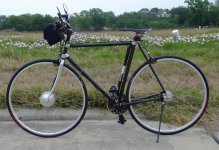 As the frame had zero provisions for a rack of any sort I decided to get a Burly Designs Travoy trailer. I adapted my Bushwhacker Omaha Pannier bags to attach to the trailer. This works out well and I can use the trailer with either bicycle.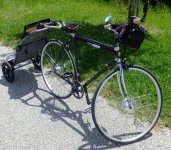 View attachment 10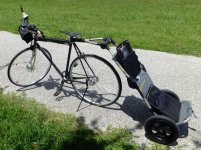 I did not like the way the Bell Handlebar bag conformed to the bike so I put a 1 x 8 inch acrylic bar inside the bag to stiffen it up bit. That bar is drilled and tapped four places 6mmx1. The bolts go through couple of 1/2 x 2 inch acrylic bars on the back side of the fabric bag. There is a 1/2 inch brass grommet in back side for the throttle cable to pass through and a PVC fitting in the bottom for the motor cable to pass through. I replaced the standard connectors on the throttle and control cables with 3.5mm 4 pole phone jacks. The power cables use XT60 connectors and there is an extra one
(capped)
for charging. .... By the way the cork hand grips are covered with clear heat shrink.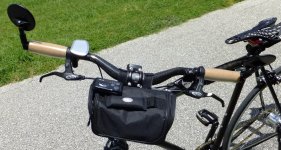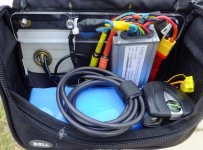 The little Bafang SXWU motor's axle only has one side with flats suitable for a torque arm. It happens to be on the same side with the cable and the two of them interfered with each other. I wound up grinding away a bit of the outside diameter of the torque arm accommodate the cable
(second picture)
. The Stainless 'P' clip was fabricated from an oversized clip
(beat to fit, match drilled)
and polished. A bit of old inner tube protects
(I hope)
the polished fork from being scratched . I built the wheels from Sun Ringle CR18 eyeleted rims with Sapim Laser Double Butted spokes.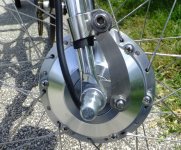 The frame's derailleur cable stop was drilled out and tapped 6mmx1 to accommodate the Sturney-Archer cable stop. Despite appearances it is NOT practical for adjustment
(too dard little finger space)
. At some point I may need to add an in-line adjuster to the cable. Note that the SA adjustment screw and cap had to be shortened to get it to fit in the available space
(leaving off the lock nut in favor of blue 'lock-tite')
.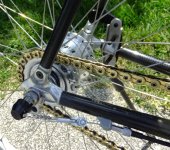 Sturney-Archer has a lot of shifters available for their 3 speed hubs ... but they are for the right hand side of the handle bars. That side has my thumb throttle. SunRace makes a similar set of shifters for their derailleurs. I took a Sunrace left hand front 3 speed derailleur apart and replaced the rachet with the one from the Sturney-Archer 3 speed hub. To my delight it actually works. It is backwards
(silver lever = down shift, black = upshift)
but it does work. It needs another coat of black paint to cover up the silver finish.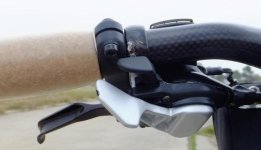 There was inadequate room in the rear dropout to adjust the chain tension and a standard chain could not be made to fit. I did not want to use a heavy chain tensioner so I installed a half link chain. There are very few of those in the 3/32 chain width. This one I chose is a Gusset Bling Slink chain. Best I remember it is 95 half links long. It comes with an 'easy pin' which is NOT all that easy.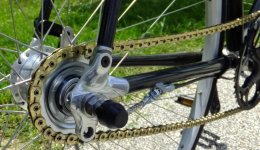 The bottom bracket is filled with a FSA K-Force carbon fiber crank and Megaexo ceramic bearings. A Minoura SL-27 kickstand was installed for its light weight and because the Miyata CF frame did not really favor a standard center mount kickstand.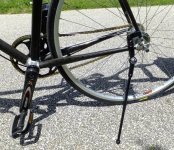 I am not happy with the throttle, handle bars, LED Panel or the handle bar bag.
Then there is that nagging little matter of the extra five pounds.
However the important thing is it RUNS!!!
I can deal with the rest down the line sometime
Reference:
Miyata CT7000 1989
http://www.miyatacatalogs.com/2007/12/miyata-catalog-1989.html
Bafang SXWU motor
https://bmsbattery.com/ebike-kit/602-36v250w-swxu-front-drive-v-brake-hub-motor-ebike-kit.html
S-KU65 motor controler
https://bmsbattery.com/ebike-kit/752-s-ku65-for-led810-250w15a-6mosfets-controller-ebike-kit.html
SUPOWER Batteries
http://www.supowerbattery.com/product/product.aspx
Gusset Bling Slink chain
http://www.gussetbikes.com/products-information.php?id=CHGUSL3D
Sturmey-Archer 3 Speed hub
http://www.amazon.com/dp/B0042R0YGC
Sun CR18 Rims
http://www.amazon.com/dp/B000AO7EYQ
Sapim Laser spokes
http://www.amazon.com/dp/B005MJZOTQ
FSA K-Force crank
http://www.fullspeedahead.com/products/cranksets-road/k-force-light-bb386evo/
Burley Travoy Bike Trailer
https://burley.com/product/travoy/
Bushwhacker Omaha Pannier Bags
http://www.amazon.com/dp/B00B4ZKZK0
Minoura SL-27 kickstand
http://www.amazon.com/dp/B005UUNUV6
Cork Handlebar grips
http://www.amazon.com/dp/B005DUT0G2