Joined

Mar 30, 2012
Messages

134
Location
Yescomusa.com 500 watt 48v rear kit review
Basics:
Motor: direct drive,
Rim: seems nice, no problems but not centered
Spokes: seem to be good quality
Tire: good enough road/hybrid (no flats yet @ 400 miles)
Total weight: 12-14 pounds (I did not weigh it but it is lighter than the 16 pound battery)
Controller: yes, wires seem thin but get the job done
Brakes: cheap but could be used if needed
Rack: solid metal, heavy
Back rack bag: good size but not as big as the photo on line
Battery charger: for lead-acid battery no good for a LifePO4 battery.
Back dropout width needed: 150mm+
Rider: 140 pounds
Top speed no peddling: 25mph, with hard peddling: 27mph
Range with 48v 15ah ping: 28+ miles
Hills: 600' elevation gain in less than 2 miles (done 4x with hard peddling) and not much heat from the motor, controller or wires.
**********
With so many kits to choose from, it is not an easy decision, but since the yescomusa warehouse is just down the street from where I work, I narrowed my choices to the rear 500w or 1000w kits, both 48v. I stopped by after work one day and was impressed with their service and after paying $230.00 cash, I walked out with the 48v 500w kit. The web site numbers along with my calculations showed the 1000w kit doing about 30mph while the 500w kit was closer to 25mph. My goal was to make it to work 26+ miles using a 48v 15ah ping battery. I also wanted to shorten my current ebike (http://endless-sphere.com/forums/viewtopic.php?f=4&t=38215) commute time and not spend too much time or money because, like most people here, I will probably be upgrading again soon.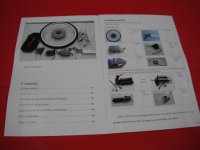 I did not have a bike yet so I asked my brother if I could test it out on his aluminum mountain bike. I was not surprised that it did not fit a standard 135 dropout. I measured/eyeballed the hub space needed at 158mm. So, I set off to the swap meet in search of a cheap metal-framed bike that I could spread to the required width. For $35.00 I found a bike that was labeled "chromolly" and after removing the back wheel, stepping on one side and pulling up hard on the other side of the rear dropout, I had a165mm opening. The directions showed both washers on the outside (each side), however, the small sprocket was hitting the frame so I had to put one washer inside of each dropout to make space (washer-frame-washer-spacer-hub-spacer-washer-frame-washer). Also, like many of these kits, the wheel was slightly off center but good enough. I can fix this later. The back rack that came with the kit seemed strong but a little heavy. To install it, I would have to remove the hall connectors, which seemed like too much work. I threw the rack in the recycle bin and borrowed a rack from another bike. The thumb throttle was easy to install. I dropped the controller and battery in the supplied back rack bag, hooked up the wires and was soon zooming up and down the street at 25mph without peddling. I was amazed that it worked. The kit came with brakes, which I have not installed, but no PAS(?) system that attaches to the crank. I see these on many of the other ebay kits but not on this one.
Next, I mounted the battery in the triangle using a piece of aluminum bent in an "L" shape that I attached to the water bottle cage mounts (I copied this from a youtube video). I also used some of the foam that came with the battery, contact cement, Velcro, Velcro straps, and some zip ties to secure it along with a dollar store bag. I also threw the controller in with the battery because I had enough room then cut some good sizes holes for ventilation/cooling. The ping battery is only 4 inches wide so the triangle is a perfect place for it. I also loaded the back rack bag with rim tape, a pump, flat protecting liner, and a slime tube fully expecting to get a flat on my first commute. The charger is in there too.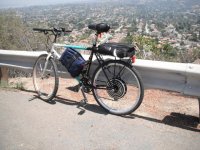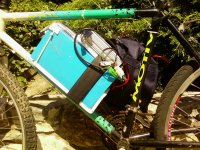 The tire is still fine, however, on my first commute, the motor started to make some loud vibrations and lost about 80% power so I peddled on home and drove to work. I checked later and found the green wire had become disconnected. For my next try, I made sure all the wires were pushed/clicked in then I taped all the connections. Since then I have 7 rides into work with no problems and I have dropped about 25 minutes each way from my commute. I usually peddle hard with full throttle to work and relax on the way home. The ping battery takes 5.5 hours to charge with the standard charger. I do not know what the range is yet but I have done 28 miles with a 600-foot climb on one charge (1200 peak elevation and I live near the beach).
I am very happy with the kit and will probably break open the controller when I have time. My ebike set-up is only temporary. I am on the lookout for a better quality bike and better, battery box/placement. This site is awesome. Thanks all for the help especially wesnell.
Tim McIntyre
Seal Beach, CA USA