Joined

Jan 8, 2023
Messages

24
Hello folks,
I'll document my build here. I'll also show possible ways to hack together a working bicycle. What I don't want is a bike mechanic pissing contest on proper or improper ways of building a bike, I'll just show what has worked for me in the past or what I witnessed myself as an inspiration to someone not willing to invest in specialty tools.
The starting point is this '99 Giant Box One freeride frame: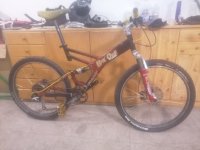 The Frame
This one is a little bit of mountain biking history and it's precious to me because of it. You can find all information on the frame here:
http://junglebiscuit.com/articlesgiantboxone/
I haven't been able to find more.
It is a Unified Rear Triangle design. In short, if you pedal out-of-saddle the suspension bobs. Interestingly, the original URT design featured a much higher pivot point which didn't have that problem. There's a good article on PB about it:
https://www.pinkbike.com/news/the-short-turbulent-life-of-urt-suspension-mtb-history.html
It has 4" of rear travel. The frame has to be rated for triple clamp forks since it originally came with one.
I don't like to pedal out-of-saddle anyway, so the limitations of URT are not a concern to me.
Currently it runs on a Manitou Radium R air shock. I also got a decent enough coil shock at my workshop if the little Manitou won't handle as high pressures as I'll be needing.
Background
I work as a bicycle mechanic and live in a big city in Europe. Over the years most of my friends moved to the countryside and it's getting harder and harder to visit them. Using public transport to travel to their backwater villages takes a lot of time and is quite expensive. It's not practical for me to have a car. The city I live in is historical and not planned, traffic realities are such that half of your driving time is spent looking for a parking place and you need to take three right turns if you want to go left. I'm not exaggerating. In short, I have a strong usecase for a utility e-bike.
Build Goals
In no particular order:
Cost-effectiveness and durability - I want to invest once upfront and only have to replace wearing parts. On my bicycles I'm okay with breakage because Every Broken Part Is A Weakness Leaving The Bike, but this needs to be strong and reasonably cheap.
Using what I got - I already have 36V batteries, so I need to use either this system voltage or 72V to keep cost down.
Range - my farthest friend lives 80 kilometres away. Charging en route is not an option.
Stealth - without going into too much detail, even using a ready-made conversion kit to DIY an Electrically Power Assisted Cycle is a legal grey area in my country. I'm in need of transport, not trouble. I also don't want a law discussion here, I've made my choices and I'm willing to live with the consequences.
Cruising speed of 30-35km/h, top speed of 40km/h. I simply don't want to go faster in traffic.
Final weight of around 40kg or less would be nice. I need to be able to get that thing up and down two sets of stairs.
So, without further ado, let's install the forks today!