Will the BBSxx fit in my bike? This is a question that many of us need help in answering. The question you should be asking first is
"what kind of bottom bracket does my bike have"?
You need to know the answer to this in order to understand how the BBS02 or BBSHD will fit in your bike and what size motor to choose. Next you need to know that Bafang BBSxx motors have a bottom bracket shaft diameter of 33.5 mm and are designed to fit into the bicycle bottom bracket standard known as JIS or Japanese Industrial Standard, which is very similar to our standard here in the US commonly referred to as "square tapered spindle", ISO/English, BSA, British, or "threaded". Available in 4 widths, (68 mm)(73 mm Oversize)(83 mm Some Downhill & FR bikes)(100 mm "Fat bikes"). Shell inside diameter is 33.6-33.9 mm. BSA has threads on the inside of the shell measuring 1.37 in x 24 TPI. Below is an example picture of the BSA threaded Bottom Bracket easily identified with the threads on the inside of the shell. This is what the BBSxx motors were designed to fit into. So if your bike has a threaded shell like the photo below, you are in luck, now all you need to do is order a motor in the correct width.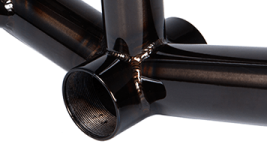 Fortunately Bafang makes the BBS02 and BBSHD motors in a variety of widths to fit several JIS and BSA bottom bracket shells with the proper knowledge. The BBS02 comes in one size only (68mm) unless you have a custom machined unit with a longer square tapered spindle other than a 68mm. The 68mm BBS02 and BBSHD can easily fit 73mm bottom brackets. All that is needed is longer fixing plate bolts and a 5mm spacer (or stack some small washers) to compensate for the 5mm difference between the fixing plate and the motor. Usually only the 4 notch M33 lock ring will fit on the remaining spindle shaft threads and the second outer lock ring may not fit. What this all means is this... a 68 mm BBS02 can easily fit in both 68 mm and 73 mm shells. Bafang now makes the newer BBSHD model available in a variety of sizes (6 to be exact) : 68, 73, 92, 100, 110, and 120 mm. Many people are unaware of this fact, but yes you can get a 73mm if you wish, but the flip-side is the 73 mm only fits 73 mm shells, making the 68 mm more versatile to swap to another bike someday, just a little food for thought. Well, you really don't need to continue reading if what you have read so far describes your bike. Everybody else without a threaded BB shell, keep reading, sorry, there will be a quiz for you as well.
Unfortunately, bikes comes with a multitude (6+ other standards) of varying widths and diameters, none of which have threaded shells, but instead use press in sealed bearing cartridges, which means you may not be able to install the BBSXX motor into your bike, so please pay attention. You may have one of these bikes or plan on buying one and don't even know it, thinking all you need to know is the width of your bottom bracket and order a motor between 73-100 mm and you are all set, sorry, this couldn't be further from the truth. DON'T BUY ANYTHING until you know exactly what kind of bottom bracket shell the bike has. I have dozens and dozens of emails from people who accidentally spent thousands of dollars on a bike only to find out the motor won't fit. They just assumed it would fit because the shell width was between 73-100mm, but they did not look at the shell type, or shell diameter, and the project comes to a screeching halt. Maybe soon we will have adaptors for the motor to fit more standards, but for now proceed with caution and try to make an educated build done right the first time.
There are several standards you need to be aware of that have larger diameter bottom bracket shells. It boils down to this, all the other standards (besides JIS and BSA) have larger diameter bottom bracket shells. The newer shell standards do not have threads in them at all and rely on press fit bearings being pressed in, instead of threaded in. They are notorious for having a "creaky" sound for this reason. Many bike manufacturers began adopting new standards around the 2012 time frame, some a little before, some a little after. What this means for you is,
be especially careful when selecting a bike 2012 and newer because the chances of having a non BSA/JIS bottom bracket shell increases.
The vast majority of older bikes pre-2012 have the appropriate threaded JIS and BSA style bottom bracket shells that the BBSxx motors were designed for and are usually a safe bet. Below are the standards to be aware of.
BB30:
This was introduced as a new international standard utilizing a new, larger-diameter crank spindle and bottom bracket shell. With BB30, 42mm bearings press into the frame against inner snap rings. This is an open standard, like ISIS, that was originally introduced by Cannondale and has been adopted by crank manufacturers FSA, SRAM, and Zipp. If your bike has a BB30 bottom bracket, no worries, just get a BB30 to BSA adapter and the Bafang BBS02 or BBSHD will fit beautifully. Make sure to buy either a 68mm or 73mm BBSxx because BB30 is only made in these two widths.
BB30 = good : )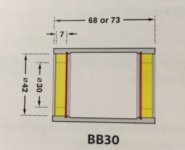 Press Fit 30:
Also called PF30, this is a variant of the BB30 design. The PF30 design uses BB30 sized bearings pre-installed in bearing cups. The bearing and cup are pressed into the bottom bracket shell. Because PF30 uses the same size bearings as a BB30, the cup material increases the bottom bracket shell to 46mm diameter. The PF30 system uses the same diameter spindle as BB30 and can be used with BB30 cranks. This is all wonderful you say, but... how do i get the motor to fit? Get a PF30 to BSA adapter and you are all set. This standard comes in 68mm or 73mm widths so choose your BBSxx motor accordingly. PF30 = good : ) PF30 and BB30 are the only press fit standards I know of that will fit the BBSxx motors with commercially available adaptors.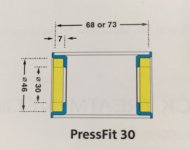 The below mentioned do not fit the BBSxx motors.
PF41/BB86/BB92:
This standard was originally introduced by Shimano as an internal bottom bracket standard and has since been adopted by other manufacturers as Press Fit 41, or PF41. Some fat bikes use this standard, including the Salsa Beargrease and Surly Ice Cream Truck, which use a PF41 bottom bracket in different shell widths (121mm for Salsa and 132mm for Surly). The bearing cups are pressed into the bottom bracket shell, and standard external bottom bracket bearings set inside these cups. Well that is all fine and groovy, but I am not familiar with any adaptors for this standard. There may be so please let me know so I can make a correction.
To sum it up avoid this standard need custom machined solution : /
*UPDATE 6-26-2016 Adaptor for PF41 89.5mm wide available please see next post for details*
BB90 (Road) BB95 (MTB) BB121 (fat bikes):
Exclusively used by Trek as an integrated bottom bracket standard, BB90/95-specific bearings press directly into the frame. Cranks with a 24mm spindle and originally intended for external bottom brackets will work with this system. I am not aware of any adaptors for this standard.
To sum it up avoid this standard need custom machined solution : /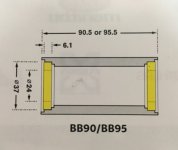 Ok, I am getting bored and tired writing about standards that we can't install the BBSxx motors into.... the next few standards do not have adaptors for BSA, so I won't waste our time with details that don't matter and will update the info on the below standards later if things change.
BBright Direct fit:
Avoid this standard custom machine solution : /
BBright PressFit:
Avoid this standard custom machine solution : /
386 EVO:
Avoid this standard custom machine solution : /
So as it stands now, the majority of newer standards are incompatible with the BBSxx motors. Here are some simple questions you can ask when selecting a bike to make sure you don't end up with one of these incompatible standards.
What type of crank spindle is in the bike?
If the answer is square tapered spindle, you are good to go.
What year is the bike?
Pre-2012 has a higher chance of being threaded. If you want a full suspension bike it would be a good idea to look for a used one made prior to 2012. Norco brand bikes still have newer post-2012 full suspension models with threaded shells that fit the motor.
Is the bottom bracket shell threaded, yes, or no?
If yes, the chances are almost certain the BBSxx motors will fit. If its not threaded, proceed with caution and make certain you understand what standard it is. PF30 and BB30 do have adapters available.
What width is the bottom bracket?
Knowing this allows you to get the proper sized BBSxx motor, 68mm, 73mm, etc...
Its a little confusing out there. Some vendors are offering spacer kits that may make it seem to you that all you need are their bottom bracket spacer kit and you will magically be able to install the BBSxx drive unit into any BB shell 68-73 mm, 73-100 mm, or 100-120 mm. This is just simply NOT the case. It is more complicated than just measuring the width of your bottom bracket. A spacer kit isn't going to do jack if the motor doesn't fit the diameter of the shell. Every installation is different requiring a different combo of spacers, chances are good you will need a different spacer other than one provided in the kit and end up using standard 1 or 2.5 mm spacers anyway. Spacers are extremely simple to obtain and come in a variety of thicknesses, do not make a purchase just because some spacers were whisked into the deal. Vendors do this to make use of the 3 most common motor sizes, 68 mm to fit both 68 and 73 mm, a 100 mm to fit anything from 73 to 100 mm, and a 120 mm to fit anything from 100 to 120 mm.This allows them to stock the motors in 3 sizes and simplify their inventory. The motor actually comes from Bafang in six different widths, 68-73-92-100-110-120 mm. That's right, it comes in 6 different widths, not just 3.
Most of the time the motor just does not bolt right into your bike the way you hoped. No big deal! There are easily obtainable spacers that bike shops and manufacturers use regularly called
bottom bracket spacers
. They are available in different thicknesses at any local bike shop or online. We have them too if you need them. You may find that when you put the motor into your bike's frame, it hits the chain stays (the frame tubes that connect to the rear tire) and cannot fit flush against the bottom bracket shell. That is when these bottom bracket spacers come in handy. Just slide these spacers to fill up the gap and get the motor positioned for an optimal chain line.
The photo below is an example of bottom bracket spacers used on a Motobecane Lurch with a 120mm BBSHD motor with a red Lekkie HD bling ring. The shell is a BSA threaded style 100mm wide. The 100mm BBSHD motor hit the frame and could not be installed. A longer 120mm BBSHD motor is used with 5, count them, 1-2-3-4-5, 2.5mm thick bottom bracket spacers filling the 10mm gap. All properly installed with a straight chain line.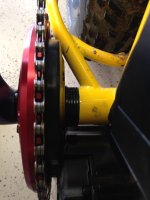 One vendor claims to have custom machined adaptors for PF92, BB95 and BB121, but they have no mention of how or what is used, no pictures, no information, no proof, like a secret almost, hopefully its real, don't hold your breath. The only way this is possible is with a custom machined press in adaptor. Several people have told me this vendor was unable to provide them with what they needed for either of these standards they claimed to support. Please email me if you have any more information that can be added for the benefit of us all. This is a work in progress and your help is greatly appreciated. I have personally only done installations on bikes with threaded JIS/BSA, press fit PF30 and BB30 shells, and can confirm 100% the BBSxx can be installed in those BB shell standards. Continue reading for details of how to install in the BBSxx into PF30 and BB30 shells.
So here is what you can expect if your bike has either the PF30 or BB30 shells. There are press in adaptors made by FSA (Full Speed Ahead) that will adapt the PF30 and BB30 shells to BSA and allow the BBSxx motors to fit properly. They are available in two widths of 68 mm or 73 mm and for either PF30 or BB30 standards. The picture below is of a BB30 to BSA adaptor with choice of 68 mm or 73 mm width.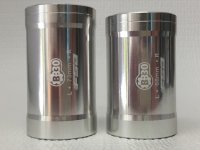 Here are the PF30 adaptors below available in 68 mm, or 73 mm width.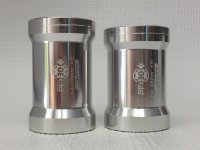 You must get these type of adaptors and ignore all other types that may pop up on your google searches. The press in adaptors shown above are the only adaptors you should be getting your hands on and ignore all others because they will not work and waste your time and money. You need this type of adaptor because it mimics a bare english threaded shell that the motor easily mounts into. See through the inside of the shell adaptor below.
View attachment 9
With these PF30 and BB30 adaptors, the diameter is reduced to fit the BBSxx motors perfectly. All you need to do is press in the appropriate adaptor into the PF30/BB30 bottom bracket shell with a Park Tool Headset Press and you will be able to install the BBSxx motor.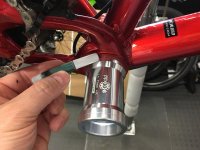 You can see from the photo that the adapter is marked L and R for left and right. Start to press in by hand, apply loctite 609 and get your Headset Press handy, or just take it down to your local bike shop and have them remove your cranks and press this bad boy in for you. Most shops would charge 15-30$ for this and save you the cost of tools you may only use once. Insert the Park Tool HHP-2 and begin to slowly press in the adaptor.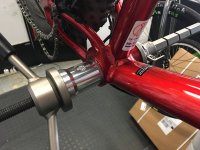 Make sure the alignment is straight and do not be in a rush.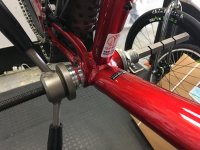 Press in all the way until the press is flush against the BB shell.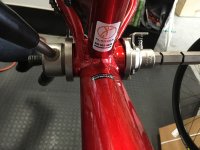 Now the PF30 press fit shell looks just like a JIS/BSA threaded BB shell.
The light at the end of this tunnel is BBSxx goodness. This is going to make one sweet E-bike!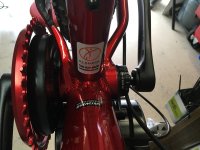 In the above picture is a BBSHD 1000 Watt 68 mm motor installed into a 73 mm PF30 shell with a BSA press fit adaptor from FSA. One thing to note is that the 68 mm size is versatile. It can fit both 68 mm and 73 mm BB shells with the spacers provided from EMPowered Cycles free of charge.
Below you can see the perfect chain line achievable with a properly spaced motor and a Lekkie Bling Ring. The chain line is very straight while in 5th gear on the 10 speed rear cassette. Shifts are smooth and precise with a proper chain line. This bike will have no problems using all 10 speeds.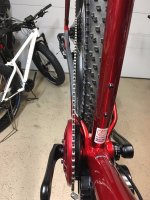 This bike is a Specialized Fuse with 3 inch wide tires on 27.5 rims. It turned out to be a very nice e-bike. One of my favorite builds so far. There are many cool bikes like this out there with a PF30 or BB30 bottom bracket shell that can accept the BBSxx mid drive motor.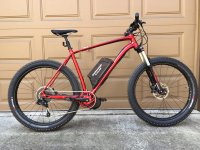 Well it never fails, right now somebody is probably sending an email asking which motor they need to get for their bike, the 68 mm, the 100 mm or the 120 mm ??? Remember there are more sizes to choose from than just 3. I will try my best to help, but please take a moment to find out what type of shell your bike has and be able to answer 3 simple questions for yourself. What style BB shell does your bike have? The width? The diameter? It is up to YOU to know these basic details. These 3 simple details can make or break your BBSxx build.
So this whole article can be summed up to this...
- Know the year your bike was made, pre or post 2012.

- Look for threaded JIS/BSA, PF30, or BB30 shells, greatest preference on threaded JIS/BSA. *UPDATE Shimano Press Fit 41 89.5mm adaptor available*

- Know the width, diameter, and standard of your bottom bracket shell.

- A spacer kit will not solve your problems! It takes a little ingenuity and patience to install the BBSxx motors into some bikes.