Joined

Jun 6, 2015
Messages

439
Location

Firstly, amazing community everybody has built here, it's inspirational.
This thread is for technical and general discussion of the kit offered by Tangent Motor Company, here:
http://endless-sphere.com/forums/viewtopic.php?f=31&t=70098

This setup is completely custom, all parts designed and machined in house (by me). What we have is an internal 40:1 reduction and a secondary 2:1 reduction between the drive unit and crankset, yielding our overall 80:1 advantage. The drive unit turns the crankset at a maximum cadence of 130RPM (@50V) which matches nicely to our human pace. Selecting the proper gear is straightforward. The reduction unit weighs just over 3lbs, making it 5.8lbs or so with the Astro.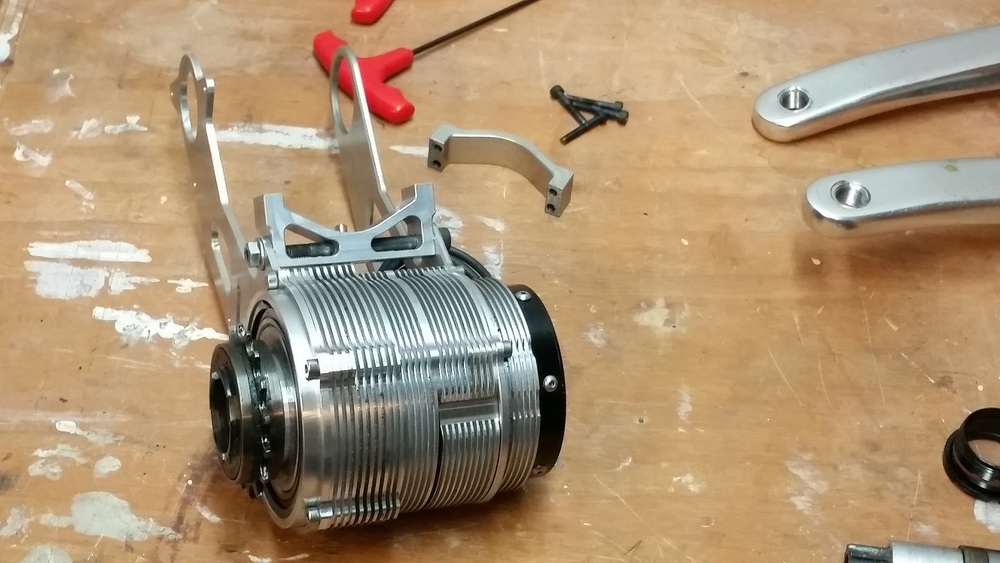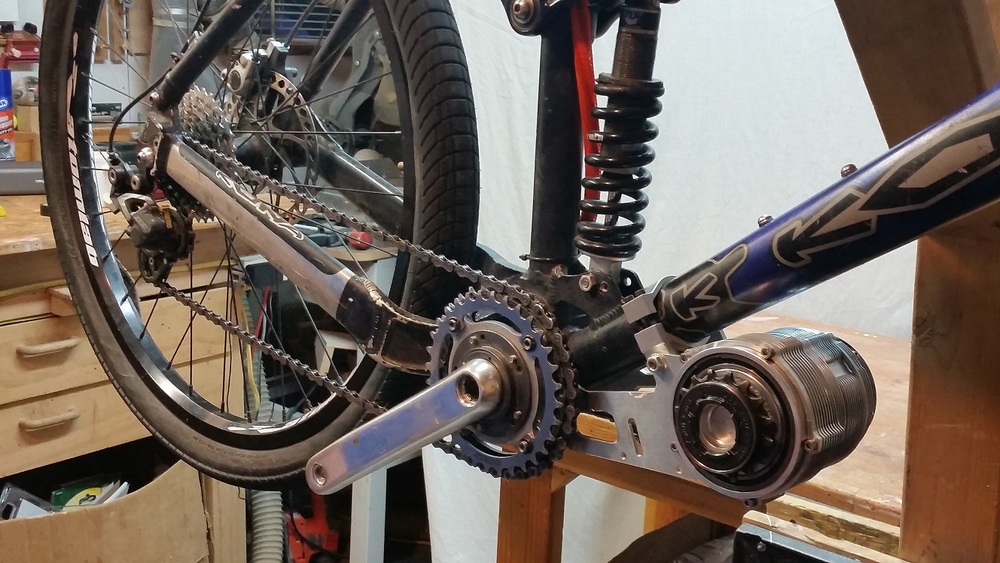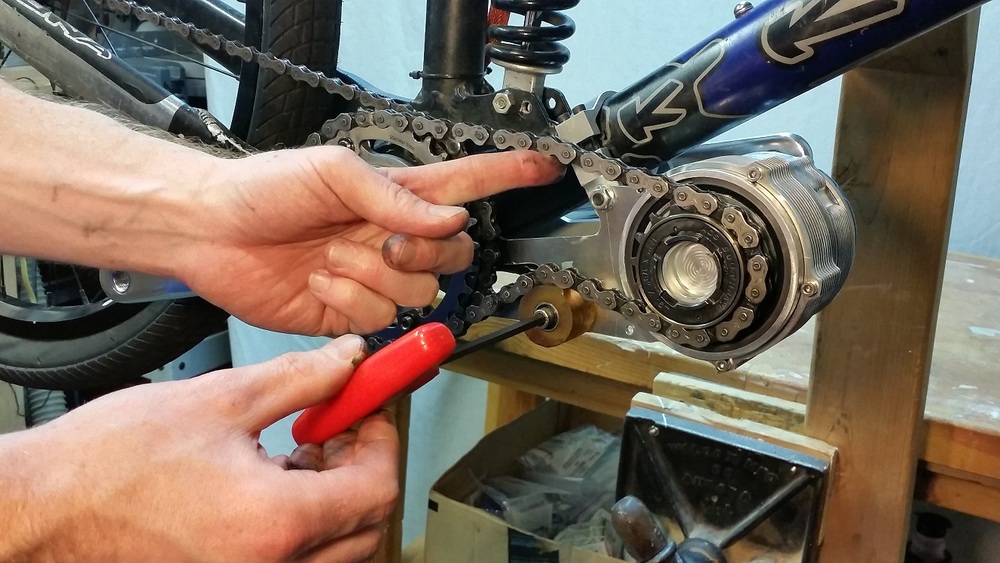 Bare drive startup:
https://www.youtube.com/watch?v=3cwpTn6w3hY
10th gear on-stand test:
https://www.youtube.com/watch?v=UTVK2UvUka0
The drive unit also houses an Astro Flight 32XX motor (I'm using a 3210 7-turn). The huge reduction allows for the full 10kRPM range of the Astro, and is it fun. Rated for 1350W continuous, 4000W peak, this thing moves. A Castle Creations HV80 is run sensorless without issues or overheating and can get me started on any hill so long as I can manage to stay on the bike (low gears and a steep hill make for hill climbing fun). The motor has turned several times before the slack is even taken out of the chain- hard riding doesn't heat the ESC over 120 deg. A Cycle Analyst with shunt provide throttle input (current control) to the ESC. Power is very controllable- I power wheelie that Kona in the pictures in every gear but 10th. The CA allows for easy tuning of the throttle response and power limits.
Range and efficiency are very good. With chunky street slicks I'm averaging 22Wh/mi at 28mph. Top speed is dependent on the bicycle gearing as this unit is able to max out the gearing in almost any situation. 500W pushes the Kona to 25mph without pedaling, 1300W yields 30mph up a steep hill.
The bicycle drivetrain is holding the power well. A quality bicycle chain (and master link) has held up to over a month of abuse. I use a Surly stainless steel chainring on the power side and a quality aluminum chainring on the bicycle drive. I find that I don't need all 10 gears of the bicycle and normally shift two at a time- I can't keep up with the acceleration of the drive unit.
Maintenance is easy. A small shot of special grease through the fill port every 6hrs. It's easier and cleaner than maintaining a bicycle chain. The unit is sealed against contaminants and is completely user serviceable.
For batteries I'm using two 6S Turnigy Multistar 16Ah packs in parallel from Hobbyking. These are 10C batteries and provide an excellent balance between performance and charging convenience. I ride with these in a backpack to keep the weight on the bike to a minimum. I've had more than a couple get-offs while riding and haven't had any problems with the connectors pulling out when they need to. After a few rides, you won't notice the cable between yourself and the bike anymore, but mount your batteries where you want. Ripple voltage is not an issue (as logged by the ESC) even with the batteries in a backpack due to the reduced current demands of the system.

A taste of what it's like to ride:
https://www.youtube.com/watch?v=oZygysNgh_A
The unit runs warm. Heavy abuse will make it hot to touch, just make sure there's airflow if you're keeping the wheel in the air like I do. On the street with more speed, I run 1000W for 30mph all day and peak 2500W to keep the acceleration fun and the unit is only warm, no more. If the trail is relatively flat, 700W/hrs of battery keeps me at race pace for an hour, two hours of normal riding. Tight trails I tend to turn the power down while leaving the response crisp for amazing control over front-end lightness.
Its 40:1, about an inch and half wide, fits on the end of the motor. It allows the rest of the kit to be as awesome as it is. Any other question or concern is fair game. BTW, what I'm riding is the 42nd prototype.
-dave