Finally got everything to work. I wanted to do a test ride up a 12% fire road near my home but decided to instead clear some overgrowth 20 minutes away by riding this offroad about 8 miles total. 50 lbs with front wheel/tire. Will try to trim closer to 45 lbs with different crankset later. Notes below.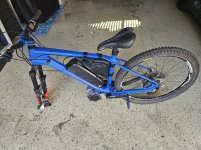 1. Amazon and their own website is L-Faster. E-Bay is Dome Motor. They are slightly different; the Dome Motor one has more mid-drive specific parts in their kit including a 16T freewheel sprocket connected to the motor with a (flimsy) tensioner. If you are going to buy this motor from one of the three sites, buy the mid-drive one for sure, absolutely do not buy the one that attaches to the left chainstay. Too many alignment problems with that one. Not that this mid-drive was a breeze to install; I still need some major tweaks later that will be mentioned below. The one to buy is the 450-750W 36/48V mid-drive. Amazon sells for $404, E-Bay for $420 not including shipping.
2. Why did I decide to get this instead of, for example a CYC Stealth? Because the accessories are more or less 100% open-source. As in you pick your own battery, controller/display, and possibly even your own crankset (see below for more theoretical details on that). So you can basically set this up with whatever power, throttle/pas, battery life, and number of chainrings that you want to; it's very modular. I would call it a hub drive motor that happens to be placed in the middle of the bike and has a 2nd geared chain. That's very different than a Bafang BSSxx or even a CYC that's their own crankset / controller / display that you have to use.
3. Installation of the motor was...interesting. The 'inner' q-factor, as in the inside of the cranks from crank to crank on the square-taped stuff that came with the kit is 170mm wide. For comparison, most Shimano Hollowtech II cranksets are around 150mm, whether the cranks themselves are curved outwards or straight. The reason I mention this is that the motor's widest point from sprocket to other non-drive side is 140mm. In theory that would allow you to use a hollowtech-like crankset w/o freewheel. In reality, the drive side is offset a lot. Which means to use a different crankset, you'd need to have the equivalent of shims (in this case flat plates or repair plates) extend the motor away from the cranks, up a few inches on the down tube. That creates its own can of worms for a longer drive chain and possibly a more wobbly motor. But I feel it's worth it because this kit crankset is so damned heavy at 7 lbs, complicated with freewheels all over the place, and the chainrings are not even narrow-wide. It's very low-grade, and it's already wobbly so I'm not really losing much by extending the motor out later. I had to invert the motor-driven chainring and now can't use the large 44T chainring; just using the 34T middle one for now. That ring climbs good, details below. Pictures of how I needed to put some shim spacers on the drive side as well. You can see that the motor sprocket, tensioner, and largest chainring are within a couple mm of each other with some mods.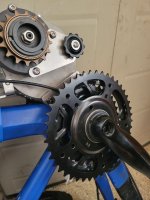 I've also included an image of what I'll try for extending the motor with...keeping the metal plates that with the kit and adding these to those original plates.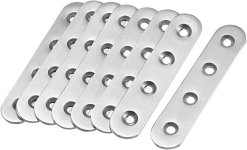 4. The stock controller was a complete POS. But that's why this motor could actually be worth it...because like a hub motor, you simply change the controller/display to what you want. KT LCD-5 and generic 36/48V 12 mosfet controller worked. PAS KT V12 however is not working. The controller I'm now using has SM plugs and a male 3-pin for the PAS. I can't find a hollowtech (big hole) PAS with an SM 3-hole female pin to mate to this controller. So...why not simply buy two different PAS systems that are KT-compatible and combine both pieces? I'll see later if it works. The only issue I see is that the chainring magnets have 12, and the 3-pin female SM PAS sensor is built for 8 magnets. But I think it should be fine. Either it works or it doesn't. Pictures of what I'll try later for PAS are below.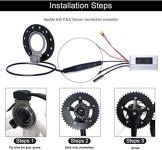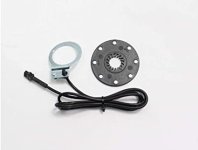 5. Remember I'm trying later to convert from super-heavy square tapered to 24mm hollowtech spindle, so the lower PAS magnet ring will not fit. Only the steel sensor ring with SM plug will fit; that's why I need the upper 12-magnet ring that attaches to the chainring. I'll probably use a triple chainring with the magnets attached to something I most likely will not use (don't have a front derailleur and it's not easy changing the cassette chain on something with a single-speed chain already on the outside ring!). Middle ring will probably be 38T; right now it's 34T and it climbs pretty dang good. Outer ring will be 52T narrow-wide for a 3.25 reduction ratio.
6. This would lead to the pedals automatically moving when the motor turns. No 'safety' freewheel(s). With a 38T chainring, unless I'm in a really low gear on an 11-52T cassette, I don't see a problem with that. If I have to walk the bike up to start out smoothly instead of risking the pedals turning too fast, so be it. Have to walk up on a lot of bikes anyway, e-powered or not if you run out of steam up a steep section. I'm used to it. My area has some super steep hills.
7. I'll update on how this does vs. a Bafang 500W front-hub motor on a 12% offroad incline. My personal record was 6.5 mph avg, normally I casually do about 4-5 mph avg. up that. We'll see how this does. I don't feel much of a torque difference on pavement vs. a hub drive, but this motor does rev up quickly when the throttle is pushed. The rear wheel NEVER, ever spun out today. I was a bit surprised. The bike will stop before the rear wheel spins out. I was in a couple gears too high on a small steep/loose section and the drivetrain just clawed up that with no complaints. That's very different than struggling with a hub drive up something like that.
So I think overall, if I can get the crankset right, this motor is not bad at all with a good controller/display. And really, you 'could' buy the $115 rear wheel chainstay mounted one and then DIY the motor mounts, buy the controller/display separately and still probably be fine if you are good at this kind of stuff. If you are looking for a very modular mid-drive that you can add your own accessories for, this one is pretty good, but you'll need to for sure do some extra tweaks. Isn't that always how it is though?
Last edited: